FEATURED Article

5 Places To Meet Quality Singles
By: Amie Leadingham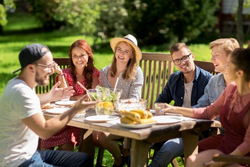 As a Relationship Coach, my clients often ask me, where are the best places to meet quality singles? Of course, there is no simple answer for this question because those people are all around us. They are at the grocery store, the coffee shop, the beach, wherever there are people there is the possibility to meet someone great.
That being said, if you are serious about attracting a specific kind of partner who has certain qualities you are looking for then you should head out to the places that give you the best opportunity to meet them. These venues vary based on you and the kind of partner you want to attract.
In my Conscious Dating Program I teach the principal "Like Attracts Like", which simply states that you attract the very people, situations, and relationships that are similar to you in the way they think and live your life internally. To put it another way, if you are in a happy, creative place in your life those are the type of people you will attract.
Conversely, if you are in an unhappy and insecure place in your life, those are the type of people you will attract. Happiness is contagious. If you are a happy, positive person who is heading out into the world to places that make you happy with the intent of attracting a quality partner who adds to the joy you feel about yourself and life, then that's exactly who you will attract.
Again, there's no bad place to meet someone, but by targeting places that you feel a connection with or places that you would like to explore an interest in, then your chances for success in meeting a quality partner greatly increase. Not only because the types of places are full of quality people, but also because they bring with them a less pressure-filled meeting environment than places like bars, clubs, or even online.
Plus their structured element allows you to focus on the event and experience something for yourself, while having the secondary benefit of allowing you to engage quality partners, and hopefully make that one connection that will change your life forever. So without further ado, here are my top 5 places to meet quality singles.
Charities and Fundraising Events
I once had a client who told me she wants to meet someone who is charitable and generous, yet when I asked her if she ever went out into the world to volunteer or spent much time at charitable events to meet men who would have these qualities, she replied she did not. A missed opportunity to say the least.
Charity and fundraising events are full of people who generally have one goal in mind... to help others. These events also tend to be happy social events where the idea of walking up to another person to say hello or to just start up a conversation is common and expected. Charities like Habitat for Humanity www.habitat.org and Human Rights Watch www.hrw.org throw events where hundreds of singles attend and are great places to not only give back to the world, but also possibly meet that special someone.
Dancing Classes or Partner-Oriented Dances
I find it funny that so many singles out there like to go dancing out at bars or clubs with a chance to meet someone, yet rarely want to take a dance class or attend a partner-oriented dance. There are countless dancing disciplines out there: salsa, ballroom, square, and swing to name a few. Each one brings with it, it's own style, culture, and feel which draws a cross section of singles with it.
This dance world may be one of coupling, but that doesn't mean singles are not at the center of many of them. Figure out what types of music you like and target events and venues that specialize in that type of dance. Sometimes they even offer lessons by dance teachers are various clubs/bars in the area to encourage singles to come.
If it helps bring a friend along to give you some support, but your goal is to engage new people and experience dance as well as a connection with others. Websites like http://www.latindancepro.com and http://swingdance.la/ are a great resource to get you started.
Do the research; find the best ones in your area and get out there and who knows you may just dance your way into love.
Conferences/Seminars/Workshops
Is the idea of expanding your knowledge of the world of singular importance to you? The good news is there are events and venues that are out there to support people like you. Conferences, seminars, and workshops that target specific areas of interest are great places to engage and meet quality partners.
These may include events that focus on topics like art, or automobiles, or books, or even more specific interests like documentary films, or podcasts, or winemaking. The benefit for you is that by attending these events you already have something in common with any potential partner you meet: the interest in the event itself. If you don't have a specific interest to target, then you may want to head out to larger, but no less enlightening events where the opportunity to meet a quality partner is increased with the volume of attendees and by the quality of people who may attend.
The Distinguished Speaker Series, www.speakersla.com, are thought-provoking events, center-pieced by talks from world leaders, entertainers and professional athletes and is a great example of a place to step out from your typical single's scene. Events like this not only come with great takeaways in life, but also offer a social component in terms of igniting inspiring conversations between attendees — friends and strangers alike.
Business conferences, seminars, and workshops as a whole usually offer up casual cocktail receptions before and/or after that give a secondary opportunity for meeting people. The key is put yourself out there and ready your mind, body and soul for the event itself, as well as the special someone who may be right around the corner.
Museums
Museums are not only places to look at paintings, artifacts, and scientific discoveries, but also a great place to mingle and socialize with others. Places like the LA County Museum of Art (LACMA) www.lacma.org and the The Getty wwww.getty.edu routinely throw events where they offer up live music, food, and drinks to create a more festive and fun environment.
Once again, those who attend these events often flock to them as a place to escape the often mundane world of bars and clubs for the safe haven of these intellectual locales that provide for those who want to learn about the world and all it has to offer. By doing the research on the when and where of these events you will not only be able to expand your cultural and intellectual horizons, but you also may meet someone who finds that just as appealing as you do.
Special Interest Groups
Within just few weeks after I started dating my husband, he and I were playing golf together. Golf was something we both enjoyed doing before we met so we continued to do it together. Common interest between couples is not only important for the success of a long–term relationship, but also it creates an environment where both parties can have fun and enjoy whatever their common interest has to offer. So why not start by meeting a partner in a place where you both have the exact same interest?
If you are someone who enjoy tennis, join a tennis club or meetup, if you like surfing, join a surfing club or meetup, if you like running... you get the idea. The point is to think about the things that you enjoy doing, which make you happy, and find groups of people who enjoy the same thing. If you can't find one, start one of your own and bring the potential partners to you. As we learned at the beginning of this article "Like Attracts Like" so why don't you figure out what you "like" in this world, and then starting today surround yourself with people who "like" similar things you do? Because when you do, you may find yourself one step closer to being able to enjoy those "likes" together with someone tomorrow and every day of your life after that.