Feature Article

A Love 30+ Years in the Making
By Terri Hase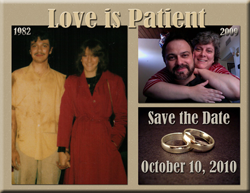 I met a boy in Junior High, a sweet and wonderful boy. He liked me. I didn't feel all that interested, until he moved away, and I realized I really missed him. We stayed in touch, I liked him more, he still liked me. The next 30 years saw us date, not date, be married to other people, divorce, date, break-up, wander aimlessly, and suffer the hardship of a love that 'almost was', all due to my own crippling fear.
You see, I was afraid of who I was 'in love'. Sounds a little crazy, right?
I mean, how can anyone fear being 'in love'?? Well, it's kind like this...my parents were very antagonistic to one another. I made up my mind, WAY early on, I wasn't ever going to be too vulnerable with a partner. No way was I ever going to let someone really hurt me like I watched my parents hurting one another. I would never let myself get 'that' our of control. (I supposed you can see how well this might work – yikes)
Well, this boy, who grew to be an amazing man, made me weak in my knees every time I was near him. There was friendship, sure. Deep friendship. There was physical attraction, sure. I mean, he's hot. But, every time I got close emotionally, I'd freak out and run away because I felt so soft, mushy, and exposed. Things might have gone on like this forever, or until he wrote me off, but they didn't.
His heart never wrote me off. Now, this doesn't mean there weren't some detours and other loves, but neither of us ever 'got over' loving one another. One day, things finally clicked for me, FINALLY. I finally got how vulnerability was essential for whole and complete love, and how in the hands of someone who loves you wholly and completely, it's safe and secure. This doesn't mean there might not be some bumps along the way, but there will never be anything manipulative or malicious, of this I am sure. My waking up to the need for exposing my soft underbelly, and the years of delay it produced, was a BIG mental shift.
It's because of my own experience in this that I stress to individuals, and couples, how damaging it is to withhold pieces of themselves from their partners. It's also why partners have to understand the real trust and vulnerability their mates are placing in their tender care. It's through this exchange of mutual vulnerability and trust that the foundation for the 'We', or 'Us' partnership is built on. I mean who wants to partner with anyone when there is a clear sense that the other party doesn't trust you with their 'everything', or that your 'everything' might just not be safe with them. This wouldn't be good in business, or love relationships!
The moral of this story is, sometimes even the very slow to learn can win big. I'll be celebrating my 4th wedding anniversary to this amazing man in just a few weeks. Though, we both know we've 'been together', at least in the depths of our hearts, since 1978.
It took me 30 years to 'get it' – well beyond what might be considered reasonable. Far outside of, 'normal'. But, I got there. I got there and it's been AMAZING, the best years of my life. It's hard to believe that I finally changed my mind, changed my belief about being guarded. I really was so sure it was the best way to protect myself. All it did was disconnect me. Oh, and honest, I'm really not normally all that emotionally dim and resistant! That said, this part of my life was stuck as if I were no wiser than that little Junior High School girl.
So, I encourage you, if you think you might be holding back, or your partner might make you hesitant to really let them in, make THIS a top priority for you and your relationship. Embrace vulnerability, develop and nurture trust. Do it now. Don't take another few years before you make it a priority.
Oh, and on 10/10/14, celebrate with me. You can offer a toast to slow-boat loves that finally pay off, and the lovers who get to enjoy them. Offer a toast to trust, and to vulnerability. My wish is you find both for yourself, and within yourself, and have the love you desire!
Is it a good idea to travel long distance in a new relationship?
Dear Coaches,
I have been dating my girlfriend for two months. I am really into her and we have tons of fun together. I really want to take a trip to Cancun and think it would be great to take her along. My worry is that it is too soon in our relationship to travel long distance. I also do not want her to think it is more serious than it is. I just want to bring her along for a fun vacation. Any pointers about traveling with a girlfriend for the first time?
---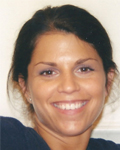 Michelle responds ...
So glad that you and your girlfriend are enjoying yourselves!
I am a firm believer in being forthright about where you stand in regards to the relationship as to avoid any confusion. If you two get along well it is best to communicate openly from the beginning.
Talking about your concerns beforehand will save you both a headache later on.
Some things to consider if you and your girlfriend do go on vacation together:
How will you handle the expenses? Will you split the cost of the trip or foot the bill?
Sharing the same living space with your partner will also be something to be aware of as everyone has their own routines. Just remember to put the toilet seat down.
Being together all that time you may get on each other's nerves. Take some time for yourselves - go to the gym, get a massage and then meet up later on. Take note of this and it's quite alright not to be attached at the hip for the whole trip!
At the end of the day enjoy yourselves and have fun!
Michelle Bianco | www.coachmichellebianco.com
---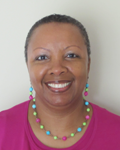 Barbara responds ...
Two months into a relationship is not a very long time at all, and if you're "really into your girlfriend and have tons of fun with her", then continue to do just that.
Relationships don't always start off this great, and it sounds like yours is off to a positive beginning. That's when you know you want to keep moving forward; whatever that would mean for the both of you. In a healthy relationship, you communicate your honest thoughts and feelings to one another so that you can have the opportunity to get to know, like, and trust the other person; and give them the chance to do the same with you.
This is the beginning of your relationship, and if you're truly being who you are, and giving your girlfriend the space to do the same, then let the relationship do what it's going to do and be what it's going to be.
That said, instead of worrying about a possible outcome, just ask and hear what she's thinking and feeling about it. It will give you the opportunity to learn even more about one another, and possibly yourself; which is what relationships are all about.
Barbara Ann Williams | www.barbaraannwilliams.com
---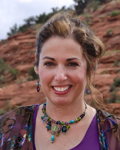 Lori responds ...
It's all about the goals that each of you have in mind. Is she a party girl that just wants to have fun or is she wanting to get married at some point and are you a potential candidate?

I know this sounds silly, but if you are really serious about her, my advice is to take it slow as you build your foundation. If you both are not serious and are just having fun…then yes, have fun!

I would recommend having an honest talk with her, just like your question above; ask her if SHE thinks it's too fast. And before you go, make sure you know what she wants to get out of the trip and what a fun vacation is for her. If you need to compromise, discuss it before hand. For example, she might want to sit on the beach and you might want to explore, know this about each other. Traveling together is a wonderful way to learn how compatible you are together.

I so appreciate that you are open to asking about this. Have a great trip!

Lori Rubenstein, JD, CPC | www.lorirubenstein.com
---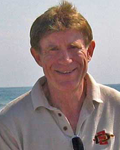 Randy responds ...
At two months you are likely in the middle of the infatuation period and the relationship may or may not last. One question to ask yourself is how will you feel if the relationship evaporates soon after. Would you regret the trip?
Why not go to Cancun six months from now, take one or two shorter trips in the meantime. The time spent planning the Cancun adventure could also be fun, sometimes the anticipation is 90% of the enjoyment!
Randy Hurlburt | www.partnersinloveandcrime.com
---
The opinions stated are those of the authors and not necessarily those of the staff, members, or leadership of Relationship Coaching Institute.
This column answers questions submitted by our readers. Submit your question here www.relationshipcoach.org/ask-the-coach and it will be forwarded to our coaches all over the world. Each issue, we'll publish a few answers from our RCI coaches.
Announcements

Radical Dating: Five Principles for Finding Lasting Love That Will Rock Your World
The key to a Radical Marriage starts with Radical Dating!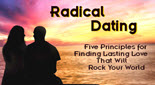 This program covers five principles and strategies for finding lasting love and a revolutionary approach to successfully navigate (or help your clients navigate) the confusing world of dating and relationships.