Announcements
New Relationship WebTV Program Launches
Let's Get Real is a weekly webTV show that tells the truth about love, sex, and relationships. Register for free membership in our Getting Real Club and be the first to be notified of new episodes and get exclusive access to our Radical Relationships video series. Transcripts Now Available!
---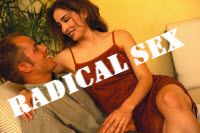 Free Radical Sex Video Tutorial
This latest installment in our Radical Relationships "How-To" video series covers 14 creative strategies for an extraordinary sexual relationship, available free at www.gettingreal.tv. Check out the preview and transcript here
Ask Our Coaches:
Is it too soon to travel together?
"I'd like to go, but..."
This column answers questions submitted by our readers. Submit your question here
www.relationshipcoach.org/ask-the-coach
and it will be forwarded to our coaches all over the world. Each issue, we'll publish a few answers from our RCI coaches.
---
Dear Coaches,
I met the "man of my dreams", or at least it seems that way. After only knowing him 4 weeks he has asked me to accompany him to Hawaii for 6 days. We have not been intimate up to this point, but I so want to go with him, how do I handle this in an adult manner?"
--Signed, "Troubled"
---
Maeve responds ...
Dear Troubled,
Although you say he is the "man of your dreams" you also say "or at least it seems that way," which indicates you're not entirely certain of this. After only knowing him for four weeks, it would be difficult to determine for sure that he is in fact the man of your dreams.
Going away for six days to Hawaii sounds very romantic and could be an opportunity to observe how he matches up to your ideal relationship based upon your requirements. It could also pose a challenge if you discover you don't get on while you're away; what are your options if that were to happen? 
You mention you haven't been intimate with each other yet, which is a good thing. One of the many dating traps singles commonly fall into is becoming sexual too soon in their relationship. Handling this in an adult manner, would require having an honest and direct conversation about your boundaries and expectations. It is important you are clear within yourself what you want and expect from this experience and communicate your boundaries and expectations with him.
Maeve Crawford | www.becomingyourownsoulmate.com
---
Barbara responds ...
Troubled,
What's the real trouble for you in this situation, if this guy seems to be the "man of your dreams"? Sometimes we tend to ignore the very thing that's jumping out at us, trying hard to get our attention, when we're focused on what we think we want. What are you pushing aside while entertaining the idea of spending six days in Hawaii with him? As an adult, how do you wish to handle this situation? And more importantly, what's holding you back from doing what a part of you really knows you need to do?
In deciding, I must caution you though; there is hesitation on your part and the mere fact that there is, I would suggest there is more to pay attention to. What is that? Your true answer lies within, and if you're still and quiet enough to listen, and without struggle, you will be at peace with yourself and your decision. You may not fully understand, but there is a part of you that knows something that the other part of you would like to override. Don't. Be one with yourself before moving forward. You'll be less troubled in the end.
Barbara Williams | www.barbarawilliams.relationshipcoach.org/
---
Nina responds ...
Dear Troubled,
This is a great opportunity to see if he respects your boundaries around sex before you are "ready;" meaning exclusive, committed, or married, etc, depending upon your personal choice. If you haven't had a conversation about this, now is the time.
A romantic getaway like a Hawaiian vacation is obviously quite a temptation for you if you are NOT ready for that next step and once you take it, you can't take it back. Once you get sexually intimate, there are hormones that get released and they do a phenomenal job of clouding your judgment.
If you do decide to go together, you may want to pay your own way to make sure you don't fall into the trap of putting out from a feeling of obligation. You must respect yourself first in order to command respect from anyone else. Be clear about your boundaries and use this special time to test your requirements for a lifelong partner.
Nina Potter | www.ninapotter.relationshipcoach.org
---
Feature Article:
To Date or Not To Date At the Office
By Pamela Simmons
My initial reaction to singles considering dating someone from work is to scream, "Stay away at all costs!" However, the reality for singles is that they meet potential partners through living their dreams, values, interests, and spiritual connections. There are a variety of places to meet and make friends and one of those arenas is the workplace. There are advantages and disadvantages to romantic involvements in the workplace. Though dating is a stage of exploring our interest in another, it also comes with sexual attraction that many times overrules logic.
Knowing how someone works and functions in their professional lives can be helpful information in regard to work ethic, interpersonal relations, values and integrity, personality, and goals. These all demonstrate the public persona-something important to know. The private persona takes a while to learn as the developing relationship goes through many stages, one of which is the romantic stage of presenting one's best and connecting warmly and intimately. It is a stage of feeling high and excited and oblivious to the impact negative traits may eventually have.
As the couple moves to the power struggle stage, communication skills and personal introspection are required to maintain equilibrium. Many couples find that they are not a good match during this stage and elect to part ways. How they go about the parting has an affect on them individually and can also influence how they function at work. It is a painful time when hurt and disappointment turn into childish behaviors and interactions.
A relationship between a manager and a direct subordinate, a manager and someone who is not a direct subordinate, and co-workers with equal standing in the organization are all circumstances that create unique responses and unique issues. Among the legal issues that can evolve are favoritism or the perception of favoritism, conflicts of interest, confidentiality (information shared in private about the company), hostile work environment as the result of anger between the partners, and sexual harassment. For these reasons companies tend to discourage office romance or at least inform employees of the risks if they choose to do so.
It takes energy and skill to maintain office professionalism in the face of relationship ups and downs. We are all human and subject to fears, doubts, competitiveness, and anger that our close relationships ask us to face. How we handle them is the determining factor in the success or failure of the relationship whether at the office or not. We are responsible for our own distresses and many need help from a relationship specialist in order to do it successfully.
If we are struggling with intimacy, it is a time to look at our own history and negative emotion that creates the struggle. Can we do that so that we still bring the best of ourselves to the workplace? Can we live through the stages of relationship and separate them from the issues faced in company interactions and decisions? Will others perceive the relationship as hostile or a demonstration of favoritism? Will the company be at risk for litigation? Will jobs be at risk because we cannot separate personal feelings from job responsibilities? It is not that easy. We may be able to follow through with all of these notions, but will the prospective partner?
Many advisors would say avoid office romance. Can we both live our highest and best selves in the face of relationship challenges or relationship partings? We are not likely to know that in the early stages. It is good to make the decision before chemistry and sexual energy make the decision. If the answer is to date, then be prepared for the awaiting challenges and know that it is okay to ask for help.

---
Copyright © 2013 by Pamela Simmons. All rights reserved in all media. Used with permission.



With a focus on a positive and spiritual psychology approach to living and working, Pamela Simmons assists people to move beyond the mundane to the magnificent.
Bonus Article:
Don't Get Caught in the "Sex Trap"!
By David Steele
---
As I had my morning coffee, the "Dear Abby" column caught my eye. A reader wrote in with a dating dilemma and ended her letter with that often-heard stereotype that "Women use sex to get love, and men use love to get sex." This is a great summation of the "Sex Trap."
The Sex Trap is similar to the Love Trap, where singles interpret good sex as love. But those who fall into the Sex Trap go even farther, because for these singles, having sex carries immense meaning and consequences.
Singles fall into the Sex Trap in one (or both) of two ways:
A. They believe sex is a necessary test of compatibility, (if the sex is good then the relationship will be good as well), and
B. More commonly, all consciousness goes out the window, and one or both formerly level-headed singles consider themselves a committed couple as soon as they have sex.
So, rather than looking at whether this other person might be a match on levels other than physical attraction — such as long-term requirements, needs, and wants — they are blindsided by the chemistry under the covers.
No doubt, it can be challenging to keep in touch with reality when all those hormones are running wild. Our body reacts to someone we are attracted to by producing hormones such as PEA or phenylethylamine (natural amphetamine), dopamine and norepinephrine (natural mood enhancers), and testosterone (increases sexual desire), which makes the opportunity to have sex with someone we are attracted to extremely hard to resist. Then, after orgasm, we produce oxytocin (which acts on the hypothalamus to produce emotions), which makes us feel very close to and bonded with our sex partner.
These chemical reactions are involuntary and strong, leading to powerful feelings of attraction, excitement, love, closeness, and well-being.
But when problems arise, those who fall into the Sex Trap often rationalize by thinking, "Well, we've got problems, but the sex is great!" They most likely wouldn't admit it, but they prioritize physical intimacy and regard the rest as optional. Their main scouting tools are sexual attraction and physical compatibility.
Barry North, an RCI coach who works primarily with gay men, says that many of his clients have fallen into the Sex Trap.
"For gay men especially in metropolitan areas, sex is readily available, and that in itself is a trap," North says. "In addition, the culture, with its emphasis on physical appearance, encourages sexual activity. Many gay men want to find out from the beginning if a potential partner is going to be sexually compatible. Why waste your time if the sex isn't going to be good?"
Nonetheless, North adds, "I suspect this is a 'guy' thing rather than a 'gay' thing."
I do want to point out that chemistry is important. Yet, chemistry is a given that we can't control in a relationship; it is either there or not there, and it must be there for the relationship to work. If not there, we can't "make" chemistry happen, though sometimes it can grow over time.
Singles who pursue a relationship based upon sexual chemistry risk relationship failure when the hormone-induced intoxication wears off and reality hits.
To avoid the Sex Trap, you must balance your heart (and hormones) with your head. This means combining chemistry with common sense. While good sex is important for a sustainable relationship, you need to make your partner choices by paying full attention to your vision, values, goals and requirements — while feeling all those exciting sparks!

Copyright © 2013 by David Steele. All rights reserved in all media.


David Steele
Founder, Relationship Coaching Institute
FREE Conscious Dating Online Community
Live Conscious Dating tele-Seminars
Live Conscious Dating Tele-Clinics
Conscious Dating audio programs, e-programs, and more!
Free Membership! www.JoinConsciousDating.com
---
Advanced Conscious Dating Strategies Audio Package
Program #1 - Practical Strategies for the First Three Dates
Program #2 - Being The Chooser
Program #3 - Ten Steps for Finding Your Soul Mate
Program #4 - Conscious Dating: How to Connect to Your Life Vision
Program #5 - Conscious Dating for Boomers: Finding Love After 50
Program #6 - Scouting: Where to Find Your Soul Mate
Program #7 - Advanced Strategies for Sorting, Screening, and Testing
Program #8 - Conscious Internet Dating: Using Your Computer to Find Your Soul Mate
Program #9 - Conscious Dating at a Distance: What to Do When You're Attracted to Someone 1200 Miles Away
Purchase here
---
Access our Conscious Dating Knowledge Bank for innovative relationship information, tools and strategies for singles


---
Give yourself a gift - Get a Relationship Coach!
Ready to make some changes?

Your coach is waiting for you at: Find Your Coach!
For More Information
Are you a coach or other helping professional who works with singles and couples? If you want to know more about adding the Conscious Dating Relationship Coaching tools to your professional toolbox, visit www.RelationshipCoachingInstitute.com
---
Please share this newsletter with your single friends, family, and co-workers, and you can be a partner in their success, too!
Subscribe to this newsletter here


---
Want to help people with their relationships and have a career you love?
Become a relationship coach!

Free Relationship Coach Starter Kit: www.RelationshipCoachingInstitute.com
Links to Us
Contact
Darlene Steele | Editor, Conscious Dating Newsletter for Singles Contact Here
Visit us at www.ConsciousDating.com

Copyright © 2013 by Relationship Coaching Institute. All rights reserved. Feel free to share this with others as long as our contact information and authorship is included.