In this issue: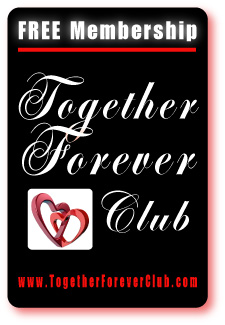 ---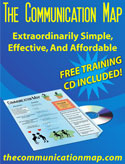 A One-Page Communication System for All Relationships!
Practical, effective,
and affordable conflict
resolution tool for
personal and professional relationships
---

Conscious Relationship
Seminars and Podcast

www.ConsciousRelationshipSeminars.com
---

Frankie Doiron
President & CEO
Relationship Coaching Institute
---

David Steele
Founder
Relationship Coaching Institute
---
Interested in Becoming a
Relationship Coach?

Download our Free
Relationship Coach Starter Kit
---
Welcome!

This newsletter is designed especially for YOU if:
You have met someone and are wondering if s/he is the "Love of Your Life"
You are about to get married and want to co-create a fulfilling life partnership
You have a good relationship and want to make it great
Announcements
New Relationship WebTV
Program Launches
Let's Get Real is a weekly webTV show that tells the truth about love, sex, and relationships. Register for free membership in our Getting Real Club and be the first to be notified of new episodes and get exclusive access to our Radical Relationships video series. For a sneak preview visit www.GettingReal.tv

---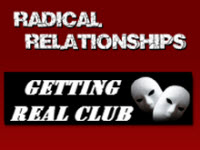 Free Radical Relationships Video Series
Register for our free Getting Real Club and be the first to be notified of new episodes of Let's Get Real and get exclusive access to our Radical Relationships "How-To" video series such as Radical Intimacy, Radical Romance Radical Sex, and much more! Join free at www.gettingreal.tv
Ask Our Coaches:
I'm no longer attracted to my husband.
Should I get a divorce?

We're more like good friends...
This column answers questions submitted by our readers. Submit your question here
www.relationshipcoach.org/ask-the-coach
and it will be forwarded to our coaches all over the world. Each issue, we'll publish a few answers from our RCI coaches.
---
Dear Coaches,

What are your thoughts on staying in a marriage where there is plenty to celebrate and love, except in the partnership?
I've been married for 8 years, have two beautiful children, a lovely home, family, friends, travel and events to celebrate and enjoy. Although, we are good friends, I no longer feel attracted or close to my husband nor do I wish to work on our marriage anymore. Can a relationship like this be sustained since there are many good things about it, or am I in complete denial?
--Ellie
---
Anita responds ...
The definition of marriage can be different for people. Their wants, desires, limitations, etc. determine if the union can be a healthy, fruitful connection, or a disconnected contract. Once upon a time, people married to keep property ownership within the family name. Others married out of who could provide the best dowry. Others meet their spouse on their wedding night. And others don't marry, but have been blissfully together for 20+ years. (Goldie Hawn & Kurt Russell)
In hearing your situation, I'm wondering: How long have you felt separate from your husband? What changed from the time you were attracted and close, to your current opposite feeling? If you don't wish to work on the marriage, what kind of union are you really looking to accomplish with your husband? What does he know? What does he think?
Meditate on your answers. If you've become complacent and are not interested in doing the work to maintain the foundation and meaning of your marriage, consider discussing your new perspective with your husband, and if he is as good of a friend as you mentioned, he will surely work with you in adjusting your union to create a happier ending for all.
Anita Myers | www.innerscopeconsulting.com/
---
Nina responds ...
Dear Ellie,
The biggest barrier to creating a loving, emotionally intimate and satisfying relationship with anyone is disconnection. It's usually caused by a lack of quality alone time and/or a mismatch of "love languages".
When we first meet, we do everything we can to be alone together. We explore each other's worlds with interest and enthusiasm and treat each other respectfully. This all changes when babies start coming and jobs get more demanding and stressful.
All marriages need QUALITY alone time. Time spent together with family and friends is great for building memories but if a couple is never alone and focused on each other (not focused on TV, books, etc.) their marriage will deteriorate because of the lack of emotional connection.
You don't need to work on your marriage, you need to play in your marriage. Make time to be alone together and get curious about who that guy really is. Start with short times (ie: going for coffee or ice cream) and build up as you get more comfortable with each other.
Explore the "love languages" and discover how you can reconnect in the fastest, easiest way so you CAN have it ALL.
Nina Potter | www.NinaPotterCoach.com
---
Tracy responds ...
Ellie,
While there are couples who decide to remain in marriages as just friends, it may or may not be right for you. Consider yourself 30 years from now having stayed in the relationship which remained exactly like it is now. Do you have any regrets or do you feel you missed out on anything?
Some feel remaining married is better for the children and it might be, if both parents are truly happy with the arrangement. Children can sense when someone is unhappy or incongruent, even without the words. Ask yourself if you are being a good role model for your children?
Are you meeting your core values staying or breaking them and vice versa?
Do you want a deep, loving, intimate, sensual, sexual connection with your mate? If so, how does it feel to not have it? What if you meet the perfect man for you while you're married?
If you decide to stay in the marriage, how will you navigate monogamy? Will this be a conscious conversation between the two of you? Are both of you truly ok with any agreements or is there dishonesty?

I hope these questions create deep inner reflection and personal insights. Peace.
Tracy Gilliom | www.lovingwithawareness.com
---
EDITOR'S NOTE: Be sure to check out our Radical Relationship video Radical Intimacy as well as our Let's Get Real episode My Marriage is Boring! Should I Have an Affair?
Feature Article:
Stop! In the Name of Love

by Anita Myers
---

I heard the song, "Stop! In the Name of Love!" by the Supremes as a teen, and loved it. The lyrics told of a strained relationship, and a request for a resolution: Stop, in the name of love.

In its poetry, a woman told her love to stop his affair with another. Without knowing those lyrics, I adapted my own interpretation from six words in the chorus. To stop in the name of love was to stop negative actions, like: feeling and doing regretful things and flinging hurtful words at loved ones instead of working issues through. It was also about stopping blasé routines from plateauing into mundane, cesspools of lethargy, and keeping relationships from reaching a new "settle"-ment called Nothing-left-to-do-land.

The chorus's prepositional phrase, in the name of, carried a deeper meaning for me. I recall playing, "Cops and Robbers" with neighborhood friends as a kid. We'd yell, "Stop! In the name of the LAW!" like the police used to say. In the Supreme's song, they exclaimed, "Stop!" but "...in the name of love."

Love! The song gave love authority! Worth! Power! Love finally mattered. It became a character, practically demanding to be taken seriously, like a law needing to be honored and respected. It grabbed my attention, thinking, we should stop, in the name of love.

Here are four inspirational ways to S.T.O.P.:

S: Share your time together doing something you both love. Create dates that suit your interest and ones for your partner's. Honor each other's joys, even if it's not your thing. Appreciation begets appreciation. If there are things you must do individually, do them, but make the time to do things together, for each other. When you both find something that you love together, embrace it, and do more of it! More time together doing something you both like builds on positive energy, great memories and delicious, satisfying time together.

T: Take time, to make time, to spend time, to celebrate your together-ness. Yeah, I know. We're all busy. But as easy as we wipe a tush, bathe a babe, drive to work, dial a phone, text a client, and run an errand, it's that easy to steal a moment to call, email, or even mail your love, to your love.

I leave nutty song-y voicemails on my husband's phone. Today, I was a rapper (I beat-boxed horribly). I text him occasional love notes, which took a fraction of a second to dial. I send pictures of something funny to him to give him a feeling that he's with me, when he can't be. In my busy day, after putting out fires and running errands, getting a card in the mail, or a text from him saying, "Love you, 'Nita." just because, made my days better. Keeps us together.

He stopped. And I stopped. In the name of love.

O: Offer yourself. Stop waiting for someone to do something special for you. If you want someone to have your love, then give it. Give your love, love. Give your gift with no agenda or expectations. Offer yourself through your thoughtful and positive actions. You will upgrade the value of love's definition and open doors to wonderful places in both of your hearts.

P: PLAY! Who invented the crazy rule saying that when we become grown-ups we have to stop playing? As kids, most of our lives were occupied in playing games. We pretended, played in our yard and the park. There were board games, dress-up, cushioned forts, shadow puppets, and water balloons. I can go on. When we grow up, play is replaced with serious decisions, big words, constant responsibility and taxes.

I'd rather catapult a water balloon.

As grown-ups, we're inundated with life's seriousness, and by the time there is any room for love, the kind of joy and simple pleasures that can bring us good feelings, are lost.

After decades of living the adult life, I realized that playtime should not be just for kids. Grown-ups can use jungle gyms, Play-Doh and fun zones too. And to play with my partner in life? Well, that's way more fun!

Start considering more playtime for two. Board games, cards, snowball and water balloon fights. Take on a new game and experience. Build couch-cushion forts, bed sheet tents and shadow puppets. Keep discovering new joys for the two of you.
Stop, and play together, in the name of love.

Copyright © 2013 by Anita Myers. All rights reserved in all media. Used with permission.
Anita Myers is a professional Inner-Wellness Consultant, a Personal Life and Relationship Coach, and President of InnerScope Consulting. Her tailored programs focus on the need to nurture the human spirit. Her natural ability to blend with various personalities and embrace perspectives of different cultures and traditions empowers positive, result-oriented opportunities for clients who want to truly reach a higher summit in satisfaction.
Anita is currently writing The Dating GPS™, with childhood friend and Career Coach Alex Sukhoy. www.innerscopeconsulting.com/
Bonus Article:
Discover How to Make Anger Work for You

by Jianny Adamo
---
Does anger belong in your relationship, or better yet, in your life? Is it Okay to express anger or is it a deadly sins? Depending on culture, religious beliefs and personality, you will find different answers, but make no mistake, anger is a controversial topic.

Just this week in bible study, I got into a heated debate on the topic of anger. Part of the group came alive engaging the discussion while others got on their knees and asked the Lord to resolve this conflict! Maybe not. However, they could not wait for us to settle down and resume the study.

You may embrace peace as the highest virtue and anger-- the enemy. Therefore, anger is not entertained, but rather released for the higher purpose of serenity and homeostasis. Living in peace brings contentment without having to achieve much else.

Or you may recognize anger as an emotion having a place and time, which moves you into action. You live by different sets of higher values such as integrity or altruism. The energy generated from anger is channeled to formulate a plan to attain goals and to unleash creative energy.

Okay, so you are in a relationship and conflicts and tension are unavoidable, if you both express your needs. You subscribe to expressing anger and your spouse subscribes to keeping peace. Sounds like a match made in heaven! The truth is the Warrior and the Peacemaker can co-exist in a harmonious relationship; after all, opposites attract to make things so much yummier.

Tips for the Warrior... express yourself and 'sin not':

Keep your tone and expression of anger somewhere between low and moderate. Anything more will trigger your partner's defenses.
Maintain self-control at all times.
State the obvious with humor.
Do not put your partner down for his or her views. Seek to understand differences.
Figure out what it is you are fighting for: Do you need to be affirmed, recognized, be heard or seen?
Set your partner up for success and ask for what you really need.
Listen. Do not interrupt.
Pitfalls for the Warrior:
As a Warrior you can be intimidating. During conflict the focus should be on expressing yourself not on controlling your partner.

Tips for the Peacemaker...express yourself and 'hide not':

You usually do a great job listening but not expressing yourself, which leaves your partner hungry and needing to hear from you.
If your partner is disrespectful and intimidating then call him/her on it and ask them to refrain from those behaviors.
Instead of withdrawing from a fight, try listening and then affirming what made sense.
Ask questions to clarify what you didn't understand.
What doesn't your partner know about the situation that you can shine some light on?
Pitfalls for the Peacemaker:
Tendencies to withdraw and break connection inflict more pain to an already established wound. Learn to stay connected by expressing your thoughts. You will discover that by staying engaged, the conflict will smooth out even if you don't come to an agreement at that time.

What anger is not: Hostility is a deep-seated ill will against another. Rage is a feeling of intense or growing anger also known as wrath or fury. Hostility and rage indicate aggression, often defined as acting out anger, usually stemming from not feeling heard. Hostility and rage as well as unresolved anger, can lead to depression and anxiety disorders. These emotions will wreak havoc in both your personal health and relationships--and it isn't pretty.

I'm sure you've been in situations with individuals who use aggression or hostility to control and dominate a situation or worse yet, you! Expressing yourself in this fashion is harmful and should not be practiced unless you're aiming for relationship wreckage. So when experiencing anger or conflict, examine your actions and attitudes. Are you led by a need to control or by self-control? Are you led by love for your relationship and your mate? Conflict is growth trying to happen and anger expressed in healthy ways can be a powerful motivator for change.

The Anger/Aggression Sexual Connection: Sex and aggression sells -- just turned on the television. Media extorts this connection. Have you checked out the Best Sellers Lists? Although, many of us are too modest to say so, there is something captivating about sex and aggression. Our sexuality has an inherent push and pull mechanism.

Love seeks closeness while desire needs distance. These opposing forces create tension and conflict needing to be managed in order for your love and closeness to grow while not squelching sexual intimacy.

Next time you experience conflict in your marriage, remember resolved anger can lead directly to sexual intimacy because the distance created between the two of you is needed to generate desire. Be aware that chronic anger or unresolved anger can cause relationship problems that decrease the libido.

Hmmm, I think Paul had the right idea when he said, "Be angry and do not sin. Don't let the sun go down on your anger."

Copyright © 2013 by Jianny Adamo. All rights reserved in all media. Used with permission.

Jianny Adamo, MA supports singles and couples to break through fears and limitations and to embrace a rewarding life that's centered on freedom to love, ability to connect deeply and live purposefully. Jianny is a registered psychotherapist in NJ and FL, National Certified Counselor, relationship coach, and author. www.fearlesslove.net
Couple For Life Resources
For free relationship assessments and resources for couples visit our web site at www.coupleforlife.com
---
Give yourself a gift - Get a Relationship Coach!

Ready to make some changes?

Your coach is waiting for you at: Find Your Coach!
Links to Us
Contact
Darlene Steele | Editor, Conscious Dating Newsletter for Singles Contact Here
---
Want to help people with their relationships and have a career you love?
Become a relationship coach!

Free Relationship Coach Starter Kit: www.RelationshipCoachingInstitute.com
---
To subscribe to this newsletter
Copyright © 2013 by Relationship Coaching Institute. All rights reserved. Feel free to share this newsletter with others as long as our contact information and authorship is included.