Welcome!

This newsletter is designed especially for YOU if:
You have met someone and are wondering if s/he is the "Love of Your Life"
You are about to get married and want to co-create a fulfilling life partnership
You have a good relationship and want to make it great
Announcements
New Relationship WebTV Program Launches
Let's Get Real is a weekly webTV show that tells the truth about love, sex, and relationships. Register for free membership in our Getting Real Club and be the first to be notified of new episodes and get exclusive access to our Radical Relationships video series. Transcripts Now Available!
---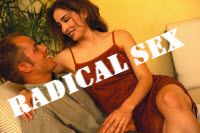 Free Radical Sex Video Tutorial
This latest installment in our Radical Relationships "How-To" video series covers 14 creative strategies for an extraordinary sexual relationship, available free at www.gettingreal.tv. Check out the preview and transcript here
Ask Our Coaches:
My husband acts like he's single -
would I be better off without him?

...we spend very little time together as a couple.
This column answers questions submitted by our readers. Submit your question here
www.relationshipcoach.org/ask-the-coach
and it will be forwarded to our coaches all over the world. Each issue, we'll publish a few answers from our RCI coaches.
---
Dear Coaches,
My husband and I spend very little time together as a couple. He is a firefighter and is gone at least three nights a week and on weekends. Besides being away for work he often makes plans to do things with his buddies. I've tried talking with him in every way I know how and he insists that he will come and go as he pleases. Once he even got up at 12:30 am and left to go to a party. He hadn't mentioned anything to me about this party.
I am thinking that it might be better for me to move on and raise our children without him. It seems to me that he is acting more like a single man than a married man, anyway. What do you think?"
--At My Wits End
---
Barbara responds ...
At My Wits End,

What is your greatest dilemma in this situation? Somewhere deep inside you are answers you're either ignoring, in denial of, or not ready to deal with. Sometimes we repeat lessons because we don't get what our teacher is trying to teach us. With your husband as your teacher, what lesson is he making loud and clear to you?

You mention you have tried talking with him in every way you know how and yet he insists on doing as he pleases. Until you do something different than what you've been doing, you won't get anything different. Fast forward five years from now and see yourself in the exact same spot. How does that sit with you? If it sits well, continue as you have been doing. But if you are honest with yourself and you no longer like the person you see in the mirror each day, then you must be willing to do something different today to get a different outcome tomorrow. You can choose to continue down the same path knowing where it's taking you, or you can make a different choice. It's yours to make.
Barbara Williams| www.barbarawilliams.relationshipcoach.org/
---
Nina responds ...
Dear Wit's End,
He may be having an issue with maturity. If you want to keep your family together, you may need extreme patience while you reconnect with him over time. Some people can take decades to grow up so you need to take care of yourself and grow on your own while waiting.
Let him know just how serious you are about needing some play time together. This may be best done calmly in writing until you have the emotional connection (and skills) to discuss it in person without high emotion. Don't give ultimatums unless you REALLY mean it and are willing to have him walk out on you and the kids now.
Start reconnecting slowly by inviting him to do short, quick things together like running to his favorite store, going out for a cup of coffee/ beer/ walk etc. based upon things you think he might enjoy. If he says no, don't sulk; cheerfully go by yourself anyway. When he does go, don't talk about the relationship or anything heavy. Keep it light and fun for now like it used to be when you were dating until you reconnect enough to be a team again.

Nina Potter | www.NinaPotterCoach.com
---
Michelle responds ...
Dear At My Wits End,
This is a very difficult situation for you and your family and one that requires a lot of thought before a decision is made.

You need to have a serious conversation with your husband where there are no distractions and no kids. Specifically, he needs to know how unhappy you are and that you have been thinking of ending the marriage. What does he think of the situation and how does he think it should be handled?
Be prepared for the talk and consider all of your options. You can ask yourself some questions:
Do you want to work on this marriage?
Have you considered attending coaching or counseling services, or is reconciliation out of the question?
Is a temporary separation an option?
Where you and the children will live if you decide to proceed towards a separation or divorce?
Will your husband continue to live in the house with you if you decide to part ways?
Be kind to yourself and ensure that you take care of yourself and lean on people that you can trust and support.

Good luck and stay strong and remember to take one day at a time!

Michelle Bianco |www.coachmichellebianco.com
---
Editor's Note: In a situation like this where there is a good indication that talking with your partner is unlikely to result in a productive conversation, use our Communication Map to increase your odds of success and be sure to get the support you need from a qualified therapist, counselor, or coach that specializes in working with couples. For a directory of RCI-trained couples coaches visit www.coupleforlife.com/find-a-coach/
Feature Article:
Conquering your Inner Critic

by Doris Helge, Ph.D.
---
Are your emotional buttons easily triggered? Do you notice yourself having the same issues and painful relationships time and time again? We carry our unresolved issues with us wherever we go, so we repeat old patterns. Are you ready to conquer your inner critic?
Who's Really Pushing Your Buttons?
The people who trigger our fear, guilt, shame, anger and frustration resemble our early caregivers. If your primary caregiver often ignored you or your needs and acted like your purpose was to make their life easier, it's likely that you still attract people with a narcissistic personality. Even if you have a loving partner, you may attract professional colleagues who are self-centered and take advantage of you.
If you grew up with a critical, controlling adult or sibling, right now, you may be craving freedom from someone who seems as inflexible as a 26-inch-thick steel door in a bank vault. This person consistently and sternly informs you that you don't measure up to their demands and expectations. Your inner critic probably chatters nonstop.
On the other hand, if you endured a childhood in which you struggled to please someone who had a Jekyll and Hyde personality, your challenge was different. One minute they hugged you, exclaiming, "You are so special. I love you so much!" You never had time to integrate that message because they soon invalidated you with hurtful messages like, "Why can't you do things the right way?"
Because children need to feel safe and adults are their key to survival, you may have tried to gain safety by trying to please people who were a bottomless pit of neediness or people who were so unpredictable they couldn't be pleased. If you constantly labored to be labeled "acceptable," it's likely that you haven't yet discovered Your Authentic Self. You probably don't yet know what YOU need and require in a relationship.
WHY DO YOU REPEAT YOUR OLD PATTERN?
Please don't judge yourself harshly for placing yourself in the middle of challenges similar to what you faced as a child. You love yourself so much that you truly want to outgrow your past. You're longing to let go of the inner conflicts and circumstances that trigger your inner critic to deflate your confidence and self-esteem.
You are no longer a child. As an adult, you want to act thoughtfully and effectively instead of reacting to other people's insensitive behavior with self-doubt, self-judgment or feelings of insecurity. You want to calm your inner critic.
The extraordinarily aggravating behaviors of other people . . . actions that tempt all of us to lash out in anger or run away in fright . . . are gifts in disguise. Each painful situation that ignites our fight-or-flight response is more precious than a backpack stuffed with bars of gold.
Every challenging relationship dance is precisely and perfectly choreographed for our personal growth. We are the producer and director of our dramas. Why do we co-create every painful relationship scenario, personal and professional? It's because we yearn to more fully love and accept ourselves, every single bulge, wrinkle and wart. Relationships are a key component of the core curriculum of The School of Life. They are not an elective.
Because we don't want to depart from this planet without having evolved more fully, we're so brave that we crave both cozy . . . and uncomfortable . . . connections with other parts of ourselves. Other people are human mirrors. They show us what we cannot or are unwilling to perceive about ourselves. I'm not just talking about our imperfections. Other people also show us when we're unwilling to receive compliments, love and support.
We long to share both our joys and our flaws with other people because when we are real, raw, honest and vulnerable, our lives are so rich that bliss totally overwhelms pain. We devour the true nectar of life . . . a sweet, very addictive concoction composed of two simple ingredients that cannot be artificially manufactured: meaning and purpose.
In spite of growth pains that sometimes feel agonizing, life seems easier because we just want to be more of who we really are . . . passionately alive, sentient humans open to all of life's experiences. We are so intimately connected to ourselves and other people that we are incapable of being cruel.
WHAT WILL YOU CHOOSE?
When we feel hurt or angry, it's easy to forget that we're standing at a critical crossroad that provides two clear choices:
Option One is to blame someone else for our discomfort. When we travel this road, we're guaranteed to endure similar challenges. We haven't resolved the core issue that continues to fester under the surface, like an untreated infection. That's why so many people moan, "I've had this awful experience before. The last person had a different name and wore different clothes, but this nasty experience reminds me of ground hog day. How do I get off this hamster wheel that creaks more loudly and painfully each time I repeat my journey?"
Option Two softly calls to us, "Do you really want to be free of your pain? Explore your unresolved issue so you can inhale the infinite wisdom and self-love that is patiently waiting to delight you."
When we embrace our humanity . . . our self-judgments, fears and insecurities . . . without shame or blame, we receive an astonishing gift. We discover that it's safe and immensely rewarding to be our Authentic Self in relationship with another human who is also perfectly imperfect. A qualified relationship coach can help you discover how to enjoy every step of this special journey.
Copyright © 2013 by Doris Helge, Ph.D. All rights reserved in all media. Used with permission.

With over 20 years of experience, Certified Coach Doris Helge, Ph.D. has a proven track record of helping singles and couples like you turn painful relationships into powerful partnerships. Dr. Doris has hundreds of client testimonials and provides free teleclasses for you.

Download free ebooks and see helpful videos at www.ConquerYourInnerCritic.com
Bonus Article:
The Top 10 Practices of Enlightened Partners

by Paul and Layne Cutright
---
Write down the purpose and desired results for your partnership.

A partnership without a stated purpose and intended results is like a ship setting sail without a chart or plotted course. The purpose should be stated in a way that lifts the spirit of all partners.

Make choices grounded in love rather than fear.

Become aware of your automatic reactions that are based in fear and look for the love choice instead. Ask yourself, what would love do or say in this situation?
Mutually agree upon strategies for dealing with predictable breakdowns, i.e., miscommunications, upsets or disagreements, and use them when needed.

It is important to have these strategies in place before the breakdowns occur. It is difficult, if not impossible, to create and implement them in the middle of a breakdown.
Commit to win/win outcomes; don't settle for anyone being the loser.

For the partnership to win, all partners need to win. If anyone in the partnership loses, the entire partnership loses. Keep asking questions that lead you to the win/win outcome.
Communicate honestly from the heart and practice high-performance listening.

People respond positively to the expression of heart-felt truth because it builds trust, even if they don't agree with it. High performance listening is listening without judgment for the concerns of the other person that may be hidden behind their words.
Assume personal responsibility for your emotional reality and refrain from blame.

Blame and projection will pollute the emotional climate of a partnership faster than anything.
Take the initiative for the satisfaction of your own needs and wants and make clear requests of others that inspire their cooperation.

Don't wait for people to guess what will make you happy. Nobody likes to endure demands or covert manipulation.
Share power rather than struggle for it.

Let go of the need to be right all the time. Value others ideas and perceptions as being as valid as your own. Heal your unresolved power/authority issues from the past.
See problems as opportunities.

Every problem contains the gift of spiritual development within it. Learn to unwrap the package.
Nurture a conscious relationship with your Soul.
The more spiritually attuned you are, the more enlightened you and your partnerships will be.
Copyright © 2013 by Paul and Layne Cutright. All rights reserved in all media. Used with permission.

Paul and Layne Cutright are marriage and business partners who have been teaching principles and practices for successful relationships since 1976.

www.paulandlayne.com/
Couple For Life Resources
For free relationship assessments and resources for couples visit our web site at www.coupleforlife.com
---
Give yourself a gift - Get a Relationship Coach!

Ready to make some changes?

Your coach is waiting for you at: Find Your Coach!
Links to Us
Contact
Darlene Steele | Editor, Conscious Dating Newsletter for Singles Contact Here
---
Want to help people with their relationships and have a career you love?
Become a relationship coach!

Free Relationship Coach Starter Kit: www.RelationshipCoachingInstitute.com
---
To subscribe to this newsletter
Copyright © 2013 by Relationship Coaching Institute. All rights reserved. Feel free to share this newsletter with others as long as our contact information and authorship is included.