Welcome!

This newsletter is designed especially for YOU if:
You have met someone and are wondering if s/he is the "Love of Your Life"
You are about to get married and want to co-create a fulfilling life partnership
Announcements
Our Valentine's Day Gift for YOU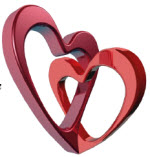 As a member of our network you are cordially invited to join us for a very special Valentine's event:



Your Most Romantic Valentine's Day Ever

With David and Darlene Steele


While accessible by telephone and internet, this event will be an EXPERIENCE, not a seminar. Very simply, we want you to have your most romantic Valentine's Day ever, no matter your relationship status.
This experience will be live and no recording will be available.

If you want to have your most romantic Valentine's Day ever, mark your calendar now, get off work early, get a baby sitter, and do what it takes to join us and make your love life a priority.

After all, aren't you worth it?

Just as the best things in life are free, so is this event; it's our gift to you.

This event for couples will take place on
Sunday, February 12 at 5:00pm pacific/8:00pm eastern

To join us on this experience, go to:
http://AttendThisEvent.com/?eventid=26245452
---

Free! Join our Together Forever Club for committed couples. If you want to give yourself and your beloved a huge gift our Together Forever Club is a great way to show your love and commitment to your partner. Membership is free! Upon registration you will receive a membership certificate that includes our Five Promises to My Beloved. www.togetherforeverclub.com


Ask Our Coaches:
To Stay or Not To Stay:
That is the Question
"How do you know when divorce is the
best option for your relationship?"
This column answers questions submitted by our readers. Submit your questions to Tara@relationshipcoachinginstitute.com who will forward them to our coaches all over the world. Each issue, we'll publish a few answers from our RCI coaches.
---
Dear Coaches,

How do you know when divorce is the best option for your relationship? What should my husband and I be considering as we contemplate this important decision of going our separate ways? We've been married 24 years and the kids are out of the house.
Phil and Diane
---
Denise responds …
Couples who have been together for a long time and have raised several kids become Mom and Dad, not Phil and Diane. Your energy, time, and attention are invested in the family, the home, the mortgage, jobs, bills and responsibilities. Perhaps you stopped being an intimate couple, forgot who you were as individuals, as man and woman.
What made you fall in love with Diane? What turned you on once upon a time with Phil? When you dissolve your 24-year union, will you both use your beautiful, sensuous, femininity and strong, virile masculinity to attract a soul mate? What if your soul mate is right beside you already and just has been neglected. How sad to let "the one" get away. I encourage you both to think about this.
Are you dreaming of a partner that may be a fantasy? If you are willing to search for a new love, why not put that energy into transforming your relationship into what you are hoping to find. Exercise together, take a tropical vacation, take bubble baths together, adopt massage night complete with candles and music and get to know each other all over again. It's time to start dating each other.
Denise Wade Ph.D. | www.sweetharmony.net | 1.215.913.7997
---
Nina responds …
If you met each other for the first time tomorrow, without any of the old emotional baggage, would you be interested in dating each other? Would the other meet ALL of your requirements for a satisfying and fulfilling long-term commitment? Requirements that are not met are usually "deal breakers" and will likely cause you to split again.
If you think that all the requirements you each meet makes up for the one or more that aren't met, either they aren't really requirements, or you'll need your own personal growth to make it work. Do you have a common vision for your lives? If you really wanted to, could you rejuvenate your relationship? Do you each meet and respect each other's core values? Have you each made a list of 100 things you'd like to Be, Do, or Have and compared them?
If you have no interest in "dating" to get to know each other in your new lives as empty nesters, it will be hard to rekindle the fire. Couples who take the time and effort to date, re-explore who they are and forgive each other, find their marriages are better than ever before.
Nina Potter | ninapotter.relationshipcoach.org | 1.651.773.0732
---
Jackie responds …
Leaving is always an option. Perhaps you and your husband owe it to yourselves and each other to do some self-examination and decide, with deliberate intention, if ending your marriage is the decision that matches for you and why.
I invite you both to consider these questions:
• What was your Vision of your life with your husband/wife?
• What is the Vision of your life with your husband/wife today?
• What is missing that was included in your Vision?
• Do you have a shared Vision going forward?
• What expectations and assumptions have not yet been met or are no longer being met?
• What are you angry, disappointed and disillusioned about?
• Are you clear about the issues/problems that you believe are unresolvable?
• What values, attitudes and behaviors might be challenging?
• Have you ever made efforts to explore any or all of these questions with a professional relationship coach?
Before you hire a divorce attorney, why not hire a relationship coach to help you sort through some of these important questions? Maybe the marriage is over. Wouldn't you like to know that it is and why it is before you end it? I wish you the best on this path of discovery!
Dr. Jackie Black | www.DrJackieBlack.com
---
Jianny responds …
After establishing a life around raising children and maintaining a lifestyle, some empty nesters experience confusion and identity crisis. You may look at your partner and wonder, who's this stranger? Do we have anything in common? The empty nest can become a glorious time of rebirth.
• Honest self-evaluation is the first step.
• Conduct a simple inventory of your values and goals.
• Discover your purpose.
• Get to know each other again.
• Co-create the marriage with the things you desire.
• Embrace the new freedom.
• Rediscover sensuality and sexual intimacy.
• You've done the hard part of marriage – enjoy the fruits of your labor and have fun.
Marriage creates the platform for us to fulfill our potential and to empower and support our mate to be in their fullest potential. Our family of origin is an incredible gift. Families can be the most fertile place for spiritual development, the catalyst for our growth potential.
Consider the pros and cons after speaking with professionals on the spiritual, psychological, legal and financial matters of divorce prior to making a final decision. An empty nest can be an once-in-a-lifetime opportunity to create a true "love nest."

Jianny Adamo | www.fearlesslove.net | 1.954.495.4566
---
Marcy responds …
Divorce is the best option when no other option is available and that means you have made every attempt and effort using techniques, methods and so on to be sure this decision is best. You don't give much information here so it is hard to determine from this vantage point if you have reached the point of no return.
You do mention the kids are out of the house so let me address that. If you are alluding to, now, that you have the freedom to go your separate ways, you really always had that. Your staying because the kids were home was protection. It is common for empty nesters to feel a loss and turn away from each other.
You may want to start by turning toward each other to determine what you can do differently, together, on this new part of your journey and embrace this time you can create together. This is also a good time to do some introspective work to discover the happiness within that you may be trying to get from your partner. And finally, check in with your heart, head and gut – they will all give you the signs and signals you need.
Marcy Rich | www.marcyrich.com | 1.602.573.6406
Feature Article:
Why Do I Love You?
By Tara Kachaturoff
---
How many people really think about love? I mean really think about it – what it is, why it is, how it is? It's a word that's tossed around a lot. It's one that singles shudder to say when they start dating and one that, when spoken, might be reflected back with the chirping of crickets or the cringe-worthy reply of, "I like you, too!"
We use it to express happiness with our latest gadget du jour – like our iPhone or iPad. And it's even in the title of one of the most popular television shows ever -- "I Love Lucy!"
When's the last time you thought about love as it relates to your spouse or life partner? Sure you might toss out an "I love you" as you grab your coffee in the morning and dart out the door, or you might text the words
"I <3 U." And, then, as you jump into bed in the evening, you might say a quick "love you" as you nestle in for the night. But there's more to it than that. So let's explore love a little more deeply.
Why Do You Love Your Mate?
Does the "why" really matter? Yes, it does. The more conscious you are of these aspects of your relationship, the more meaningful you can make it for both of you. After all, life is meant to be lived in all its color, richness and texture.
When you know why you do something, you look at it differently. You see things you never saw before, you can become one with it, you can innovate and use it as a catalyst or launch pad for something else. A deeper understanding of love, "why" you love your mate, allows you to get into a flow. It will also afford you a very different perspective and experience than if you choose not to explore your love at this deeper level.
Reasons Why You Love Your Mate
#1 Simply lovable! One of the most obvious reasons why you love your mate is that they're just lovable. They're adorable. You find them thoughtful, kind and caring; you love how you feel when you're around them or even thinking of them. You appreciate their big, beautiful heart and their warm secure hugs. Sometimes it's just a match made in Heaven.
Question: What makes your mate so lovable?
#2 Shared values. Your values define your character and your behavior. Having shared values are important to your overall relationship success and happiness. And, most likely, it was your shared values which attracted you to each other in the first place.
When you have shared values, you're on the same bandwidth. You understand each other. This not only allows your relationship to grow and flourish with less effort, but also it makes it feel more safe and endearing. Sharing common values are another reason why you love your mate.
Question: What values do you share with your mate?
#3 Shared vision of life. Your vision is the big picture -- the ideal map of what you want out of life. Your goals are the roads on the map which lead you towards the attainment of your vision. You love your mate because you share a life vision. It's bigger than the both of you which makes it exciting and compelling.
A shared vision allows you to walk together -- to reap the benefits of the shared synergy of two heads being better than one and of focusing your combined efforts towards the same ends in life. There's a certain harmony and joy that comes from such a marriage of souls and it's definitely another reason why you love your mate!
Question: What's your shared vision of life?
#4 Shared interests. It's a well known truth that you like people who are like yourself. It's ingrained in your DNA and the reason humans congregate in groups focused on similar interests or shared values. In your day-to-day existence, you often share many interests with your mate. These are things that allow you to come together to laugh, learn and enjoy each other.
Perhaps you share an interest in food or wine, travel or books, classical music or meditation. Whatever it is, these shared interests are connecting points where you can say to each other – "Wasn't that great?" and you both get it at that soulful level. This is yet another reason why you love your mate.
Question: What interests do you share and what new interests might you share in the future that are yet unexplored?
#5 Differences. Yes, you love your mate because you enjoy shared values and interests, however you also love him or her because of their differences. It's the spice of life and of any love partnership. It keeps things exciting. Certainly you wouldn't want a partner who is exactly like you!
The differences between you and your mate may even be more attractive than the similarities. It might be your partner's quirks, habits or even his or her sometimes off-the-wall hobbies that you find endearing. It might be their unique view of the world, their free spirit, or their matter-of-fact facility with money or math. Whatever it is, it's lovable!
Question: What differences in your mate do you find lovable?
These are just a few reasons why you love your mate. Certainly, you can add your own reasons to the list as well. Take the time to think about these. When you do, you'll develop a deeper appreciation for your mate and why you're so in love with them. And, the next time you say, "I love you," you'll feel it and know it at a much deeper level.
Copyright © 2012 by Tara Kachaturoff. Used with permission. All rights reserved in all media.


Tara Kachaturoff is a Master Certified Coach for Singles. Since 2003, she has coached hundreds of single men and women to create better dating relationships through her onsite and teleseminar courses. Tara is also the newsletter editor for the Relationship Coaching Institute (RCI). Her personal site is www.relationshipplanning.com.

Bonus Article:
How Do I Love You?
by Tara Kachaturoff
---
Have you ever taken the time to think about "how" you love your partner in life? Certainly the easy things come to mind – spending time with him or her, sharing intimate moments, being there to listen and so on.
When you become more conscious as to "how" you love your mate, you'll develop an increased level of appreciation for both him or her as well as your relationship. Conscious love and affection is given and received with much more passion and excitement.
The Grounding Factor is Time
Ultimately, what you give to each other is your time – literally -- your life time. Time melts away one second, one minute, one hour at a time. It's given in the now and can never be stored or saved; it just passes by -- never to be reclaimed. Though fleeting, its memories remain with you for a lifetime. It's perhaps the most precious gift you can give to anyone and it's the foundation of all you do when it comes to how you love your partner.
How We Love Our Mate
Generally, how you do anything is how you do everything. So if you do things with more passion, compassion and heartfelt enthusiasm, these emotions will surely pass to the recipient. If you're not living to your potential or investing as much as you would like into your mate and relationship, then now is a good time to do more.
Being more conscious and intentional in how you love your mate will create closer connection and intimacy. It will intensify your feelings of love and increase your overall satisfaction with your relationship. As you think about the ideas described below, think about how each might benefit both of you.
I love you by sharing experiences with you. Shared experiences are the "super glue" of how you express your love. Through the thick and the thin, through the ups and the downs, for better and for worse, the time you clock with your mate is going to cement you together.
It's through these experiences that you learn more about each other and about yourself. In the future, these become the memories upon which you will reminisce. For today, truly enjoy your mate and the interplay of energy between the both of you. Not only will this brighten your experience, but it will enlighten your relationship.
Question: What new and unique experiences can you share?
I love you by listening to you. When you listen to one another without necessarily providing solutions or answers or anything in particular, you are truly being with your mate. Allow your partner to just be – to talk freely, to express their emotions and bottled up thoughts and feelings. Listening is probably one of the greatest gifts you can give and it is how you show your love.
Question: What can you do to communicate that you're really listening to your mate?
I love you by giving you gifts that are meaningful to you. There are countless gifts you can give to your partner. There's the gift of time. There are physical gifts like a ring, a book, flowers or something of that nature. It might be breakfast in bed or taking the kids to some activity to give your partner time to relax and unwind. Gifts are a beautiful and meaningful extension of your love.
Certainly you know the types of gifts that your mate enjoys. Now take it one step further. What types of gifts might reflect his or her life goals or values? How could you incorporate audio or video to increase the sensory experience of your gift? How can you customize something so that it's one-of-a-kind – just like the love you share? What could you make with your own hands which would embrace your love for one another?
Question: What types of gifts are meaningful to your mate?
I love you by being there for you. Being there can apply to the prior items mentioned above -- like spending time together, listening and giving of gifts. Being there is more than that. It's about being there for your mate at his or her darkest hour -- when they're ill, when they've lost a loved one or when they've been impacted by something of great significance.
And, equally, it's being there when your mate accomplishes something amazing. Showing your support, attending to their needs and expressing your caring in the unique way that you do, will warm their heart and tame their fears.
Question: How do you provide emotional support for your partner? What might you add to what you're doing which would comfort them even more?
This list of ideas is far from complete so add your own thoughts, too. "How" you love your mate is contagious – in a good way! You learn from each other. Your partner can learn how to love you by the way you love him or her – and vice versa.
When your loving actions are more conscious, you automatically engage your partner and your relationship with more zest. It is important to know "how" you love your mate because this is "how" you invest in your relationship. The more you invest, the more you will reap by way of love, understanding, trust and intimacy.
Copyright © 2012 by Tara Kachaturoff. Used with permission. All rights reserved in all media.
Tara Kachaturoff is a Master Certified Coach for Singles. Since 2003, she has coached hundreds of single men and women to create better dating relationships through her onsite and teleseminar courses. Tara is also the newsletter editor for the Relationship Coaching Institute (RCI). Her personal site is www.relationshipplanning.com.
---
Partners in Life Resources
RCI has made available 35 recordings of presentations by the world's leading relationship experts. To access these recording from our Conscious Relationship Summit go to: http://www.ConsciousRelationshipSummit.com
For More Information
For relationship resources for couples visit our web site at relationshipcoachinginstitute.com/resourcecatalogue.htm
Get a Relationship Coach!
Check out our coaches at: www.relationshipcoach.org
Check out our Conscious Mating Audio Programs
Please share this with new couples that you care about.
Links to Us
Contact
Tara Kachaturoff | Editor, PartnersInLife.org Couples News Tara@relationshipcoachinginstitute.com
---
Relationship Coaching Institute's free introductory training! relationshipcoachinginstitute.com
To subscribe to this newsletter
Copyright © 2012 by Relationship Coaching Institute. All rights reserved. Feel free to share this newsletter with others as long as our contact information and authorship is included.