Welcome!

This newsletter is designed especially for YOU if:
You have met someone and are wondering if s/he is the "Love of Your Life"
You are about to get married and want to co-create a fulfilling life partnership
Announcements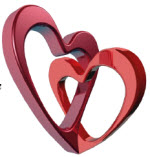 Together Forever Club for committed couples. If you want to give yourself and your beloved a huge gift our Together Forever Club is free and a great way to show your love and commitment to your partner. Membership is free! Upon registration you will receive a membership certificate that includes our Five Promises to My Beloved. www.togetherforeverclub.com
Ask Our Coaches:
It's now or later: What's the
best thing for our relationship?
"Do you think we should get married before we go off to grad school...?"
This column answers questions submitted by our readers. Submit your questions to Tara@relationshipcoachinginstitute.com who will forward them to our coaches all over the world. Each issue, we'll publish a few answers from our RCI coaches.
---
Dear Coaches,

My boyfriend and I are will graduate in December from the same university. We've been dating for four years (we met at freshman orientation) and definitely want to get married. We've been accepted into graduate programs in different states which means that we're going to be apart from each other for a while. My program is 3 years long and his will be at least 2 after which time he can move to where I'm located.
We'll definitely be able to meet up for the major holidays, however, due to our limited finances it's out of the question to see each other more frequently. Although we want to get married (we aren't engaged yet), we know we must focus on our graduate work so we can have the careers we're pursuing. Do you think we should get married before we go off to grad school or do you think we should wait, get engaged, and then get married after he's completed with his studies? What's your advice? What's best for our relationship?
Chrissy
---
Jackie responds ...
Your relationship is created by you and your partner; created by your deliberate intention. It is not separate from you. I'm wondering what you believe would change in your relationship if you and your partner got married, lived in different cities for two years and saw each other on major holidays.
Successful committed partners become knowledgeable about themselves and each other, spend time clarifying their individual and shared vision for their life and their marriage, and learn, practice and master the essential relationship success sills. Have you both given serious consideration to the expectations you have for marriage and for each other as committed partners?
Marriage can be challenging in the best of circumstances. There is a lot to learn about being married. Having a long distance marriage can make a complex dynamic even more complex. I invite you to explore what you believe will be different or what you want to be different if you marry and then spend two years living apart vs. waiting until you can create a life and a love life in the rich presence of each other.
Please consider hiring a professional relationship coach to help you sort out these important questions and decisions.

Dr. Jackie Black | www.DrJackieBlack.com
---
Michelle responds ...
Congratulations to you and your boyfriend for following your dreams and taking the steps to pursue your careers. You both have already made such a commitment with regards to your studies which will carry a great deal of pressure and then to make another commitment -- getting married -- carries on a whole new set of stressors. I think you and your boyfriend should wait to get engaged or married; to rush into either situation is not fair to either of you.
Your relationship is taking on a new dimension -- have fun with it! You and your boyfriend need to discuss both of your needs and wants. You should determine how you will "see" each other and "spend time together" since you will be living in different states. Will you talk every day, Skype, etc.? Is there a possibility where you can meet at some mid-way point to see each other at times? It is important to have a plan, be open with each other and communicate so if things are not going the way you want them, you can say something!
When you work on a relationship and make it a priority things have a way of working out.

Michelle Bianco | www.coachmichellebianco.com | 1. 855.624.2626
---
Anita responds ...
Falling in love and having a meaningful relationship is one of the best experiences for the human heart. And then life kicks in. Conflict. Surroundings change. And, in your case, you're deciding to marry now or after you complete your graduate programs.
Love is juicy, delicious, and comforting, but also asks us to work for it to keep it alive and kicking. Whether you are engaged or married, the work you and your boyfriend will have in keeping your love protected and nurtured while apart will be your only real task. And lucky you, you're living in times where you have tools like Skype, email, and smartphones to help stoke the fires you have for each other!
Consider talking with your boyfriend about this. His thoughts and emotions may help you steer toward the proper direction. I know couples who married quickly and those who had long engagements. Both choices result in happy marriages and unsuccessful marriages. The difference: the effort invested to maintain their relationship.
In the grand scope of love, it won't matter when you get married. What matters, in the end, is that you are both lovingly committed in facing life's conflicts and joys together, near and far.
Anita Myers | innerscopeconsulting.com
---
Nina responds ...
While only you and your boyfriend can decide what is best for you, I would remind you that there is no hurry to making a formal commitment here. You need time to see how you both respond to separation and the stresses of advanced schoolwork. There are many ways you will both grow during these next few years that could change your outlooks, interests, and lifestyle preferences.
Take this time to get to know each other and your new ways more deeply. You may change your mind on how you see your future in a way that could make marriage a difficult and trying experience. If you feel a more formal show of commitment is necessary, you could compromise and become engaged during the separation. Save the plans for your marriage until you're both out of school and established in your careers.
Marriage isn't something you can take for granted. It needs time and attention which it sounds like you won't have during these important learning years. The growth you experience on your own can then be shared as you start your life together living in the same space.

Nina Potter | www.ninapotter.relationshipcoach.org | 1.651.773.0732
---
Tara responds …
Graduate school will take a tremendous amount of focus and consideration – for both of you. Adding the stresses of being married while living in different locations will only add to your already full plates. Rather than rushing into things, you may wish to consider getting engaged.
The engagement period is a perfect time to test your relationship. You'll learn a lot about yourself and your partner by experiencing different aspects of each other and the relationship during your time apart. Sometimes when you're put into different environments, your goals, ambitions and your views on life change. It may be important to explore these new areas for both of you.
Through communicating regularly and meeting up when you can, you'll be able to continually assess how you feel about each other and your long-term prospects. At the conclusions of your studies, you'll be better equipped to make a decision about whether marriage is the right thing or not. A relationship coach might be helpful to engage to help you sort out the details.
Tara Kachaturoff | www.relationshipplanning.com
---
Feature Article:
Six Signs That Your Marriage Is On the Rocks
by Dr. Dar
---
Marriages will either end in death or divorce. Even picture-perfect marriages have the potential to end in the latter. It can take the smallest thing to set it off. Even seemingly innocuous mistakes, made at the worst possible moment, can undermine a lifetime of love and affection.

Unfortunately, when a marriage should end in divorce can be a difficult thing to figure out. Emotions can cloud judgment and make it difficult to judge whether or not it should end. It may never be easy to figure out, but it is always important to know when it is time to solicit professional help to save your relationship.
#1 Poor Communication Skills
You and your partner are not expected to communicate meaningfully at all times. Sometimes there's just nothing to say about how hot it is today. Unfortunately, if you never talk about anything anymore, it may be a sign that the well has run dry and you are simply not interested in talking to him anymore.  Sweeping your thoughts and feelings under the rug will not make things better.  Be strong and share what's there for you so that you and your partner can address the issues up front.
#2 Marital Unhappiness
Rough patches will occur. Every marriage and relationship will have more than a few rough patches during their marriage.  Some may last a few minutes, others days or even weeks.  However, if it gets to a point when the thought of the marriage makes you ill or uneasy, there may be a problem...
#3 You Feel Alone
This, by far, is one of the most obvious signs that a marriage is in serious trouble. It may manifest in a number of ways, from feeling that you're the only one putting effort into the relationship, to simply not sharing with your partner. If you rarely feel like sharing with your partner or if you feel like he or she just isn't trying to help keep it together, your marriage may be in trouble. Your spouse may also start trying to keep you away from their friends and family, which can also make you feel lonely.
#4 You Have no Interest in Improving the Relationship
On the other hand, you could be the one withdrawing from the relationship. It may seem like you just need a little space, but there is a difference between wanting a little alone time and feeling sick of trying to work on it. The key difference is interest. Wanting alone time doesn't mean you want the relationship to end. Withdrawing means that you are no longer personally invested in the relationship at its current state.
#5 You're the Last Vine in the Grapevine
This means that you are the last to know anything about your spouse. Hearing about things second-hand may indicate that they aren't interested in sharing anything with you. It can get worse – you might not care that you are the last to know. Consider that you may be putting him or her in this position. Not being interested in sharing your joys, triumphs, pains, or challenges with your significant other is a red alert that your marriage is on the rocks.
#6 Lack of Physical Intimacy
Intimacy might not be the only thing in a relationship, but it is most definitely part of a healthy one. This covers everything from hugging to sex. A partner that doesn't feel interested in holding you or sleeping with you is a partner that will soon want out. Be aware that some people are occasionally distant. Sometimes he or she just isn't in the mood to cuddle, needs some space, or just needs some quiet restful sleep. It's a sign of a problem if s/he never wants to touch you or if you never want to touch them.

If these signs seem severe, it is because they are exactly that. All of these signs are symptoms of a lack of physical and emotional intimacy and connection. What is important to remember is that these symptoms can occur, but in short bursts. That's how relationships are – there are bad days and there are good days. Your marriage is in trouble when there are never good days. Should you see a lot of these symptoms happen even during one month or over several months, it is time to solicit the help of a professional marriage coach or counselor who specializes in helping couples save their marriage.  It is possible to recover from marital woes and restore your marriage to happiness and connectedness.
Copyright © 2012 by Dr. Dar. All rights reserved in all media. Used with permission.

Dr. Dar, Ph.D. is an internationally recognized Relationship Expert, Author, Speaker, and a Master RCI Licensed Relationship Coach for Singles and Couples. She helps couples save their relationship, singles find their happily ever after, and parents have amazing relationships with their teenagers.
www.DrDar.com



Bonus Article:
14 Compelling Reasons to
Use a Relationship Coach
by David Steele, MA, LMFT, Founder of Relationship Coaching Institute
---
"It doesn't matter where you've been. What matters is where you're going and how you'll get there."
- What do you want for your life and relationship?
- How will you get what you want?
At some point, no matter how many books we read, seminars and workshops we attend, even MEGs (Marriage Enrichment Groups) that we participate in, we all hit a wall and get stuck in relationship ruts, able to go no further. If your relationship is in trouble and you're stuck, you see a therapist. But what if your relationship is "OK?"
Our answer at Relationship Coaching Institute is "Get a relationship coach!"
The coaching relationship is unique and powerful and can help you find fulfillment in your life and relationships. Below are some important reasons to use a Relationship Coach, any ONE of which is compelling enough to get your very own coach TODAY.
1. You value relationships highly
You prioritize building fulfilling personal and professional relationships. You realize that your success and quality of life is directly connected to the quality of your relationships.
2. You are committed to success
You are serious and intentional about having a fulfilling life partnership, family, business, and community.
3. You want results
Working with a coach can move you farther and faster than you can on your own.
4. You are willing to learn
You realize that you don't know what you don't know, and your future success may depend upon access to new relationships skills and knowledge.
5. You are ready for action
Using a coach can be the most effective means of translating knowledge into practice. One of the most indispensable roles of a coach is to help you use what you already know to make effective choices and take the actions necessary to be successful.
6. You are open to mentoring/support
A Relationship Coach helps you to use your relationship to evolve and develop skills critical to your relationship success and personal fulfillment. The process of self-discovery, learning about relationships, and how to make successful relationship choices cannot be effectively self-taught or obtained from a book or tape.
7. You want fulfillment
You do not want to settle for less or risk preventable failure, and you are willing to give yourself the gift of the support and technology needed to be successful.
8. You want to be true to yourself
A Relationship Coach helps keep you honest with yourself, helps neutralize any tendency you may have to settle for less than you really want, is good for providing "reality checks" and being a sounding board.
9. You want to be proactive
A Relationship Coach helps you solve problems while they are still small.
10. You want to go beyond your limits
A Relationship Coach holds your highest vision for you beyond your fears and limitations, and helps you overcome your obstacles and challenges.
11. You want to take responsibility
A Relationship Coach helps you take responsibility for the quality of your relationships so that you can create them the way you want.
12. You want to live authentically
Today's world is filled with challenges to finding and staying on your highest path, telling your truth, and making choices that are best for you. A Relationship Coach helps you identify and live the life you really want, and to be more of the person you really are and want to be.
13. You want balance in your life
Your life is filled with opportunities and conflicting choices. You recognize the importance of creating and maintaining balance in relationships, including the ones you have with yourself and your higher power.
14. You want new possibilities for your relationships
You recognize that a healthy relationship is growing and dynamic. One of the worst things that can happen is to take one another or the relationship for granted. Opening to new possibilities keeps a good relationship getting better with the passage of time. A Relationship Coach helps you to continually discover and implement new and more fulfilling possibilities for your life and relationships.
To find a trained and qualified relationship coach for couples and for free membership in Relationship Coaching Institute's Together Forever Club with access to free relationship assessments, information, resources for couples visit http://coupleforlife.com/
Copyright © 2012 by Relationship Coaching Institute. All rights reserved. Used with permission.

---
Couple For Life Resources
RCI has made available 35 recordings of presentations by the world's leading relationship experts. To access these recording from our Conscious Relationship Summit go to: www.ConsciousRelationshipSummit.com
For free relationship assessments and resources for couples visit our web site at www.coupleforlife.com
Get a Relationship Coach!
Check out our coaches at: www.coupleforlife.com/find-a-coach/
Simply select one of our qualified relationship coaches and we'll be happy to meet with you over the telephone at your convenience for a complimentary 30-minute session. If you haven't done this before, you'll find that it's extremely helpful to talk about your relationship with a neutral third party who is a professional relationship coach. Try it!
Check out our Conscious Mating Audio Programs
Please share this with couples who you care about.
Links to Us
Contact
Tara Kachaturoff | Editor, PartnersInLife.org Couples News Tara@relationshipcoachinginstitute.com
---
Want to help people with their relationships and have a career you love?
Become a relationship coach!
Free introductory training at: relationshipcoachinginstitute.com
To subscribe to this newsletter
Copyright © 2012 by Relationship Coaching Institute. All rights reserved. Feel free to share this newsletter with others as long as our contact information and authorship is included.