Welcome!

This newsletter is designed especially for YOU if:
You have met someone and are wondering if s/he is the "Love of Your Life"
You are about to get married and want to co-create a fulfilling life partnership
Announcements
Conscious Relationship Seminars
Join us on Thursday, March 17th at 5:00 pm pacific/8:00 pm eastern for our free Conscious Relationship Tele-Seminar "Transform A Painful Relationship Into A Passionate Partnership" with Doris Helge, PhD, RCI Relationship Coach.
Do you have any conflicts and communication challenges with your mate, date, ex-partner, in-laws, children, or other family members?
Do you want to enjoy peace and harmony with difficult dates, mates . . . even difficult people at work?
This cutting-edge seminar will:
Help you stop settling for less than you want and deserve;
Help you understand the three magic keys for creating a relationship that grows as you change;
Provide you with a new communication tool guaranteed to build trust, respect and intimacy;
Teach you how to grow from conflicts and struggles over finances, religion, sex, behavioral style . . . and every day differences of opinion;
And much more!
For more details and to attend this program via telephone, webcast, or replay access
http://AttendThisEvent.com/?eventid=17773275
---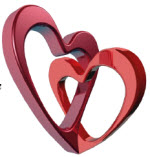 New! Together Forever Club for committed couples. If you want to give yourself and your beloved a huge gift our Together Forever Club is free and a great way to show your love and commitment to your partner. Membership is free! Upon registration you will receive a membership certificate that includes our Five Promises to My Beloved. www.togetherforeverclub.com

Ask Our Coaches:
Open Relationship: Open the Door
or Slam it Shut?
"I want both of us to have the freedom to meet and experience others yet still have the safety of our solid relationship."
This column answers questions submitted by our readers. Submit your questions to Tara@relationshipcoachinginstitute.com who will forward them to our coaches all over the world. Each issue, we'll publish a few answers from our RCI coaches.
---
Dear Coaches,

Honesty is a strong value for me. I feel that my partner and I have always been very caring, sharing, and truthful with each other. We have been in a committed relationship for 13 years. We're totally, 100% monogamous, however recently I've been drawn to wanting to have a relationship with someone else -- no one identified as of yet --something more casual.
I don't want to leave our relationship, but I want both of us to have the freedom to meet and experience others yet still have the safety of our solid relationship. I want an open relationship. My partner does not want this at all. I'm not comfortable feeling like I can go outside the relationship without permission. Where do I and we go from here? We are in complete disagreement. I think this is just a natural evolution of who I am in this relationship. Do I need to change? What about my partner? Or, is it time to part ways? Thoughts?
Roger
---
Kathleen responds ...
Open relationships CAN work. Start by discussing the concept with your partner, beginning with assurance about your continued feelings of love and attraction for your partner. If you both are open to exploring the idea, you will need to re-define the boundaries of your relationship. Discuss what it means to open it up.
Decide under what conditions being with others is okay. Discuss what specific behaviors are okay or not. For some people kissing is the most intimate behavior and is reserved only for their partner. Also explore fears, concerns, and hopes you both have, and how you will check-in with each other as things move forward. One important concern is protecting against sexually transmitted infections. Safer-sex precautions will be essential.
You want to re-draw new boundaries for your relationship to allow you both to interact in ways you are not now. By approaching it this way, you can maintain honesty between you and your partner. If it happens with openness and honesty, open-relationships can be a viable option. Keep in mind open relationships can look various ways; the alternatives are more than open vs. monogamous. Good luck.
Kathleen Baldwin | www.tellkathleenanything.com
---
Lori responds …
In my experience, open relationships work when both people are committed to having an open relationship and when you had that type of relationship with each other from the beginning. This is not the case for you. Trying to force your partner into accepting this kind of change in the relationship is probably a death sentence for the relationship.
From your partner's perspective, it might feel like you are changing the "rules" of the relationship, or she could be afraid you are getting ready to leave the relationship. This request might also challenge some of her core beliefs, such as the "I'm not good enough" belief. You may be pushing her beyond her comfort zone.
You said honesty is a strong value, so let's get honest. What are you hoping to gain from seeking sex outside this relationship? What needs are not getting met right now in this relationship? This is the real discussion you need to have with your partner. You say this relationship is solid yet question whether you should leave. I think it's time to have a long hard look at whether your needs are being met and whether they can reasonably get met in this relationship.
Lori Rubenstein | www.LoveAdviceCoach.com | 928.634.0252
---
Betsy responds ...
Roger, I applaud you for your honesty, your forthright communication with your partner, and your desire to have consensus in order to having an open relationship. It is certainly possible to be in love and have a successful open relationship when both partners are comfortable and willing.
There are countless resources on polyamory and swinging for couples that are interested in alternatives to monogamy. However, given that your partner is firmly opposed to anything but monogamy, you are faced with a tough choice of staying in the relationship and remaining monogamous or leaving the relationship to be in one that is open. Can you be happy staying in the relationship or will you feel that you are settling?
Defining your needs and requirements versus your wants is the key. If you are truly in love with your partner, her happiness will be integrally tied to your happiness. What is your heart telling you to do? Let your heart be your guide.
Betsy Dorn
---
Frances responds ...
Transparency is the one of the most important factors in the success of a relationship – for all relationships at whatever stage they are at. No-one enjoys finding out they have had important information withheld from them. It can be an unfortunate way to start a new relationship.
It's important to inform all suitors/lovers as early on as possible that you are:

1. Dating others
2. Having sex with others (if you are)
3. Using safer-sex practices.
You will probably have to explain your reasons quite a bit, as many daters don't think this is normal behavior…or else they just lie about it. Stick to your principles…and all the best!
Frances Amaroux | www.LoveCoaching.com
---
Doris responds ...

Since honesty is a strong value for you, make sure you're being totally honest with yourself. You say you want a casual part-time relationship buffered by the safety of a stable partnership. You want your partner's permission to graze in a new pasture and receive a "Welcome Home!" rubdown when you return to the barn.
Most men who've been monogamous for a long time break their pattern when true needs aren't being met. Some are struggling to discover their authentic self. Others are unconsciously following a pattern set by parents, peers or social propaganda.
Since you and your partner have been sharing, caring and truthful, it's possible your relationship is about to enter a deeper level of intimacy and personal evolution. Most of us trigger the flight-or-fight response when we're about to gain a bold new layer of self-discovery.
Your questions express a lot of uncertainty, so let's play the "What if?" game. What if you stay inside the gate long enough to identify your hidden needs? What if you discover how to be rewarded for being Your Authentic Self before making your final decision?
A relationship coach can help you gain the clarity and personal evolution you're craving.
Doris Helge, Ph.D. | www.CoachingByDoris.com | 360.748.4365


Feature Article:
Five Promises for Being Together Forever
by David Steele, Founder, Relationship Coaching Institute
---
Beloved, you are the love of my life and I'm grateful for each day with you. Our relationship is the most important part of my life and I am committed to being together forever.
Though we are surrounded by cynicism and challenges, I resolve to love you and be with you for the rest of my life. Through our relationship we will nurture each other and make the world a more loving and positive place for ourselves, our family, and everyone we share this planet with.
Five Promises to My Beloved
#1 I Promise to Love You Every Day
I know that love is a choice and I choose to love you always. Though I can get busy and have my moods, you deserve my love and attention each and every day. I choose to love you even when I'm upset or frustrated. I know that loving you means being fully present, telling you my truth, being honest and transparent with my thoughts, feelings, wants, and needs so you know fully who I am. I strive to appreciate and treasure you each day that I'm blessed to have you in my life.
#2 I Promise to Choose You First
You are the most important person in my life and I commit to not taking you or our relationship for granted, each and every day. Though work, home, finances, family, friends, hobbies, and other stresses and distractions can make this challenging, I choose you first, always.
#3 I Promise to Take Responsibility
I understand that my outcomes are 100% dependent upon my own choices and actions, and that my thoughts and feelings are my own. I know that our relationship is a mirror reflecting myself back to me, and that my desire to be happy and feel loved by you depends upon my own ability to allow myself to be happy and to receive your love.
#4 I Promise to Say "Yes!"
You deserve my positive response even when I don't feel like it. Your needs and wants are a gift to my growth and well-being and the key to a great life together. I am committed to your happiness as much as my own. If I'm unable to grant 100% of your desire or request I will respond positively and work with you to find a creative way to meet your underlying need. You can feel safe with me as one who loves you and will respect and honor your needs, always.
#5 I Promise to Be Your Hero
When life is challenging (and even when it's not) you deserve a champion; someone who will be there for you, love and support you unconditionally, no matter what. I commit to being your hero and helping you feel emotionally and physically safe and secure. I believe in you and I believe in us.
To you, my beloved, I freely and joyfully make these five promises and look forward to being together forever.
Note to readers: Your relationship fulfillment starts with YOU. While challenging and not for everyone, making and keeping these promises are key to a lasting, fulfilling relationship. If you resonate with these promises you are invited to join our Together Forever Club. Free membership includes great relationship information and a membership certificate you can give to your partner as your gift of love & commitment. www.togetherforeverclub.com

Copyright © 2011 by David Steele and the Relationship Coaching Institute. All rights reserved in all media. Used with permission.

David Steele, MA. LMFT is founder of Relationship Coaching Institute and author of the ground-breaking book for singles, Conscious Dating: Finding the Love of Your Life in Today's World. For more information visit www.consciousdating.com


Bonus Article:
Simple Romance Rituals
To Keep The Divorce Gremlin Away
by Dr. Jackie Black
---
Common Rituals and Celebrations
Rituals and celebrations are one way to intentionally create meaningful connections with special and important events and people. Many people already celebrate birthdays, anniversaries and other holidays, including rituals we may not even recognize as such.
Here are some common rituals and celebrations:
• Graduations
• Bachelor / Bachelorette parties
• Bon Voyage parties
• Promotion / Retirement
• Bridal and Baby Showers
• Wrap parties in the Entertainment Industry
• Funerals, Memorials, Celebrations of Life
• Throwing coins in a fountain
• Placing an extra candle on a birthday cake
• Bride and Groom feeding each other cake
• Sending cards to remember special occasions
• Hanging up bird feeders during winter
You Can Create Easy Couple Romance Rituals
Celebrations and rituals do not have to be involved, complicated or expensive. It is the simple act of honoring your love and the caring you feel for your partner with your intention and attention.
Your Romance Ritual is something you decide on together; some specific behavior -- something that you do with or say to the other, intentionally; and make an important part of your established routine. If you take the time and the effort to create your Romance Ritual and include it in your routines with each other, you will notice a marked increase in good will, less conflict and hurt feelings, and much more intimacy!
If this is something you'd like to try, finding your perfect Romance Ritual should be easy.
Sit down with each other and make a list as fast as you can in 12 minutes. Write down everything you can think of that you love and appreciate about your partner and everything you can think of that your partner loves and appreciates about you. At the end of 12 minutes, compare your lists and Voila! You will be able to recognize three or four Romance Rituals to create, use and interchange for years to come.
If you really want to stretch yourself and affair-proof and divorce-proof your marriage, create everyday Romance Rituals; weekly Romance Rituals; morning Romance Rituals and bedtime Romance Rituals!
Your Romance Rituals can be as simple as lighting a candle and saying thank you for three special ways you love and cherish your partner or feel gratitude for feeling loved and cared for by your partner. Or sometimes when you walk past each other you reach out for a brief moment in a very special way that you and your partner understand is a Romance Ritual.

The very act of bringing your attention to someone for whom you are grateful can heal deep hurts and serve as important reminders of what you value. Your options are truly endless! Sound like overkill? Please understand that Love is NOT enough!
It takes conscious, intentional time, attention and focus on your relationship and your partner to insure that life, and other people and events don't negatively impact the life that you love with the love of your life!
Here is my coaching request: I invite each one of you to create a special ritual to celebrate your partner every week for the next 4 weeks. Intentionally choosing to celebrate is very powerful!

When you get in the habit of experiencing the richness in your life and your love life, and creating celebrations and rituals to mark those events and celebrate people you love, your life will be transformed forever! Try it. It's worth it.
Remember, only You can make it happen!

© 2011 Dr. Jackie Black, LLC and Jackie Black, Ph.D. All rights reserved in all media. Used with permission
Jackie Black, Ph.D. is an internationally recognized Relationship Expert, Educator, Author and Coach, and an RCI Licensed Relationship Coach for Singles and Couples. She coaches men and women who are single again, pre-married, newly-married, new parents, couples in trouble, couples facing illness, and those grieving the death of a loved one. www.DrJackieBlack.com
---
Partners in Life Resources
RCI has made available 35 recordings of presentations by the world's leading relationship experts. To access these recording from our Conscious Relationship Summit go to: http://www.ConsciousRelationshipSummit.com
For More Information
For relationship resources for couples visit our web site at relationshipcoachinginstitute.com/resourcecatalogue.htm
Get a Relationship Coach!
Check out our coaches at: www.relationshipcoach.org
Check out our Conscious Mating Audio Programs
Please share this with new couples that you care about.
Links to Us
Contact
Tara Kachaturoff | Editor, PartnersInLife.org Couples News Tara@relationshipcoachinginstitute.com
---
Relationship Coaching Institute's free introductory training! relationshipcoachinginstitute.com
To subscribe to this newsletter
Copyright © 2011 by Relationship Coaching Institute. All rights reserved. Feel free to share this newsletter with others as long as our contact information and authorship is included.