Welcome!

This newsletter is designed especially for YOU if:
You have met someone and are wondering if s/he is the "Love of Your Life"
You are about to get married and want to co-create a fulfilling life partnership
Announcements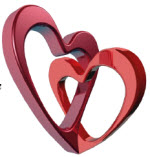 New! Together Forever Club for committed couples. If you want to give yourself and your beloved a huge gift our Together Forever Club is free and a great way to show your love and commitment to your partner. Membership is free! Upon registration you will receive a membership certificate that includes our Five Promises to My Beloved. www.togetherforeverclub.com

Ask Our Coaches:
I Settled, Got Married – Now What?
"...now I want more for the both of us."
This column answers questions submitted by our readers. Submit your questions to Tara@relationshipcoachinginstitute.com who will forward them to our coaches all over the world. Each issue, we'll publish a few answers from our RCI coaches.
---
Dear Coaches,

I'm 34 and have been married 3 years. Frankly speaking, I married because many of my friends were doing it at the time. I didn't want to be a left over or left alone. So I attracted someone who would put a ring on my finger and would offer me the financial security I desired. I got caught up in the fun of the romance, the endless wedding planning and all the excitement of sharing the newlywed fun and lifestyle with my girlfriends. For me, it was more about the experience rather than the relationship.
So here I find myself with all the newfound fun a distant memory and wondering how to "make this work." We do love each other and that has grown over the years. But how do I refresh and restart and basically "start over" with the man in my life? I don't think I was or my intentions were truly honest or authentic when we met. But now I want more for the both of us. I want to connect with him from my true self. How do I learn to authentically connect with the man to whom I said "I do" now that it's three years hence? Can it be done and how do I do this?
Shelley
---
Denise responds ...

Shelley, your self-awareness is commendable. Many people engage in the romance dance and never come out the other side conscious of that missing something. The missing piece for you is the emotional connection that takes us from being friends and lovers to being soul mates. Congrats on recognizing it. Since, by your own admission, you do love each other, the foundation is there. The infrastructure of a relationship is built with three concrete values:
1. Trust, which comes from being open, honest, and honoring mutual commitments.

2. Knowledge, which comes from a deep understanding of each other's unique and individual requirements, needs, and wants.

3. Alignment of priorities, which is the future upon which you both will create your relationship, home, and possibly family.
If you are open to the idea, I would suggest enrolling in a couples coaching program or marriage enrichment course that will open up the channel of communication. I would be honest with your partner about your desire to deepen the emotional connection.
The majority of men don't get excited about the process, but love the results. As far as the "Cinderella Syndrome" of your past, it's very common and not worth judging yourself over.

Denise Wade, PH.D. | www.sweetharmony.net | 1.215.913.7997
---
Udall responds ...

It is absolutely fantastic that you find yourself loving your husband even more now than three years ago. Even though you may have married him for security and "not to be left out and alone," we all have different needs and desires that may lead us into one relationship versus another. Love is not the only reason, but may be one of the many reasons we choose to marry a particular partner.
It appears that you have grown over the years and are now in a different place in your life with a different state of mind. Your marriage has grown into everything you wanted and more. It is time for you to let go of "why" you married him and rejoice in the present of what is happening with you, your partner, and your relationship now.
In this new place in your marriage, you and your partner can choose to renew your love and commitment to each other. Working together, plan a ceremony or celebration as a testimony or demonstration of the love and happiness you share.
Udall DeOleo | www.allaboutrelationships.us
---
Jianny responds ...
It seems you have successfully moved though the honeymoon or romanticized love phase of your relationship which centers on attraction, bonding, ecstasy, hopes and dreams, and which usually lasts about 2 to 3 years.
The next phase is described as the power struggle depicted with disillusionment, frustration, anger and/or being at an impasse, which would explain why the fun is a distant memory and you're wondering how to "make it work."
Congratulations for wanting to have an intentional, authentic and loving relationship. You've entered the re-commitment phase, which is a journey of growth and healing. From here you move into doing the work to co-create the marriage of your dreams.
Start by asking yourself what your ideal marriage looks like. You can create a collage of pictures or a mindmap of words to help you. Be real with yourself first. Then share your dreams with your husband, keeping an open mind that he may have his own visions and dreams.
With a renewed vision of what marriage is, for the both of you, and dedication to it, you can attain the love and connection that only exists in an intimate relationship called marriage. Enjoy the journey of rediscovering love.

Jianny Adamo, MA | www.fearlesslove.net | 1.954.495.4566
---
Mari responds …
Kudos first of all for admitting your mistakes and desiring to correct them. Let's get started! Regardless of the reason you married your husband, all marriages take work, granted yours perhaps more so because you didn't marry for love.
#1: Gauge whether or not coming completely clean with your husband will help lay a sturdy foundation from here on in. If being "totally" honest would hurt, more so than help, then forego this step.

#2: Become friends - "besties" - who look out for one another and have each other's back and enjoy one another just for the sake of "being."

#3: Since there are no children yet, figure out ways to spend as much time together as possible to bond, to get to know one another intimately, and to get inside each other's heads. Take classes, if need be, on conversational and intellectual intimacy.

#4: List the qualities you love in your husband, and concentrate on the ways in which he pleases you, no matter how small. Next, make a list of things you do which you know your husband takes pleasure in.
Strive to become the wife he married you for by beginning with these few, simple steps.

Mari Lyles | 1.301.249.5921
---
Doris responds ...

"How can we make this work?" sounds more like struggling to fulfill a prison sentence than creating the loving relationship you want. No wonder fun has become a distant memory! Even though excellent relationships require work, the strongest are packed with passion, play and fun.
Begin with a clear vision for your ideal future. Discover the bliss that emerges when you and your partner imagine dreams so exciting that they pull you forward like the fragrance of hot chocolate on a frosty night. You two will be captivated by curiosity when you ponder critical questions like, "Who are we now?", "How can we help each other become all we can be?", and "How can we feel safe plunging into deeper and more fulfilling levels of love and intimacy?"
Even conflict resolution and problem solving become fascinating and light-hearted when you focus on creating a nurturing relationship cocoon that feeds your spirit and tickles your Soul. When the two of you emerge from your safety zone into the world, you'll inspire others with your authenticity and the quality of your love.
A qualified relationship coach will provide you with proven tools that are essential for this exciting, joyful journey.

Doris Helge, Ph.D. | www.coachingbyDoris.com | 1.360.748.4365


Feature Article:
The Reality of Marriage & Divorce
and What You Can Do About It
by Frankie Doiron, President, Relationship Coaching Institute
---
In today's world, people struggle to create and maintain successful love relationships that will last. Most are unsuccessful, with divorce rates hovering around the 55% mark. With less than a 50/50 chance of success, it is not surprising that the marriage rate is declining and more couples are co-habiting.
Unfortunately, close to 85% of common-law relationships fail. Most of these couples hope to "test" the relationship and play it "safe" by living together first before getting married. Based on the statistics, this strategy obviously doesn't work. In fact, being in a common-law relationship is a good predictor of relationship failure! And the real casualties are the children of these unions.
Why does all this matter? Because the impact of divorce and relationship breakup has detrimental and long-term consequences on society, on the children who are impacted, and on the health, well-being, and financial resources of the adults and families involved.
Workplaces are impacted with lower productivity and greater absenteeism whenever a marriage is undergoing turmoil. Drug addiction and depression are also often by-products of family breakdown.
The cost of divorce is staggering and adversely impacts all areas of a family's life: children have more behavioral problems, more likelihood of living in poverty; health problems (both physical and mental) increase for the adults; the financial burdens are often unmanageable...on and on.
What is very revealing is what is happening with newlyweds. On average, most couples divorce in year 3 of their marriage, indicating that couples' expectations of romance and marriage are unrealistic. They also lack the skills and self-awareness needed to maneuver the changing phases of marriage. They focus on "me" and not "we."
Without real information about relationships (versus what the media portrays) couples don't have an effective framework to guide them. When a new marriage starts to lose its "glow" and the next natural stage of relationship sets in, many couples think something has gone terribly wrong, when it hasn't! They would rather bail (because relationships are disposable - just like their old model of cell phone) than try to work to create a successful union. Is it any surprise that most continue to repeat the same patterns and mistakes in subsequent relationships (75-80% of second and third marriages end in divorce)?
The grass really is NOT greener on the other side of the fence!
Until people are educated about relationships, develop realistic expectations of what marriage and commitment mean, and understand the effort required to make it work, they will continue to have unsuccessful relationships.
The bottom line is that marriage requires work - but surprisingly, it is the work on "self" that is really what is required.
All of our relationships have one thing in common and that is what we bring to them, in the form of our behaviors, attitudes, beliefs, level of awareness -- both of self and of others, and our level of emotional and spiritual intelligence. Yet most people do not recognize the role they play in the success or failure of their relationships.
A litmus test is to ask yourself why your last relationship failed. If any part of your answer has to do with what your partner did or didn't do, that is a pretty good indication that you are not taking accountability for "your part."
We are facing a growing crisis of the self-absorbed, where many people lack self-awareness, emotional maturity, and a spiritual connection.
Ultimately we are responsible and accountable for the success of all our relationships, beginning with our choices in a partner and our choices about how we show up in the relationship.
No matter what your current status, in or out of relationship, if you truly want happiness and fulfillment in THE most important love relationship of your life you need to get back to basics. You need to develop your relationship with self; learn how to be a better partner through your own personal self-growth and through your own example of how you live your life.
Happiness is your right. Love is your right. You deserve it. Both are also totally within your control -- if you want it.
Copyright © 2011 by Frankie Doiron. All rights reserved in all media. Used with permission. Frankie Doiron is the President and CEO of RCI.
Bonus Article:
Three Easy Ways
to Enjoy Time with Your Partner
by Tara Kachaturoff
---
It's easy to get caught up in the rat race, living life unconsciously from day-to-day. You get stuck in ruts and routines and just want to survive through busy weeks to arrive at yet busier weekends. Life can become boring. Not only do you suffer, but your love relationship can suffer as well.
Over time, our relationships can become stale and starchy, dusty and dull. It's up to you and your partner to keep things interesting. When you invest in your relationship, it invests back in you –- providing the dividends of increased intimacy, deeper connection and more happiness. Now that's an investment no one would want to pass up!
With the changing of the seasons, from spring to summer in the northern hemisphere and from fall to winter in the southern, it's a great time to stretch yourself, try new things, and reinvigorate not only yourself, but also your relationship with your life partner.
While change may sometimes be uncomfortable, it's often what catches your attention, awakens your heart and mind, and energizes you. It can be a catalyst that keeps your relationship interesting and engaging and moving forward in a positive direction -- for both of you!
Here are some ways to invigorate your relationship. They're simple, easy, and guaranteed to make a positive difference in your relationship.
#1 Planes, Trains and Automobiles
Plan a simple one day or weekend trip with your partner, but do it with a twist. Instead of planning it in excruciating detail, give yourself only one hour to plan the entire thing from start to finish – and both of you need to do it together.

Make it simple, take a mode of transportation you don't typically use, and plan one activity you absolutely want to accomplish on your trip. And, just to keep things interesting, each of you can only bring one overnight bag.
For example, my partner and I might plan a trip to Chicago, by train, and plan to have lunch at The Cheesecake Factory followed by a late dinner and dancing at another fun downtown venue. Make it an adventure – it's more fun that way.
#2. Date Night with a Twist
That sounds kind of boring, right? Well, it doesn't need to be. Rather than planning a special night every week until death do you part, make them sporadic and spontaneous! To make this even more fun, sit down with your partner, write down some crazy date ideas and save them in an envelope.
Write down 20 to 30 ideas that you would both be willing to commit to. They can include themes, dressing up, visits to special places (and don't forget the places you've always wanted to visit), and anything else that seems fun, adventurous and something you would love to share with your partner. When you're looking to spend a fun day together or a night on the town, just grab your envelope of ideas, select one and run with it.
For example, if you planned something around a 50's theme, you might visit a local malt shop or go out for fast food and buy a milk shake and a burger. And, make that one milkshake with two straws -- so you can share!
#3. Talk Time

How much time do you spend talking to your partner – really talking to him or her about things you both care about? I'm not referring to arguing about the kids, talking about chores, or defending your most recent purchases (this applies equally to guys and gals). If the only talking you do is about problems, then you need to make some changes -- and quickly!
The fastest way to increase intimacy in your relationship is to engage in regular, meaningful conversations. You don't need to spend countless hours in deep discussion, but instead, set aside at least 15 to 30 minutes a day where you can just connect.

Make it a special and relaxing time. Let your hair down, enjoy a glass of wine, and engage in some nice, non-stressful conversation. You may want to even make a game out of it and have both of you write down topics on pieces of paper and then select one or more of them each time you sit down.

There are also books filled with questions that are fun for couples. Be creative. Talk about anything as long as it's light and easy. It's great way to create some memories and connection with your loved one, not to mention a wonderful relaxing break for both of you.
These three simple ideas are easy to implement and are great "let's-do-this-together" activities. They provide wonderful opportunities to invest in what you value most – your relationship. Little things do mean a lot and they can make the difference in your personal happiness and the success of your relationship. Your challenge: Plan to do one of these with your partner in the next 24 hours!
Copyright © 2011 by Tara Kachaturoff and www.relationshipplanning.com. All rights reserved in all media. Used with permission.
Tara Kachaturoff is a Master Certified Coach for Singles. Since 2003, she has coached hundreds of single men and women to create better dating relationships through her onsite and teleseminar courses. Tara is also the newsletter editor for the Relationship Coaching Institute (RCI). Her personal site is www.relationshipplanning.com.
---
Partners in Life Resources
RCI has made available 35 recordings of presentations by the world's leading relationship experts. To access these recording from our Conscious Relationship Summit go to: http://www.ConsciousRelationshipSummit.com
For More Information
For relationship resources for couples visit our web site at relationshipcoachinginstitute.com/resourcecatalogue.htm
Get a Relationship Coach!
Check out our coaches at: www.relationshipcoach.org
Check out our Conscious Mating Audio Programs
Please share this with new couples that you care about.
Links to Us
Contact
Tara Kachaturoff | Editor, PartnersInLife.org Couples News Tara@relationshipcoachinginstitute.com
---
Relationship Coaching Institute's free introductory training! relationshipcoachinginstitute.com
To subscribe to this newsletter
Copyright © 2011 by Relationship Coaching Institute. All rights reserved. Feel free to share this newsletter with others as long as our contact information and authorship is included.