Welcome!

This newsletter is designed especially for YOU if:
You have met someone and are wondering if s/he is the "Love of Your Life"
You are about to get married and want to co-create a fulfilling life partnership
Announcements
Conscious Relationship Seminars
Join us on Thursday, April 21st at 5:00 pm pacific/8:00 pm eastern for our free Conscious Relationship Tele-Seminar "Transform A Painful Relationship Into A Passionate Partnership" with Doris Helge, PhD, RCI Relationship Coach.
Do you have any conflicts and communication challenges with your mate, date, ex-partner, in-laws, children, or other family members?
Do you want to enjoy peace and harmony with difficult dates, mates . . . even difficult people at work?
This cutting-edge seminar will:
Help you stop settling for less than you want and deserve;
Help you understand the three magic keys for creating a relationship that grows as you change;
Provide you with a new communication tool guaranteed to build trust, respect and intimacy;
Teach you how to grow from conflicts and struggles over finances, religion, sex, behavioral style . . . and every day differences of opinion;
And much more!
For more details and to attend this program via telephone, webcast, or replay access
http://attendthisevent.com/?eventid=18828021


---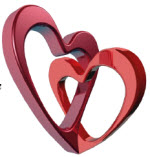 New! Together Forever Club for committed couples. If you want to give yourself and your beloved a huge gift our Together Forever Club is free and a great way to show your love and commitment to your partner. Membership is free! Upon registration you will receive a membership certificate that includes our Five Promises to My Beloved. www.togetherforeverclub.com

Ask Our Coaches:
Desperate Wife: Frustrated by a Flirty Neighbor
"I'm not the jealous type – but right now I am."
This column answers questions submitted by our readers. Submit your questions to Tara@relationshipcoachinginstitute.com who will forward them to our coaches all over the world. Each issue, we'll publish a few answers from our RCI coaches.
---
Dear Coaches,

I'm 41 years old, married, and the mother of two young boys. I've been married for 12 years. We moved to a new neighborhood 3 months ago and next door to a single, rather attractive-looking, female neighbor. She frequently stops over to chat and especially when she sees my husband outside. I think she's flirting. He thinks I'm overreacting. I'm not the jealous type – but right now I am. I've actually come home to find her sitting in my back yard with my husband on more than one occasion.
I've talked to my husband a couple of times about how upsetting this is to me – how it makes me uncomfortable to have this single woman hanging around our home and him – and my children. He says that it's nothing and harmless. I don't think it's harmless – it's hurting me and affecting my feelings towards him, not to mention our neighbor. I think it's inappropriate. I'm frustrated. I feel like I'm being ignored. What should I do? What can I do? I don't see her moving out of the neighborhood any time soon.
Erin
---
Annette responds …
Erin, the threat you feel from this woman is valid. In addition, her presence is obviously creating distance, contention and disconnection in your marriage.
This is diverting attention from what you really want: a loving, caring, trusting marriage focused on the two of you and on your family. By confronting your husband with your fears and insecurities about him spending time with her, it sets up a nagging dynamic that creates more discomfort for him. That itself will make the time spent with her seem so much more easy and satisfying, thereby perpetuating their interaction.
He is most likely enjoying her feminine attention, perhaps making him feel desired, desirable and special. Is he getting enough feminine, devoted attention from you? The more attractive, desired, esteemed, respected and appreciated he feels from you, the more "flirt and affair repellent protection" your marriage has. Put your attention there rather than on your own fears and insecurities.
As for your neighbor, rather than treat her as an enemy, befriend her and offer to help her find love in the right places -- not at your house.
Annette Carpien | GreatRelationshipsCoaching.com | 1.610.428.2755
---
Denise responds …

You're right to be concerned, Erin. A woman is built with intuition, a natural "alarm" for emotional and physical threats to her family. First, understand your husband may perceive your distrust of the situation as a suspicion of him. Trust is to a man what love is to a woman in a relationship. He may also be taking on your neighbor's flirting as a personal challenge to his marriage fidelity. Men love to meet a good challenge head on since it's a chance to prove themselves.
Shift your verbal concerns and remember a gentle voice tone is just as important as the words you choose. I'd also recommend you put it in writing; guys are more visual than auditory. Reassure him that you trust him, but you don't trust her. Use the word "us," so he hears you're on his team. You may want to express that she's a threat to "our family." Every man feels a sense of pride when it comes to protecting his family.
Now let's address the one-woman hospitality crew. It's your home, your backyard, your family; don't compromise for the sake of peace. It's okay to put down some strong, physical boundaries, woman-to-woman, even at the risk of alienating her.
Denise Wade Ph.D. | http://denisewade.relationshipcoach.org
---
Patricia responds ...

I can see you have many feelings about this situation that aren't likely to go away. I am reminded of the adage, "What you resist, persists." The more you resist your neighbor's behavior - and your husband's - the more they persist.
Your best strategy may be to change the situation. You can't change your neighbor or your husband, so that leaves you. Confronting your husband isn't working, so what might you do differently?
What about inviting your neighbor over when both you and your husband are home so she can see you interacting as a couple? If you are right about her motives, this could defuse the tension. Plus, it would show her you are not afraid of her. Or maybe visit with her by yourself? It may be that she is just lonely and a friendly visit could change things completely.
If, however, you are right and nothing you do helps, it may be time for a marriage coach or counselor for you and your husband. A third party can help you communicate so that he sees your point of view more clearly and would give you both support for handling the situation effectively. Best wishes to you!
Patricia Drury Sidman | 1.612.384.6220
---
Dr. Dar responds ...

I completely understand how uncomfortable you are with a single woman hanging over your husband. I suggest that you make it a point to be overly affectionate with your husband, hanging on his arm. Be sure to charmingly and lovingly look into his eyes, be overly flirty with him, while you also participate in the conversation. This may sound really crazy, but it works.

You have to show her that he is yours by claiming him. Your husband is most likely being a nice neighbor, and your neighbor may very well want to snag your husband. It is incredibly important that you show her how much in love you and your husband are, how strong the romance is between the two of you, and that nothing can get in the way of your relationship.

Lay it on thick if you have to – claiming your husband as your territory will soon get weary for your neighbor to watch and she will give up and slither along to find another man. This may be a bit more work on your part, but it will be worth it.
Dr. Dar Hawks | www.DrDar.com | 1.704.651.8568

Feature Article:
Unfaithful Partner: Should I go or stay?
by Doris Helge, Ph.D.
---
When your partner is unfaithful, deep hurt, anger, embarrassment or a desire for revenge can block the clarity you crave. Sometimes it's true, "Enough's enough. It's time to go and move on."

Sometimes it's better to stay. After you express yourself and set firm boundaries, are you weak if you stay or will forgiveness make you the strongest you've ever been? How will you resolve your inner conflicts and discover the keys to the loving relationship you deserve?

Pat's Story and Inner Conflict

Please notice the painful inner conflict when you read Pat's story.
"My partner had an affair ... more than once. I've learned from the pain of his infidelity because I finally said, 'Never again or I'm leaving you!' Now he says he's chosen me -- finally and forever. I want to believe him but I fear becoming a fool again. I also want to do what's best for our family.

Part of me thinks I should be like The Dalai Lama: Forgive, forgive, forgive. The other half of me wants to get out now to avoid more potential pain. I become more confused when I talk to my friends. Some of them tell me I'm being weak and a poor role model for our children. Other friends admire my strength. They say they would have given up right away and their family would have suffered even more."
You Can Resolve Your Conflict

Man or woman, single or married, pain and confusion plagues us when a partner is unfaithful. Pat deserves a big "Congratulations!" for her courage to consciously learn everything she can learn from this experience. Our partners play whatever roles we need for them to play so we can learn and grow. That's a magical component of both dating and marriage, although the gifts we give each other are sometimes wrapped in very ugly wrapping paper.
When we don't learn a lesson the first time we're challenged, our dilemma returns, usually in a magnified manner ... until we grow. Pat proved that to herself. Her partner had more than one affair.
Who should we Forgive?
Since Pat has forgiven herself for not setting boundaries sooner and not wanting to perceive the truth, she has already forgiven the one person she most needs to forgive. Until we forgive ourselves for setting ourselves up for disrespect, most of us feel like a victim. Then we blame someone else for our unhappiness.
Because Pat has forgiven herself, she is also free to forgive her partner if she chooses. This is a very precious gift Pat can give herself. Forgiveness liberates us. Our energy is free to focus on more positive, productive thoughts. We discover how to create loving, win-win relationships of all types. When we face a dilemma like Pat's, whether we go or stay, forgiveness is an immense gift of self-love. Our hearts are open, first to ourselves and then to other people.
Access Your Innate Decision-Making Tools

You are the master weaver of the tapestry of your life, whether you decide to walk away from your relationship or stay with your partner. Although it's important to have a network of friends to support you, you are the one person who knows what's best for you.
When you discover how to consciously make the decision that's best for you and your family, you trust your inner knowingness. You learn to honor all parts of your inner guidance system. You tune into three innate decision-making tools designed to instantly serve you -- your heart, intellect and gut. You are clear, strong and empowed.

Your Go or Stay Decision
Most people say whether to stay or leave their relationship after an affair is the most difficult decision they ever make. How will you reach agreement with these two conflicting parts of yourself? Part of you may be saying that the most magnanimous thing you can do is put your ego on the back burner and try to make your relationship work for the sake of your family.
Here's another point of view. Once you've set firm boundaries and stood up for yourself, creating a much higher level of self-respect, you've taken advantage of a painful learning opportunity. You're becoming "experientially gifted."

Other Essential Tools for Your Recovery

If the comments of well-meaning family and friends are clouding your vision and you're struggling to decipher the clues to your inner truth, hire a relationship coach trained to work with couples in crisis. We help you emerge from conflicts better; not bitter. You discover essential tools for recovering from an affair and creating loving supportive relationships of all types. Examples:

• We help you avoid being trapped by the fight-or-flight syndrome. You make decisions from a clear, resourceful state of mind instead of rushing forward in a state of fear, despair, anger or a desire for revenge.

• We help you discover why an affair occurred. Then you'll know if the pattern will probably be repeated. Physical infidelity is preceded by emotional infidelity. To avoid another betrayal, it's essential to identify what needs weren't being met.

A need for sex isn't the root cause of most affairs. An affair usually occurs because the offending partner longs to feel desirable, important and validated. When the hidden cause of an affair is discovered, both partners can make intelligent decisions.

• We help you decide if it will be possible for you to be your authentic self within your existing relationship. You discover how to express your needs and gain the love and support you deserve.

• We help you determine how the needs of your children can best be met. You won't stay in an unfulfilling relationship that would compromise your children's wellbeing. You'll discover how to improve your current relationship or create a divorce with good karma.

Discover how to affair-proof any relationship. Begin now to become the strong, empowered person you are destined to be.

Copyright © 2011 by Doris Helge, Ph.D. All rights reserved in all media. Used with permission.
Doris Helge, Ph.D. is an internationally recognized, licensed RCI Relationship Coach and author, who helps you discover Your Authentic Self & enjoy Your Perfect Partner. She is the author of transformational books, like "Transforming Pain Into Power." http://CoachingByDoris.com/FreeRelationshipEbooks. 1.360.748.4365


Bonus Article:
Divorce is a Legitimate Choice
by Dr. Jackie Black
---
For many men and women in a wide variety of situations divorce is a legitimate and appropriate choice.
Getting divorced is a process and consists of 3 main elements:
Emotional
Financial
Legal
Healing from divorce is not easy. It is often a long and excruciating process and always brings out strong emotions. The divorce process frequently leaves people feeling lonely, flawed, enraged, undesirable, helpless, empty and emotionally raw and overwhelmed.
If you or someone you know is going through a divorce, the best recommendation I have is to put together a team of knowledgeable, experienced professionals who will work on your behalf for the best possible outcome for you!
Lawyers, mediators, therapists, coaches, accountants, clergy and financial planners all have valuable points of view to consider. If you have children, stay in close communication with your children's teachers and the parents of their friends.
An important part of the repair process is learning to honor and heal the many emotions of divorce. Please remember that all these emotions are a normal and natural response to divorce:
Anger at yourself and your ex-partner;
Shame and guilt that haunts you and keeps you stuck and unable to think about many of the alternatives and possibilities;
Sadness and despair over the loss of the relationship;
Anxiety over the disruption of the family; and
Loss of a lifetime of hopes, dreams, expectations.
While there is no argument from me that divorce can be painful and awful in many ways, you still have choices when it comes to your response(s) to getting divorced. I urge you to become willing to choose…
Self-discovery;
Deepening your self-awareness;
Renewing self-respect;
Learning to make new choices; and
Working on forgiveness.
Take the first step on the road back from the awfulness of your divorce and toward repairing and restoring an injured part of self, forwarding cooperation and good will with those with whom you have been in conflict, reducing any on-going harmful impact on yourself and your children, exploring the values that drive your decisions and creating useful, healthy ways to meet your needs.

You can say goodbye to pain and confusion and begin designing a life that is rich and meaningful today. Remember, only YOU can make it happen!

© 2011 Dr. Jackie Black, LLC and Jackie Black, Ph.D. All rights reserved in all media. Used with permission
Jackie Black, Ph.D. is an internationally recognized Relationship Expert, Educator, Author and Coach, and an RCI Licensed Relationship Coach for Singles and Couples. She coaches men and women who are single again, pre-married, newly-married, new parents, couples in trouble, couples facing illness, and those grieving the death of a loved one. www.DrJackieBlack.com
---
Partners in Life Resources
RCI has made available 35 recordings of presentations by the world's leading relationship experts. To access these recording from our Conscious Relationship Summit go to: http://www.ConsciousRelationshipSummit.com
For More Information
For relationship resources for couples visit our web site at relationshipcoachinginstitute.com/resourcecatalogue.htm
Get a Relationship Coach!
Check out our coaches at: www.relationshipcoach.org
Check out our Conscious Mating Audio Programs
Please share this with new couples that you care about.
Links to Us
Contact
Tara Kachaturoff | Editor, PartnersInLife.org Couples News Tara@relationshipcoachinginstitute.com
---
Relationship Coaching Institute's free introductory training! relationshipcoachinginstitute.com
To subscribe to this newsletter
Copyright © 2011 by Relationship Coaching Institute. All rights reserved. Feel free to share this newsletter with others as long as our contact information and authorship is included.