---



Free to our subscribers!

Conscious Relationship Resources
www.ConsciousRelationshipResources.com

Conscious Relationship Seminars and Podcast
www.ConsciousRelationshipSeminars.com
---


Frankie Doiron
President & CEO
Relationship Coaching Institute
---


David Steele
Founder
Relationship Coaching Institute
---

Tara Kachaturoff
Editor | Conscious Dating News
Email
---
Now Available!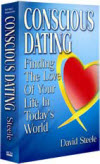 Conscious Dating: Finding the Love of Your Life in Today's World
Order a copy today for your single friends and family members at www.ConsciousDating.com
---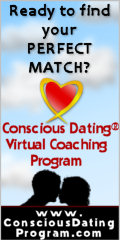 ---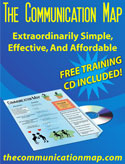 A One-Page Communication System for All Relationships!
Practical, effective, and affordable conflict resolution tool for personal and professional relationships

---
Free Audio Program:
How to become a
Professional Coach
Access Here
---
New!
To access your subscriber
bonuses and benefits visit
www.SubscriberBonus.com
---
Our Next Relationship Coach Training Program
Starts March 15th
If you are a helping professional who wants to add relationship coaching to your practice, or are an aspiring coach who wants to work in this exciting field, our next relationship coach training program begins on Monday, March 15, 2010.
If you are interested in learning more about relationship coach training with RCI, we invite you to attend our next free tele-training call on Wednesday, April 14th.
For more information and to register for this free training go to:
http://relationshipcoachinginstitute.com/forms/freeteleclass.htm or contact an enrollment specialist at 1-888-268-4074.
"I would love to go, but I'm a little unsure of this because I think it might be too soon to meet his parents"

This column answers questions submitted by our readers. Submit your questions to Tara@relationshipcoachinginstitute.com who will forward them to our coaches all over the world. Each issue, we'll publish a few answers from our RCI coaches.
---
Dear Coaches,

I've been dating this wonderful guy for about 2 months. It's light and fun and we're both having a great time together. He invited me to a formal charity fundraiser, hosted by his parents, at the end of the month – black tie formal. His parents are well-known in our community and they entertain a lot. He told me that his parents would like to meet his girlfriend. That's really flattering that he thinks of me like that, but we've really just met in the past few weeks. Things are moving fast.

I would love to go, but I'm a little unsure of this because I think it might be too soon to meet his parents and at such a formal occasion. I wouldn't be comfortable introducing him to my parents so early in the relationship. I don't want to disappoint him, but I'm not sure what to do. Am I sending the wrong signal if I go to this event? And, then what do I do if he wants to meet my parents? I'm not ready for that. Any thoughts on how to best handle this or what to say? I want to get to know him better, but I need some help with pacing things.

Tina from Tacoma
---
Liz responds ...

Consider your interpretation of what it means to attend this event. He may not be thinking of it in the same way that you are. Some people do interpret meeting someone's parents as a sign of two individuals becoming serious. However, some do not. Each person involved is going to interpret the situation in his or her own way.

Since this is an event you want to attend, then you should go. I wouldn't be too concerned about sending mixed signals. Attending this function doesn't have to mean anything more than a formal date out, unless he's mentioned otherwise. You could always ask him how he feels about it. This would be an excellent opportunity for you to find out more about him and his family. In my opinion, it's better to find out about the family culture as early as possible in the dating process.

I think pacing a new relationship is very important. Honor your feelings in that respect. If things are moving too fast, slow it down. You have a voice in the dating relationship. Keep your communication open and honest. Don't allow fear of loss to keep you from dating consciously and having fun!

Liz Reed | www.justbelievecoaching.com | 817.992.0150
---
Judith responds …

First I would like to acknowledge you for wanting to go slow at the beginning of a new relationship. It is the conscious thing to do because it can save both you and your guy a lot of heartache in the future. It sounds like you really would like to attend this event and need to have a very open and honest conversation with your wonderful guy around his expectations.

What does he mean by the term "girlfriend"? It could be anything from casual dating to being engaged. Honest communication is essential to any relationship. What is holding you back from telling him how you feel? Not wanting to hurt someone's feelings often backfires when you get into a situation where honesty is absolutely necessary. And it sounds like you are there now with your decision. What do you need to be, do or have in order to feel good about either going to the event or declining his invitation? Ultimately the decision is yours, so spend a little time with this question and you will make the best decision for you.

Judith Geiger| www.flyingchangecoaching.com| 315.497.3059
---
Randy responds …

Two months is way too soon to be considering each other as boyfriend/girlfriend. The infatuation bubble is just getting ready to burst. However, there is nothing wrong with going to a formal event or meeting his parents. As the saying goes, "Make new friends and keep the old."

The problem is in how you and he characterize the relationship. So you need to talk about this. Tell him it is too soon to get too serious, though you enjoy him and want to continue getting to know him. Say you would like to go to the event, you'd like to meet his parents, but only if he introduces you as "an important person he is dating" or some words to that effect.

Actually, there is no need for either of you to "label" the relationship when making introductions. He can say "This is Tina," and everyone else can guess as to what the nature of the relationship is. For his parents, it's probably best if he clarifies this with them privately beforehand so there is no discomfort when you are introduced. So my opinion is: Clarify, Go, and Have Fun!

Randy Hurlburt | www.partnersinloveandcrime.com | 858.455.0799
---
Murray responds ...

Your concerns are understandable. It is important to keep a relationship developing at a pace in which both parties feel comfortable. At the same time, your concerns with your pace may not be the same concerns as your partner's. For example, he may have a very different relationship with his parents, his way of pacing, and his expectations of the event you are attending where formal socials seem pretty ordinary. It seems to me that the best thing to do is to have a loving and straightforward conversation with him about this.

A conversation would serve the purpose of clarifying expectations, and allow both of you to get to know each other better. Feel free to share your feeling expressed in the letter: that you feel honored and would love to go, however you wonder whether that may be too fast for your partner given how you deal with your own relationship with your family. Through such a conversation, you can be clearer on the signals you are sending, rather than having to guess about them. And you learn more about your ability to handle concerns and differences together, which is an important life-long skill.

Murray Dabby | www.atlantarelationshipcoach.com | 404.633.3282
---
Jerald responds …

Your dilemma reminds me of what a much-respected couple's therapist told me years ago: "If in doubt, talk about it. Then, talk, talk, and talk some more." "Meeting the parents at a formal occasion" means one thing to you. It sounds like you assume your boyfriend attaches the same meaning. Maybe he does. Maybe not. Find out! Formal may even mean less personal.

With all due respect to his mom and dad, your boyfriend's view is the most important. What "signal" you send depends on the meaning he, not you, attributes to your attending the party. Determine what it means to him. Is your discomfort justified by his interpretation? Tell him what "meeting the parents" means to you and why you are uncomfortable. You might warn him that his introduction to your family may occur a little later than yours to his. Then behave according to what you are comfortable with.

This offers a golden opportunity to integrate a "let's talk, talk, talk about everything until there is nothing left to say" norm into your relationship. Such a practice will serve you, and him, well – whether or not, ten years from now, you're RSVPing to his parents' galas.

Jerald Young, Ph.D. | www.SmoothDivorceRecovery.com | 917.865.2710
---
Laura responds …

I can hear in your words that you're torn. A few questions come to my mind. Why do his parents think that you are his girlfriend? Does he think your relationship is more advanced than it is? Here is the bigger question: What is keeping you from communicating your concerns directly with him?

Asking yourself that question could uncover a myriad of things and, depending on what the answers are, might make a difference in pursuing it further. Perhaps you have a difficult time communicating your limits and boundaries effectively and relationally. Or, perhaps you are capable of communicating your needs and he ignores your feelings and continues to pressure you. Whatever the reason, your inner voice is telling you to pause and take notice. A relationship coach can partner with you to help you discover these things and much more.

Laura Moorman | www.relationshipawakenings.com | 603.986.2782


---
RCI Coach Randy Hurlburt offers valuable insight about how to improve your success with dating!

Tara Kachaturoff
Editor
---
Tara Kachaturoff: Drawing from your experience with coaching singles, why are some singles successful with dating while others are not? Is it mindset, relating skills, experience, or something else?

Randy Hurlburt: It is a combination of things. Here are some critical ones:
Successful singles put themselves "out there." This means being in places where they are likely to meet quality singles, and taking risks to make and maintain contact. Dating is a numbers game, and you have to sort through a lot of possibilities.

Successful singles know what they are looking for. This is more than having a laundry list of wants. It means knowing what is MOST important to YOU, even though it may not be important to someone else, and then screening possibilities according to these priorities.

Successful singles know what makes a good relationship. In addition to the qualities on your list, there are two important indicators of relationship success: a high level of attraction and a high level of ability (ability to provide good treatment).

Finally, successful singles never give up. Dating is a dangerous game. Love is even more dangerous. Rejection, failure, and misunderstanding loom around every corner. Courage and persistence are key.
Tara: One thing that can stand in the way of a new relationship is not having closure with the prior one. What are your thoughts on dating while still working through issues? Good idea or not? Why?

Randy: My belief is that there will always be issues, and the best way to work through them is to get back into the world of dating. Staying at home, alone, just makes things worse. Often there is NEVER closure, and learning to live with that is important.

Much of the pain from a prior relationship comes from not knowing how to handle various dating and relationship situations. The best thing is to (a) get some training on dating and relationship skills, and (b) get more experience (preferably with guidance).

To my way of thinking the only true closure on a prior relationship is to find a new one that is better. Until that happens, and it feels secure, old feelings will still surface.

Furthermore, in some cases the "prior" relationship may be the "best" one for you, it's just that you haven't figured this out yet. It may be necessary to date others to get this resolved, however that is not reason to abandon the prior (and potentially good) relationship.

Tara: In our "instant gratification" society, everyone wants everything now! They want to go from "Hi, nice to meet you" to "living happily ever after." We all know this is unrealistic, yet time and again singles rush through the dating process. How does "speed" dating affect one's success with dating?

Randy: This is a really significant problem. People rush in because they feel lonely, want sex, or are insecure, and so they latch on to the first person who comes along.

People also mistake the first blush of infatuation for true love and start to make decisions, such as exclusivity or living together, based on that. When the infatuation bubble bursts (usually about three months), then they may find it difficult to back away from commitments they have already made.

People are VERY complex. You don't really know a person for at least a couple years, and even after that you are still learning about them as you go through the inevitable battle of wills that must ultimately be resolved before the relationship is secure.

Sex is an especially difficult aspect of this problem. Men tend to want sex quickly to ease their insecurity about whether or not the relationship is "going anywhere." Women tend to want to know that the relationship is going somewhere before having sex, because this eases their insecurity about taking a chance with their emotions. But women also don't want to lose the man by seeming too slow.

My solution to this dilemma is called "incremental sex" -- that is, gradually going through a progression of increasing intimacy starting with holding hands and working up slowly to intercourse. "Anticipation" is a good thing.

Tara: What are three areas where singles can better prepare themselves so that they make better choices when it comes to selecting and dating the right person?

Randy: Here are my top three -- understand attraction, identify limiting beliefs and inner conflicts, and take a new approach to getting needs met. Let me explain these in a little more depth.
Too often, our choices are ruled by attraction. Sometimes we feel such a strong attraction that we overlook important character weaknesses. Sometimes we so hunger for someone who treats us well that we pretend it is fulfilling when it really is not.

Sometimes one person feels more attraction than the other. The underlying attraction is not likely to improve. Learning to understand attraction and giving it proper weight is an area where most people need work.

Identify limiting beliefs and inner conflicts

Our choices are also ruled by a combination of social and genetic conditioning. Often these are in conflict, but we don't realize it because we have pushed them down into our subconscious. An example of a limiting belief is "normal adult maturity is full maturity." This causes people to think they are already grown up, and therefore right, and the other person is wrong.

With this attitude there is no recognition of their own need for individual growth. An example of an inner conflict is "freedom vs. connection." Nearly everyone wants freedom and also wants connection. But how much of each? Figuring out this balance is essential to building a good relationship, but it is often overlooked in the rush for connection.

Take a new approach to getting needs met

You can list out all your wants and needs, and you can go looking for someone who meets them all. Good luck! Most people find that any relationship is a "package deal." If the package meets your highest priority needs, plus some others, then it is probably a good deal. But it will not likely meet ALL of your needs, and the same will be true for your partner.

Therefore it's important to be each other's "ally" in helping your partner get those needs met which you cannot fulfill yourself. Failing to do so will result in your partner becoming resentful, and feeling imprisoned. The secret to "getting out of jail" is to be willing to break the rules of cultural conditioning, rules that create limiting beliefs and inner conflicts.
To sum up, relationships are a minefield. We are not taught at home or in school how to negotiate this minefield, and trial and error experience is usually painful. Working with a relationship professional is the quickest and least painful way to learn the skills necessary to survive and succeed.

Copyright ©2010 by Randy Hurlburt. All Rights Reserved for all media.


Randy Hurlburt is an internationally acclaimed relationship coach, speaker, and author. In his worldwide relationship coaching practice, Randy is dedicated to helping singles and couples find extraordinary love by breaking the rules of cultural conditioning. He has two books, "Love Is Not A Game" and "Partners in Love and Crime." www.PartnersinLoveandCrime.com 858.455.0799


---
Fear of rejection keeps nice guys from approaching the girl they are interested in. I'll never forget my fear of approaching Mickey Mouse at Disney World as a shy, young teenager to request an autograph. When I chickened out, my father said, "The meek shall inherit the earth, but they won't get Mickey's autograph."

I'm not a nice guy, but I think I'm still a nice girl after all these years. And my father's words are a lesson now as they were then. "Nice guys," whether they are men or women, will not get what they want in dating unless they are willing to take risks. What must you do as a nice guy to get the girl you want? Here are a few ideas:
Deal with the fear of rejection head on. What is the worst thing that can happen if she says "no"? You know that the worst will probably not happen. Rejection is hard to bear, but if you turn it on its head, you can see it as a good thing. When a girl is not interested, she has done you a favor. Now you can move on to someone else instead of wasting your time on someone who is not interested.
Realize that rejection is often not about you. She may reject you because of something that is going on with her or she may be interested in someone else. It does not mean you are flawed. Grant it, it is always a good idea to see how you can improve your approach, but keep in mind that maybe you had nothing to do with the reason she rejected you.
Understand that rejection is a way to learn something new. Now, it could be true that you did something that increased your chances of her rejecting you. Examine the situation, ask others what they think about it, and learn what you can. But it is extremely important that you let it go after you have looked and learned. Otherwise, you can get stuck in feeling awful because you got rejected.
As you can see, there are different ways to look at rejection that will help you deal with it more effectively. Keep this in mind when you get out there. Don't be like that shy teenager that I was, afraid to take a risk to get what I wanted. Use rejection as a learning experience and keep putting yourself out there.

Copyright ©2010 by Michelle E. Vásquez. All Rights Reserved for all media.


Michelle E. Vásquez, MS, LPC, is an RCI Relationship Coach who helps singles and couples attract the life they want and create the relationships that bring them joy. She specializes in working with couples who are experiencing relationship difficulties as well as with singles who want to find the love of their life. Bilingual, English and Spanish speaking. www.trueloverelationshipcoaching.com and www.facilidating.com 714.717.5744
Conscious Dating Resources
Conscious Dating Audio Programs

Visit our website at relationshipcoachinginstitute.com for cutting-edge information and tools for finding the love of your life, including:

Listen to outstanding audio programs such as "Find the Love of Your Life AND The Life That You Love" and "Conscious Dating for Relationship Success"

Access our Knowledge Bank for innovative relationship tools, strategies and concepts

Check out our talented RCI-trained Relationship Coaches at relationshipcoachinginstitute.com/resourcecatalog.htm
For More Information
Are you a coach or other helping professional who works with singles and couples? If you want to know more about adding the Conscious Dating Relationship Coaching tools to your professional toolbox, visit relationshipcoachinginstitute.com
________________________________________

Please share this newsletter with your single friends, family, and co-workers, and you can be a partner in their success, too!
Links to Us
Contact
Tara Kachaturoff | Editor, Conscious Dating Newsletter for Singles Tara@relationshipcoachinginstitute.com
________________________________________

Visit our resource catalog for singles at relationshipcoachinginstitute.com/resourcecatalog.htm

Relationship Coaching Institute
Free introductory training! relationshipcoachinginstitute.com

To subscribe to this newsletter and join our f`ree Conscious Dating Online Community click here

BuildingYourIdealPractice.com
Free monthly tele-seminars! www.BuildingYourIdealPractice.com
Copyright © 2010 by Relationship Coaching Institute. All rights reserved. Feel free to share this with others as long as our contact information and authorship is included.