---



Free to our subscribers!

Conscious Relationship Resources
www.ConsciousRelationshipResources.com

Conscious Relationship Seminars and Podcast
www.ConsciousRelationshipSeminars.com
---


Frankie Doiron
President & CEO
Relationship Coaching Institute
---


David Steele
Founder
Relationship Coaching Institute
---

Tara Kachaturoff
Editor | Conscious Dating News
Email
---
Now Available!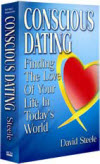 Conscious Dating: Finding the Love of Your Life in Today's World
Order a copy today for your single friends and family members at www.ConsciousDating.com
---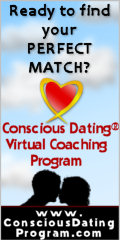 ---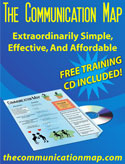 A One-Page Communication System for All Relationships!
Practical, effective, and affordable conflict resolution tool for personal and professional relationships

---
Free Audio Program:
How to become a
Professional Coach
Access Here
---
New!
To access your subscriber
bonuses and benefits visit
www.SubscriberBonus.com
---
Our Next Relationship Coach Training Program
Starts July 8th
If you are a helping professional who wants to add relationship coaching to your practice, or are an aspiring coach who wants to work in this exciting field, our next relationship coach training program begins on Thursday, July 8, 2010. Join this training and become certified by September. If you are interested in learning more about relationship coach training with RCI, we invite you to contact an enrollment specialist at 1-888-268-4074.
---
Earn Your Master's or Ph.D. Degree with Relationship Coaching Institute
Relationship Coaching Insitute (RCI) has partnered with the Western Institute for Social Research (WISR) to allow you to apply all RCI trainings toward a Master of Arts in Psychology with an emphasis in Relationship Coaching, and a Ph.D. in Higher Education and Social Change with an emphasis in Relationship Coaching. For more information go to: http://relationshipcoachinginstitute.com/wisrinfo.html
Ask Our Coaches:
Are you serious?
"... I'm concerned that he hasn't shown signs
of being in a committed relationship. "

This column answers questions submitted by our readers. Submit your questions to Tara@relationshipcoachinginstitute.com who will forward them to our coaches all over the world. In each issue, we'll publish a few answers from our RCI coaches.
---
Dear Coaches,

I met a guy two months ago and we've been casually dating. We go out 3 times per week and always spend great weekends together doing fun things around town. He's a successful businessman in our community and says he's looking to get married and settle down. He's 36. I'm 28 and a business owner. We met through a popular online dating site. We have a lot in common, including our religious interests -- important to both of us; philanthropy -- we're involved in several of the same charities, and other activities. We're having a great time.
There's no question we're attracted to each other, but I have one question. He said he's never had a serious girlfriend, yet now he wants to get serious -- in that he says he's ready to start a family. I'm just not sure what this means for me, for him, or for us. I haven't probed as to what "serious" actually means, however I know he hasn't been engaged and he hasn't dated anyone more than a year and a half.
Am I a fool to think that things might work out with me? Is this a red flag? Should I give him a chance? I'm just not sure how to approach this situation. We seem like such a perfect fit, but I'm concerned that he hasn't shown signs of being in a committed relationship. What types of questions should I ask without being too invasive? How should I proceed? I'm just not sure what to do.

Michelle from Malibu
---
Mari responds …

Good for you in proactively handling your life!

Your intuitive hesitancy is working well in your favor and is guiding you. Even in our instant generation, two months is generally not enough time to decide upon a future with someone you just met, although the two of you seem to have hit it off well and enjoy spending time together. The questions you raise regarding his dating history aren't necessarily a red flag, but certainly areas in which you have cause to be concerned. His brief past relationships may indicate a lack of dating skills and not necessarily boredom on his part. This is a great topic to explore before becoming involved.

For relationships to grow and flourish, open, honest communication should be a primary tool in your relationship toolbox. By all means discuss his version of "serious" as well as come to an understanding of what you want. Rushing exclusivity at this early juncture may backfire. You have plenty of time to get to know him well. Also bear in mind that in a conscious relationship, no questions nor topics are considered too sensitive or invasive; what's sensitive is the manner in which the subjects are addressed.

Mari Lyles | 301.249.0979
---
Jenna responds ...

Kudos to you for not throwing caution to the wind when it would be so easy to do so. It's perfectly reasonable to have open and direct communication with this man by asking him what his definition of "serious" is. You can even ask what has prevented him from being serious in the past.

Also, even though things seem to be moving along nicely, 2 months does seem like an awfully short time to be talking about starting a family. I certainly don't think you'd be a fool to think it could work out with this man, but take it slow. Let time tell if he is capable of being in a serious relationship that is satisfying and fulfilling for you both.

Jenna Rogers | 408.470.9743
---
Liz responds …

Congratulations! It sounds like you are still in the early stages of the dating relationship and things are going well. I understand that you may be skeptical about the fact that he hasn't been in a serious relationship. Keep in mind that there could be many reasons for that. I wouldn't let that be a deterrent, unless he's showing other signs that are causing you concern. It's possible he was waiting for the right person. Maybe, he feels like he's ready now and you're the one he's been looking for.

I do sense that it would be helpful for both of you to have a better understanding of how you interpret the word "serious." I think you are wise to stay conscious of the situation. Take a look at your vision for your relationship. If you don't have one get some help from a Relationship Coach. It will help you stay focused on what is important to you.

If there are no other concerns, don't be afraid to move forward in this relationship. You don't have to rush into anything. You can continue to date and have fun until you are sure this is the right relationship for you.

Liz Reed | www.justbelievecoaching.com | 817.992.0150
---
Randy responds …

It is exciting to find someone who you are really attracted to and where the feeling is mutual. This is rare and should be cherished. However, it is impossible to tell after only 2 months whether this is real or not. You (and he) are still in the middle of the infatuation period. You need to slow yourself down! It is too soon to think that "things might work out" with anyone after only two months.

The way to tell if this relationship will last more than 1.5 years is to give it 2.5 years and see if things are still good. That way you will know if his attraction level is stronger than his fear.

The problem here is your fear. You are so strongly attracted that you are extremely afraid. This is normal. The solution is for you to not get too serious too fast. Let him know you are interested and that you want to take things slowly and are not ready for a commitment. That will increase his interest (men like a challenge), and will give you the chance to see if he can stick with you even when things don't go exactly his way.
Randy Hurlburt | www.PartnersinLoveandCrime.com
---
Kimi responds …

When men are in their 20s, they are what I describe as Knights, adventuring the world, slaying dragons, having fun. If he is in a relationship usually it is with someone he can adventure with. If a woman wants to settle down with him she might get her feelings hurt, because he's not ready.

When men enter their 30s they enter the Prince stage and start to build their kingdom, often painfully aware that they don't have it already. At this point, he'll put his nose to the grindstone and start building. Some men want their partner at the beginning of this process and others want to wait until their kingdom is built.

Your man seems to be in the Prince stage and has set the foundation for welcoming a partner. He's clearly looking for his wife. If you've been clear about what your requirements, needs and wants, and he fits what you are looking for, I would let go of any fears about him not having been in a "serious" relationship in the past, and explore the possibilities with him.

Kimi Avary | www.BulletproofWoman.com | 800.462.1545
by Sheryl Spangler and Lisa Manyoky
---
As relationship professionals, clients regularly ask us how they can tell if they are in love. If you were to ask 100 people, you would likely get 100 different answers. Attempting to define the emotion of love with words is like trying to catch water with your hands—just when you think you have articulated all there is to it, it slips through your fingers. Let's give it a try though.

Here are some of the ways love is commonly defined: infatuation, a great sexual connection, feelings of exhilaration, passion and elation, an inability to eat and sleep and concentrate, butterflies and stomach swirls. Dictionary.com defines love as "a profoundly tender, passionate affection for another person." One of the more memorable definitions we've seen is "a little itch on the heart that you can't scratch!"

However you define love, most agree that it's a wonderful feeling, and once they experience it, they want to keep it. So, here is our best advice on how to attract love with the right person and when you do, how to increase your chances of maintaining a loving relationship.

1. Know who you are, what's important to you, what you must have in a relationship for it to work for you, and where you are willing to negotiate.

2. Look for people who connect with you regarding values, lifestyle, family, interests, etc. Your differences should create balance, not dissension. Keep in mind that sometimes, the very differences that initially draw you together can be the same ones that ultimately tear you apart.

3. Try not to get intimate too early in the relationship. Often a sexual relationship and strong chemistry can cloud judgment and compromise objectivity.

4. Don't get into an exclusive relationship too quickly. There should be a period of time—a "cooling off" period—where your head has a chance to catch up with your heart. We recommend at least 90 days.

5. Slow down. If you have an overwhelming sense of urgency, you might give off an unpleasant odor of desperation.

6. Look honestly for red flags. When you find one, dig for more. Don't close your eyes to bothersome traits and troubling issues that arise just to keep the relationship going. They will likely rear their heads again, and you will have to contend with them anyway.

7. Be authentically who you are, right from the beginning. If you try to change yourself to suit whomever you are dating, then be prepared for the consequences of that deception when the "real you" shows up, usually under stress or after the early infatuation phase quiets down a bit. If who you really are doesn't appeal to your date, wouldn't you rather know that right away? If you have to suppress or exaggerate personality traits, behavior, opinion or even style of dress in order to keep a person in your life, odds are great that relationship won't last.

8. Love should be easy. If it's too much like work, it's not working.

9. Expect challenges and be committed to working through them knowing full well the payoff will be great.

10. Be sure that you have concluded old relationship business and are clear about why past relationships did not work. Learn the lesson and don't repeat it.

11. If you continue to be attracted to the same types of people and those relationships have failed, stop and take a hard look at why you are drawn to that personality type. Then be open-minded and try a different personality type on for size to see if you can connect. You may be pleasantly surprised.

12. Relax and enjoy the process!

Relationship experts agree—love has a better chance of surviving when two people are clear about who they are, what they need, where they're going in life and, very importantly, when they communicate that information to their partner openly and honestly.

If a love relationship is built upon a foundation of honesty, trust and communication, it has a better chance to survive the test of time. Remember though, just because you capture the prize does not mean you should put your feet up and coast. Relationships move and change, so regular attention and care is essential in order for them to thrive. When you find a relationship that makes your heart full, cherish the splendor of it all and handle with care.

Sheryl Spangler is a RCI Certified Relationship Coach for Singles, Life Coach, Matchmaker and certified DiSC behavioral consultant, helping mature singles prepare for and find lasting long-term relationships. www.heartandsoulmatchmaking.com | 704.281.1561

Lisa Manyoky is a Certified Life Coach, Relationship Coach and trained in DiSC, helping mid-life adults to successfully navigate the processes of separation, divorce and dating. www.maverickinspired.com | 609.890.6645

Copyright ©2010 by Sheryl Spangler and Lisa Manyoky. All Rights Reserved for all media.


---
If you are Single and over 30, you probably don't look forward to going to bars and night clubs as a strategy to meet someone special. Don't get me wrong; you may enjoy bars and night clubs when you go with your friends and the only expectation is to have a good time together. It's just not your idea of a great place to meet your soul mate.
What alternatives do you have? Quite a few, actually. First of all, think about things you really enjoy doing. What are your interests, hobbies, and passions? I have to put in a plug here for Meetup groups. If you've never heard of Meetup, check it out online. Go to Meetup.com, pick an interest, type it in along with your zip code, and you're likely to discover that someone out there with your same interest has formed a group. (If you type in "singles" you will find a number of singles groups in your area.)
Any kind of group that gets together to talk, take action, play, or exercise is a potential venue for you to meet quality singles. Here's a short list of some places and events to get you thinking:
• Weddings
• Religious groups
• Political organizations
• Book clubs
• Volunteering
• Art galleries
• The theater
• Birthday parties, or any kind of party (you could host one and tell your friends to bring another Single friend)
• Singles events
• Dance classes (rotating partners allows you to meet many people in one hour)
• Athletic clubs
• Yoga classes
• Community college continuing education classes
• Art classes of all kinds
• Networking events
• Hiking/outdoors groups
• Causes
• Town meetings
Even if your hobbies are solitary, you can find creative ways to meet others who also enjoy those solitary activities. If you love to read, join a book club. Get creative and you will realize very quickly that there are so many ways to meet quality singles. Of course, you must venture out of your front door to meet them.

Copyright ©2010 by Michelle E. Vásquez. All Rights Reserved for all media.


Michelle E. Vásquez, MS, LPC, is an RCI Relationship Coach who helps singles and couples attract the life they want and create the relationships that bring them joy. She specializes in working with couples who are experiencing relationship difficulties as well as with singles who want to find the love of their life. Bilingual, English and Spanish speaking. www.trueloverelationshipcoaching.com 714.717.5744


Conscious Dating Resources
Conscious Dating Audio Programs

Visit our website at relationshipcoachinginstitute.com for cutting-edge information and tools for finding the love of your life, including:

Listen to outstanding audio programs such as "Find the Love of Your Life AND The Life That You Love" and "Conscious Dating for Relationship Success"

Access our Knowledge Bank for innovative relationship tools, strategies and concepts

Check out our talented RCI-trained Relationship Coaches at relationshipcoachinginstitute.com/resourcecatalog.htm
For More Information
Are you a coach or other helping professional who works with singles and couples? If you want to know more about adding the Conscious Dating Relationship Coaching tools to your professional toolbox, visit relationshipcoachinginstitute.com
________________________________________

Please share this newsletter with your single friends, family, and co-workers, and you can be a partner in their success, too!
Links to Us
Contact
Tara Kachaturoff | Editor, Conscious Dating Newsletter for Singles Tara@relationshipcoachinginstitute.com
________________________________________

Visit our resource catalog for singles at relationshipcoachinginstitute.com/resourcecatalog.htm

Relationship Coaching Institute
Free introductory training! relationshipcoachinginstitute.com

To subscribe to this newsletter and join our free Conscious Dating Online Community click here

BuildingYourIdealPractice.com
Free monthly tele-seminars! www.BuildingYourIdealPractice.com
Copyright © 2010 by Relationship Coaching Institute. All rights reserved. Feel free to share this with others as long as our contact information and authorship is included.