---



Free to our subscribers!

Conscious Relationship Resources
www.ConsciousRelationshipResources.com

Conscious Relationship Seminars and Podcast
www.ConsciousRelationshipSeminars.com
---


Frankie Doiron
President & CEO
Relationship Coaching Institute
---


David Steele
Founder
Relationship Coaching Institute
---

Tara Kachaturoff
Editor | Conscious Dating News
Email
---
Now Available!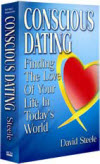 Conscious Dating: Finding the Love of Your Life in Today's World
Order a copy today for your single friends and family members at www.ConsciousDating.com
---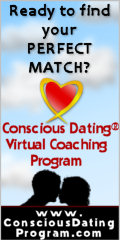 ---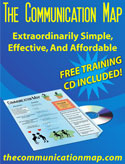 A One-Page Communication System for All Relationships!
Practical, effective, and affordable conflict resolution tool for personal and professional relationships

---
Free Audio Program:
How to become a
Professional Coach
Access Here
---
New!
To access your subscriber
bonuses and benefits visit
www.SubscriberBonus.com
---
Our Next Relationship Coach Training Program
Starts April 21st
If you are a helping professional who wants to add relationship coaching to your practice, or are an aspiring coach who wants to work in this exciting field, our next relationship coach training program begins on Wednesday, April 21, 2010. Join this training and become certified by mid-July.
If you are interested in learning more about relationship coach training with RCI, we invite you to attend our next free tele-training call on Wednesday, April 14th.
For more information and to register for this free training call go to:
http://relationshipcoachinginstitute.com/forms/freeteleclass.htm or contact an enrollment specialist at 1-888-268-4074.
---
Earn Your Master's or Ph.D. Degree with Relationship Coaching Institute
Relationship Coaching Insitute (RCI) has partnered with the Western Institute for Social Research (WISR) to allow you to apply all RCI trainings toward a Master of Arts in Psychology with an emphasis in Relationship Coaching, and a Ph.D. in Higher Education and Social Change with an emphasis in Relationship Coaching. For more information go to: http://relationshipcoachinginstitute.com/wisrinfo.html
Ask Our Coaches:
How do I open my heart to love?
"How do I learn to be vulnerable so that I can better connect with the love of my life?"

This column answers questions submitted by our readers. Submit your questions to Tara@relationshipcoachinginstitute.com who will forward them to our coaches all over the world. Each issue, we'll publish a few answers from our RCI coaches.
---
Dear Coaches,

I watched ABC's "The Bachelor" recently and found myself identifying with one of the contestants named Gia. She had been through a difficult prior relationship and had trouble opening her heart to love again. As a result, she was let go at one of the rose ceremonies.

I too, have had two prior relationships that didn't work out -- one of three years and one that lasted two years. I have felt disappointment both times in my relationships because they didn't lead to the outcome I wanted -- marriage. I really want to get married and have children and I'm not getting any younger. I'm 31 and never married.

I have closely guarded my heart and feel somewhat reluctant to let someone in all the way. I just don't know HOW to do that or WHAT that should look like or feel like. What can I do to open my heart, to let someone in so I can connect on a deeper level? How do I learn to be vulnerable so that I can better connect with the love of my life? What can you suggest to me?

Wendy from Westchester
---
Cheryl responds …

I appreciate your question, and the blossoming awareness that led you to ask it. Allowing ourselves to be vulnerable can be very scary, especially when it's something new for us. Think of all that we risk. By being vulnerable, we risk allowing someone in enough to hurt us deeply.

It is important to recognize that allowing oneself to be vulnerable is a minute-by-minute choice, and that if we choose not to be vulnerable, in the very next moment, we are free to do so. For example, one could consciously decide to be vulnerable only on Tuesday morning between 10:00 a.m. and 11:00 a.m. In this way, we can gently experiment with allowing our vulnerability.

I would also encourage visualizing yourself being in a situation of your choice where you feel comfortable being vulnerable. In that exercise, richly imagine all the variables. As you work through and live this experience in your mind, feel yourself opening your heart, while trusting that it will be treated lovingly and gently. As you feel the reward of this vulnerability, revel in it. Rejoice in it. Relive it frequently, as each time it becomes more ingrained in who you are.

Cheryl Walters | 310.425.8685
---
Beatrice responds …

First of all, congratulations on your courage and your desire to continue to find your soul mate. Whether we realize it or not, we are all vulnerable (married, engaged or single) when it comes to matters of the heart. Vulnerability is not limited to a particular station in life, nor does it pick and choose. So, please don't feel alone in that area.

One of the first steps in opening your heart is to learn to love yourself, Wendy, from top to bottom. Learn to love and appreciate everything about yourself, from the way you look, to the way you walk, talk, giggle, yawn and stretch. Learn to appreciate how special you are and what you have to offer to someone. When we take joy in ourselves, that joy is contagious and bubbles out and infects everyone in our path. People seek us out because we have something they want. What we give most of our attention to, grows.

Last but not least, loving yourself turns back the hourglass each time we smile, celebrate ourselves or think joyous thoughts. Please don't allow a calendar to dictate your progress in love; that progress is only in your hands.

Beatrice Stanback | 202.879.7777
---
Jerald responds …

Trust versus Faith. "The Bachelor" asks contestants to take risks based on faith, not trust. Relationships are built on trust, not faith. Trust means being willing to "expose your vulnerability" to someone because you believe that, based on direct experience with him, he will probably reward you for taking the risk. Faith demands you take the same risk, even when you have no specific information about him.

Deciding whether to trust someone new initially requires using information collected from similar situations – in your case, your experience in the two previous disappointing relationships. Understandably, your "starting level" of trust is low, making it difficult to "open your heart" -– but only at first.

Be open to Love. You can learn to be vulnerable so you can connect with the love of your life. Treat yourself gently. Open your heart only a little at a time. Make each "exposure of your heart" deeper than the last, like peeling layers of an onion, but only if exposing your vulnerability is continuously rewarded. Baby steps? Maybe. Time consuming? Definitely. However, as your escalating risk-taking is rewarded, your new relationship can deepen dramatically over time, assuming other critical essentials like chemistry, requirements, and needs also are met.

Jerald Young, Ph.D. | www.SmoothDivorceRecovery.com | 917.865.2710
---
Bill responds ...

The good news is you can start from right where you are. There's no need to hold on to or repeat the past indefinitely! You obviously know what you want as an end result (this is of primary importance), however you seem to be thwarting your own efforts. You are not alone!

If you are not attracting the love of your life, then it is wise to look at what you are attracting and how. One effective and relatively quick way of doing that is to work through a specific program that will allow you to get clear for yourself about your personal requirements, needs and wants with respect to an intimate love relationship. I mean really clear!

Your "work" to uncover these things will help you send clear signals. It will also help you determine who matches your requirements, and shares your values and commitment to a healthy, loving, vibrant, fulfilling, life long, intimate relationship. It is possible and worth it! Find a mentor, coach or mastermind group to help you facilitate the process and share in your success!

Bill Paglia-Scheff | extraordinaryrelationship.blogspot.com | 860.209.9254
---
Randy responds …

Getting over past relationships that didn't work out is painful. And starting a new one is scary. But many people have done it.

There are three secrets to moving forward:

1. Take it slow. You cannot simply "open your heart" to some other person. You need to learn to trust them, and that takes time. A lot of time. Be patient with yourself and with others.

2. Become informed. People are complex, dating is a minefield, and relationships are difficult. Learn what causes relationships to succeed and fail, and then you will be less afraid of what will happen in your own situation. Devour books, get coaching assistance, and apply what you learn in your dating practice.

3. Date a variety of men. Do not try to settle on the first person that seems nice. This will not result in "opening your heart." You will be able to open your heart when you internally decide that someone is the best for you based on actual comparisons. Your heart is likely to be hurt if you make such a decision without shopping around. Hope this helps!

Randy Hurlburt | www.partnersinloveandcrime.com | 858.455.0799

This month, RCI Coach Liz Reed answers questions about long-distance dating and how to make it work.

Tara Kachaturoff
Editor
---
Tara Kachaturoff: Do long distance relationships work? Is it realistic to think a couple can develop a solid relationship, when most of it is lived through phone calls, emails, cards and letters?

Liz Reed: Yes. Long distance relationships can absolutely work and there is research to confirm it. Many people have had successful long distance relationships that set the stage for their marriage.

It can be challenging when you're not seeing someone on a regular basis. The key is to develop a new paradigm of thinking. You're not dating in a way that's familiar to you and that's where the challenge and the fears come forth when you're wondering if it can work. The distance between both of you can actually be very intriguing. You become aware that you have to make the most of every moment together.

Since you're missing out on physical moments to connect with sight and touch, shift your thoughts to connecting on a more intellectual and soul-based level. I believe this actually adds to the foundation of the relationship. When two people have chemistry and are focused on getting to know one another, distance does not need to stand in the way of that.

Tara: How can you develop a relationship when you're not seeing the other person under regular, every-day types of circumstances? What types of things can you do to create connectivity and build a solid foundation with someone?

Liz: A relationship can be described as an emotional connection between two people. We connect when we spend time with the person we care about. I suggest having date nights in your long-distance relationship. Technology offers many resources that can enhance this experience.

Prepare for these nights just as you would a regular date with the goal of having fun and learning more about each other. Send flowers or a special fragrance in the mail before the date with a romantic note attached. You can email and text each other in anticipation of the date.

If it appeals to you, dress up for the date and send your partner a picture or utilize a webcam. When you come together for your date, share a verbal hug or kiss and tell an exciting story. Be fully present with your partner and acknowledge the small things you admire about each other. The idea is to create moments that focus on enhancing your emotional connection and not your distance apart.

Tara: How do you develop intimacy with someone while in a long-distance relationship?

Liz: Wikipedia describes intimacy as, "a familiar and very close affective connection with another as a result of entering deeply or closely into relationship through knowledge and experience of the other." It also states that, "genuine intimacy in human relationships requires dialogue, transparency, vulnerability and reciprocity."

Developing this degree of involvement with another individual is difficult and can be challenging even when you're not in a long distance relationship. However, if you're faithful in your pursuit to creating lasting intimacy, rest assured it's totally possible.

Developing Intimacy

Here are five keys to developing intimacy:
Key #1 Talk about it

Engaging in the discussion is the first step to creating deeper intimacy. This will help you get clear on what the term means to you. Cultivate opportunities to have intimate conversations with your partner with the intention of listening to them and honoring who they are.

Key #2 Be Sensitive

As you begin to communicate more intimately, you will inevitably engage in tender topics. It is imperative that you remain sensitive to what your mate shares with you. At times it's hard to take an honest look at ourselves.

It can be even harder to become transparent with another individual, especially someone we love. This may be the first time your partner has trusted anyone enough to reveal his or her most intimate thoughts. Be sensitive to their vulnerability. A deep human desire is to be loved and accepted in spite of our faults. We have the ability to do this when we allow sharing without fear of judgment. As you do this you create a safe space that welcomes intimacy.

Key #3 Maintain Integrity

Your significant other is significant! He or she wants to go deeper with you. Respect them by keeping what is intimate for them between the two of you. Not doing so will hinder your partner's ability to trust you and could sabotage your future efforts to grow closer.

Key # 4 Increase Awareness

Be open to exploring intimacy in ways you haven't thought about. Many relationships fail because there is a lack of understanding about topics such as intimacy. For example, intimacy can mean different things at different times. In some cases we refer to intimacy as sexual, in other cases, we tend to think it's emotional. Ultimately, you want to have intimacy (that deep connection) taking place on all levels, emotionally, physically and spiritually.

Key #5 Be Patient with the Process

Developing genuine intimacy with your partner is a process. It takes time to learn how to develop an atmosphere of acceptance, support and trust with your mate. Your partner's pace may be different than yours. Be patient with each other as you explore new territory together. If you're committed, life will provide you with the joy of knowing your partner more intimately as you surrender yourselves completely to each other.
Tara: How often should you create connections with each other? How often should you call each other, visit each other?

Liz: I would suggest calling a minimum of four to five times a week. You can also stay in touch with email chatting and things of that nature. Don't underestimate the power of the written word. Sending letters to each other creates memorable moments that can be cherished for a lifetime.

As far as visits, each couple's circumstances will be different. I do believe it is very important to plan ahead and decide how many times per month you will travel to spend time together. Once you've established a plan, stay committed to those dates.

Tara: How do you deal with the time you're not with each other? Certainly you can't engage in activities that other couples do (going out with friends; engaging in spontaneous events, outings, visiting families, etc.)?

Liz: Even though you're a couple, you still need to maintain your own individuality. As with any relationship, you don't want to rely on your partner to meet all your needs. Continue to participate in activities with family and friends and share those details together. When you're able to see each other in person, take advantage of simple moments by just sitting in each other's presence. Also, set aside some time for social activities with family and friends..

Tara: What are some of the things you both need to consider and come to agreement about before pursuing a long-distance relationship?
Liz: I think there are three important things to consider and discuss with each other – level of commitment, physical boundaries, and communication.
Level of Commitment

The first thing you need to discern is whether you share the same level of commitment. If you have not made a commitment to each other, and are just dating for fun, a long distance relationship is most likely not for you. This type of relationship requires time, effort and a desire to build a successful long term relationship.

Physical Boundaries

Prior to pursuing a long-distance relationship, discuss your values and beliefs around sex and make sure you're in alignment with each other. Plan ahead and be clear about any hidden agreements. Monogamy needs to be discussed if this is an issue for you. Discuss how you will handle physical desires when you're mate is not around. Be proactive and set a foundation for success!

Communication

Being able to talk about what's true for you is essential in establishing intimacy and a solid foundation for your long-distance relationship. Intimate conversation in your relationship requires a balance of giving and receiving. As your intimacy increases, so should your dialogue with each other.

Make a commitment, in advance, that you will invest in learning the skills necessary to enhance your communication and resolve conflicts. Your communication should be effective in resolving issues and provide a sacred space to grow, be encouraged and ultimately, loved unconditionally.
Copyright ©2010 by Liz Reed. All Rights Reserved for all media.

Liz Reed is a RCI Licensed Relationship Coach for Singles and a Certified Christian Life Coach. Her passion is to help women and men create the life and relationship of their dreams. www.justbelievecoaching.com 817.992.0150

Unless you've been living as a hermit for the last 20 years, you're most likely familiar with affirmations and positive thinking. If we were all doing this consistently, I wouldn't need to talk about this subject. Unfortunately, too many people are plagued with negative mind chatter.
This is especially true for singles when it comes to dating. Some singles have it all together and date easily. I'm not addressing them. If you're a single who experiences doubts about your ability to attract and keep the love of your life, I'm talking to you.

What are some persistent negative thoughts that you may experience? Here are a few that may be familiar to you:
• I'm too shy to attract anyone
• If I go out on a date with this person, it will end badly, so why bother
• I'm not worthy to find the love of my life
• I'm not good enough
Why do singles think like this? Some reasons are fear of rejection, fear of abandonment, a problem with self-image, and insecurity, to name just a few. Unfortunately, if you keep allowing this negative mind chatter to rule you, you will live your life in fear. You'll spend your life regretting what might have been.
Even shy people get dates and find the love of their lives. Why not you? If you wait until you are "perfect," you will never start. I challenge you to begin arguing with these destructive thoughts that roam around in your brain. Yes, talk back. When you hear a negative thought, here are some statements that you can say in response:
• I'm able to attract the love of my life easily
• I enjoy myself when I go out on a date and I let go of expectations about the outcome
• Of course I'm worthy of finding the love of my life
• I'm not only good enough, I am a great catch
Try out these affirmations and create your own. Don't worry if they seem silly or untrue. The key to changing any habit (such as negative thought patterns) is to substitute with a new habit and be persistent.
Copyright ©2010 by Michelle E. Vásquez. All Rights Reserved for all media.


Michelle E. Vásquez, MS, LPC, is an RCI Relationship Coach who helps singles and couples attract the life they want and create the relationships that bring them joy. She specializes in working with couples who are experiencing relationship difficulties as well as with singles who want to find the love of their life. Bilingual, English and Spanish speaking. www.trueloverelationshipcoaching.com 714.717.5744
Conscious Dating Resources
Conscious Dating Audio Programs

Visit our website at relationshipcoachinginstitute.com for cutting-edge information and tools for finding the love of your life, including:

Listen to outstanding audio programs such as "Find the Love of Your Life AND The Life That You Love" and "Conscious Dating for Relationship Success"

Access our Knowledge Bank for innovative relationship tools, strategies and concepts

Check out our talented RCI-trained Relationship Coaches at relationshipcoachinginstitute.com/resourcecatalog.htm
For More Information
Are you a coach or other helping professional who works with singles and couples? If you want to know more about adding the Conscious Dating Relationship Coaching tools to your professional toolbox, visit relationshipcoachinginstitute.com
________________________________________

Please share this newsletter with your single friends, family, and co-workers, and you can be a partner in their success, too!
Links to Us
Contact
Tara Kachaturoff | Editor, Conscious Dating Newsletter for Singles Tara@relationshipcoachinginstitute.com
________________________________________

Visit our resource catalog for singles at relationshipcoachinginstitute.com/resourcecatalog.htm

Relationship Coaching Institute
Free introductory training! relationshipcoachinginstitute.com

To subscribe to this newsletter and join our free Conscious Dating Online Community click here

BuildingYourIdealPractice.com
Free monthly tele-seminars! www.BuildingYourIdealPractice.com
Copyright © 2010 by Relationship Coaching Institute. All rights reserved. Feel free to share this with others as long as our contact information and authorship is included.