---



Free to our subscribers!

Conscious Relationship Resources
www.ConsciousRelationshipResources.com

Conscious Relationship Seminars and Podcast
www.ConsciousRelationshipSeminars.com
---


Frankie Doiron
President & CEO
Relationship Coaching Institute
---


David Steele
Founder
Relationship Coaching Institute
---

Tara Kachaturoff
Editor | Conscious Dating News
Email
---
Now Available!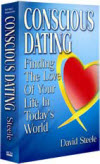 Conscious Dating: Finding the Love of Your Life in Today's World
Order a copy today for your single friends and family members at www.ConsciousDating.com
---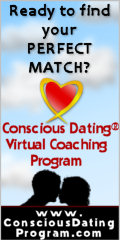 ---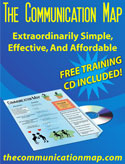 A One-Page Communication System for All Relationships!
Practical, effective, and affordable conflict resolution tool for personal and professional relationships

---
Free Audio Program:
How to become a
Professional Coach
Access Here
---
New!
To access your subscriber
bonuses and benefits visit
www.SubscriberBonus.com
---
Conscious Relationship Summit
Recordings are Available
For more information go to:
http://www.ConsciousRelationshipSummit.com
---
"How can I better protect myself from making poor dating choices?"

This column answers questions submitted by our readers. Submit your questions to Tara@relationshipcoachinginstitute.com who will forward them to our coaches all over the world. Each issue, we'll publish a few answers from our RCI coaches.
---
Dear Coaches,

I'm 43 and ended a 3-year abusive relationship about a year and a half ago. I'm ready to date again as I really want a committed relationship—maybe marriage. I want to prepare myself better for the next relationship. The last guy seemed great—at first.
After about a year, when we had really settled in and the "newness" had worn off, he started being emotionally abusive towards me—and twice he grabbed me very harshly when we had had some terrible fights. I forgave him and he always apologized for his bad behavior. I kept thinking each time it happened that it was a one-time thing, but the emotional abuse continued until I had the courage to stand up and just walk away from the relationship.
How can you spot a potential abuser in the early weeks and months of dating—before things get too serious? Are there any telling signs or red flags? How can I better protect myself from making poor dating choices?
Valerie in Vallejo
---
Lori responds …

The fact that you left that relationship tells me you love yourself enough to change. You made a wise choice. Many people stay, or do not want to work on why they ended up in an abusive relationship in the first place.

Here are some steps you can take to protect yourself from falling back into a similar situation:

• Hire a relationship coach -- someone to work with you to identify and clarify what you really want in a relationship.

• Make sure you know your requirements. If you stand by what your values are, you are less likely to let someone into your life who is abusive.

• Take your time when you are finally ready to date. The slower you go, the less you will regret.

• Surround yourself with positive, supportive, healthy people; having a great support system in place is vital.

• Date more than one person at a time. This will keep you from getting involved with one person to soon.

• Build up your self-esteem. Do things that make you feel good about who you are.

• Listen to your gut. If something feels a little off about someone, your first instinct is usually right.

Dating after a bad relationship can be difficult; but, you can take action and get what you want in your next partner. Change is hard, but not as hard as staying in an abusive relationship. There are plenty of healthy, nice, available single people in the world; you just need to put yourself in a position to meet them.

Lori Josephs | www.mydatingblueprint.com | 248.529.3375
---
Susan responds …

The first thing I would encourage you to do is to clarify your own needs, wants and requirements for a relationship and look at the sense of value you have for yourself. From my view, we train people how to treat us and send out an energy vibration or "signal" as part of that. Doing some internal work with how you value yourself and how you set your standards for a relationship will help you attract someone who treats you well.

You already know how to spot an abuser as you have had that direct experience. It's a matter of making a decision that honors your standards when you see the red flags. But again, I recommend that you work on your internal relationship to yourself and your standards so you won't attract an abusive person in the first place.

Hiring a coach can make a difference with that and help you learn how to really rediscover and own your own power and send the "right signals" out to the universe so you'll attract who you really want.

Susan Ortolano, MA, CMRC, PCC | www.radiantpathways.com | 818.232.3186
---
Rick and Jo respond …

There are red flags that you can be alert for from the very first encounter. Watch out for patterns of behavior, which, if escalated, would represent danger to you.

For example: reacts to frustration with irritation or anger; blames others or circumstances for their life situation; tries to control everything; is immature, impulsive or irresponsible; lacks integrity with people or money; displays jealousy or possessive tendencies; tries to check up on you or pry into your personal life; is judgmental or demeaning towards you or others; is unwilling to examine self, take responsibility, accept feedback; their life is an emotional roller-coaster; or, they are overly quiet or withdrawn.

Some good questions to ask yourself are: Would you feel comfortable leaving your child in the care of this person? Would you like your child to grow up to be like this person? Do you feel completely free to be yourself around this person?

A RCI coach can work with you to identify all the red flags when dating, so you can sort the bad apples out very early in the dating relationship, and also to identify what has attracted you to this profile in the first place.

Rick and Jo Harrison | www.SecretsToSoulmateSuccess.com | +61.3.5420.7366
---
Hazel responds …

Having once been in this kind of relationship I can really empathize with you. I would encourage you, if you haven't already, to read David Steele's book, "Conscious Dating," in which he talks about the principles of conscious dating and how you can prepare yourself to see red flags and to be more conscious about the guys you date.

Unfortunately, the honeymoon period is when people are on their best behavior. However, if you look back, as I did, after the fact, you will probably see some red flags that, had you known about them and been conscious enough to note them, would have warned you about what might happen.

It's also very important to make sure you truly believe you are worthy of a great guy, one who is honest, caring, kind and sensitive to your needs and wants. Before you start dating again I suggest you make sure you know exactly what it is you want and deserve and don't be willing to settle for less.

Hazel Palache | www.sayyestoyoucoaching.com
---
Tara responds …

I'm happy to hear that you've moved on from an abusive relationship. Life is much too short and precious to spend it with the wrong person. There are several things I would suggest to attract the right types of people.

First, consider enlisting the services of a helping professional to gain more understanding of yourself. A trained relationship coach can help you uncover certain types of thoughts, beliefs, and behaviors that are not serving you well. Sometimes these are firmly rooted in the past and you may need the help of a therapist. Only when you know what they are can you effectively do something about them – including changing them.

A relationship coach can help you understand more about dating, the process, and how to best prepare yourself. Creating a vision for your life, getting clear on your values and interests, and defining your relationship requirements, needs, and wants are just some of the empowering activities that you can work on together.

A coach will provide you with thoughtful feedback, questions for personal introspection, and a safe and confidential environment in which you can map out the life you desire. By making plans and investing in your dreams and desires, you'll feel incredibly empowered. You will begin to view and value yourself differently. This will not only change your perspective on yourself, relationships, and life, but also it will affect the type of energy you project to others. All of these things will play a role in attracting wonderful men to you – ones who will treat you with respect at all times.

Keep in mind that this is a process which takes diligent thought and focused effort. Take your time and allow things to unfold in a gentle manner. You've made the most important decision already. You've moved out of an unproductive situation and begun to focus on taking care of yourself first.

Tara Kachaturoff | www.RelationshipPlanning.com | 248.971.0793
---
Dr. Dar responds …

Congratulations on taking care of yourself and getting out before things got worse. Standing up for yourself should occur throughout the relationship and not just when things are bad.

The best thing you can do is to learn more about yourself and what it is about you that attracts these types of men. When I was single I attracted the wrong men for years so I understand how you feel. Then I learned the secret that was causing me to attract the wrong men. It was me and not the men. The secret is: "The energy you put out is the energy you attract!"

Once I understood that, I shifted from making the wrong relationship choices to making the right choices by making a list of what I must have in a relationship and how I must be treated at all times. I even included things like what the man's finances looked like and how they treated money, and most importantly, how they treated and behaved with their friends and family.

Once I made this detailed list, I marked which items had to be present without exception. I called this my "must have" list. The next step was to say "no" to the men who did not match my list in its entirety.

The other benefit of having a written list was that I could easily identify the red flags and when to stand up for myself early in the relationship. Have peace and fun in making your list for your success. And remember that relationships are simple when you learn how!

Dr. Dar | www.RelationshipSuccessSource.com | 704.651.8568


---
Feature Article:
Dating After Divorce – What to Do
By Dr. Darshana Hawks
---
It is daunting to consider dating after experiencing divorce, especially after spending ten or more years with someone. By implementing a few tips, you will become more comfortable and even enjoy dating because it is a process which can be structured to fit your needs.

The Right Time to Start Dating

Being ready to date is less about a timeline and more about how you feel and how ready you are to have companionship in your life.

For example: if you are harboring negative feelings about your ex, are angry or resentful, are going through a difficult legal battle, or find yourself obsessing or talking about your divorce with your friends so much so that they are sick of hearing about it, then you are not ready.

Get busy and do things you enjoy. Try doing something you have always wanted to do but didn't because you were taking care of the household and your family. Consider taking classes to explore what you want to create in your life now. Take your time meeting and getting to know new people. Put less focus on dating and more on experiencing new things and people -- with the goal of creating a new you and your new life.

On the other hand, if you at a different point with respect to how you feel, and are considering the following questions, then you may be ready to start dating:

• What do I want my dating experience to be like?
• What is my description of the perfect first date? Second? Third?
• What criterion has to be present for me to consider a second, third or subsequent date?
• How soon will I have sex?
• When will I introduce my date to my children/family?
• When will I feel comfortable with my date knowing where I live?
• How do I want to be treated during the date and by my date?

Dating is a healthy choice when you are madly in love with your self, know what you want your dating experience to look like, are complete with your past relationship(s), and feel excited about your new found freedom and life.

Dr. Dar's Dating Process

There are 3 states in my dating process:

Stage 1: Intentional Dating

Instead of just going out and meeting people who you are interested in or who are interested in you based on instant attraction, what I call "accidental attraction," why not be intentional in your dating experience?

Intentional dating involves being clear about what you are looking for and what you want. Yes, it is time for you to make a simple list that will help you screen prospective dates and save you time, energy, and even money. Here are the keys to making your simple list:

• Get a sheet of paper and make a line at the top and down the middle so it forms a T or use this worksheet: http://snipurl.com/manifestnow

• Above the horizontal line. write these headings: On the left side, write: "I no longer want," and on the right side, write "I deeply want." Now it is time to start making your list.

• List what you do not want on the left side. You may be asking, "Why would I have a list of what I don't want?" Trust me -- the simplest path to get to a solid list of what you do want is to make a list of what you don't want.

• List what you deeply want on the right side next to each item that you no longer want. Now, cross out the item you no longer want.

• Repeat steps 1 and 2 until you have at least 50 items on your list (no longer want and deeply want). Take your time with this as it is the foundation of the entire process. When you have completed these steps, you can move to Stage 2 of the dating process.

Stage 2: Dating Lite

Dating lite involves going on a date with the intention to meet a new friend or going out with friends to have fun and to be friends. Your keys to success at this stage are:

• To have fun. If it stops being fun, then it's time to do something different and with different people.
• At this stage, friendship only
• Do not get attached to outcomes or results
• Self-check. If you start thinking about the future, then redirect your focus back on fun, friendship and enjoying the experience

When you are having fun, enjoying your life, and enjoying who you are, it is time to move to Stage 3 -- dating with a purpose. You have not slept with any of the people you have met at this stage. The time period for this stage is from 3 to 6 months.

Stage 3: Dating with a Purpose

Most people start with this step, rather than evolving to it after completing the first two stages, and so they end up getting frustrated with dating. Some give up completely. This is the final step in the dating process.

You will know you are ready for Stage 3 when you meet at least 3 individuals who you think have potential for you to consider having an exclusive relationship.

Remember, up to this point, you have not had sex with these individuals. What you do have, however, is a foundation from which you can now put more definition and consideration into the immediate future (the next 6 to 12 months).

Your keys to success in this stage include:

• Have the conversation. Ask each person if they are interested in pursuing a more exclusive relationship with you. Ask them what that would look like for them. Check-in with the list you made in Stage 2 to see if their responses match your "deeply want list." Clue: if their responses resemble your don't want list in any way, shape or form, you have uncovered your first red flag.

• Tell them what an exclusive relationship at this stage looks like for you. Tell them the truth: you have narrowed your selection to 3 individuals and you would like to stop pursuing additional dates. Tell them that you are not having sex with anyone yet and as soon as you consider that, you will let them know.

• If they do not want you to see anyone else, this is a clue. Dig deeper and ask more questions. If they are truly interested in you, then they will do what it takes to satisfy your requirements and stay the course. If they are not, they are saving you time and energy.

• Continue to have fun and enjoy the experience. At this stage you will find yourself getting more attached. Make sure you reconnect with your "deeply want list" on a regular basis to ensure your requirements are being met.

I trust you will have success with this process because I created and used this process when I realized I was falling into "accidental attraction." Dating became more fun and engaging when I followed these steps with the additional benefit of gaining some amazing friendships. I wish you much joy, peace, and success in your dating journey!

Copyright © 2009 by Dr. Darshana Hawks. All rights reserved in all media.


Dr. Dar is a nationally recognized relationship success educator and coach. Her goal is to create peace in the world, one relationship at a time. She works with singles who want to make the right choices and couples who want sustainable, harmonious relationships. www.RelationshipSuccessSource.com 704.651.8568

Bonus Article:
4 Strategies to Attract Love With Feng Shui
by Katherin Scott
---
Today, many people in our Western culture have already been exposed to the traditions and practices of feng shui. If you are well practiced in feng shui, or even if feng shui is totally new to you, you will learn simple, yet important strategies to attract more love, romance, affection and sex into your life!
Feng shui (pronounced FUNG SHWAY), is the ancient Chinese art and science of placement. By applying the principles of feng shui to the placement of objects in our environment, especially in our bedroom, we can balance the Chi (positive energy), correct the flow of energy, attract a new love relationship or improve an existing one.
Here are four strategies you can apply to dramatically improve your love life:
1. The Position of Your Bed Does Matter
Ideally, a bed should be positioned on the wall diagonal from the door, but not directly in line with the door. This allows the occupant(s) the widest possible view of the bedroom and anyone entering the space. If for some reason the bed cannot be positioned here, hang a mirror so you can see the door clearly while lying in bed.
There should be equal distance on either side of the bed to allow for a partner in the relationship. If the bed is pushed up against a wall, this may close off the flow of a partner into your life, or dis-empower an existing one. This may also diminish the amount of sex in your relationship, because of the "closed-off" space. However, this may be recommended for teenager's bedrooms!
2. Remove Clutter Now!
Most people don't realize how profoundly clutter affects them. Removing clutter from your bedroom allows the Chi to flow freely in the space. Eliminate anything that doesn't belong in the bedroom. Piles of paper, unread books, old clothes, stacks of DVD's – move these to another room or better yet, discard or donate them.
Remove everything from under your bed. Stashing junk under your bed will affect the quality of your sleep. And be sure to vacuum under the bed often, unless you are trying to get pregnant. Feng shui practitioners believe the "Ling particles," a.k.a. dust bunnies, attract new souls to be born to those who sleep there. Telling my clients this idea usually provides sufficient encouragement to keep the area clean and vacuumed.
3. Your Bedroom Is For Sleeping and Love
Your bedroom is not for working out or surfing the Internet. Do not store exercise equipment or a computer in your bedroom. This can make a relationship seem like hard work or exertion.
4. Allow Chi to Enter and Circulate
Does your bedroom door open fully, or is it blocked? Check your front door, too. Both should open wide to allow Chi to enter freely. When you walk through your bedroom door, what is the first thing you see? Make it inviting and inspirational; a picture that moves you, a round mirror which symbolizes completion and unity, fresh flowers, whatever makes you feel uplifted or reminds you of love and partnership.
Also, be sure to fix or replace anything broken in your bedroom. Change all burned-out light bulbs, fix loose door knobs, remove dead plants and repaint over any marks on the walls. These four strategies may take a few days to apply. Implement one at a time if desired, however, I encourage you to complete them as quickly as possible.
Remember the Law of Attraction. What you focus on expands and becomes your reality. By focusing your intention and energy on utilizing the power of feng shui in your bedroom, you will be amazed how quickly love will flow into your life!
Copyright © 2009 by Katherin Scott. All rights reserved in all media.
Katherin Scott, M.A., is a Residential and Commercial Feng Shui Consultant certified through the Feng Shui Academe, a dating and relationship coach, author and speaker. Coach Katherin has devoted her life to the pursuit of love and romance for the millions of single people who want love in their lives. Katherin coaches singles worldwide and teaches seminars and workshops to help people empower themselves to find the love and happiness they desire. www.KatherinScott.com
---
Conscious Dating Resources

Conscious Dating Audio Programs

Visit our website at relationshipcoachinginstitute.com for cutting-edge information and tools for finding the love of your life, including:

Listen to outstanding audio programs such as "Find the Love of Your Life AND The Life That You Love" and "Conscious Dating for Relationship Success"

Access our Knowledge Bank for innovative relationship tools, strategies and concepts

Check out our talented RCI-trained Relationship Coaches at relationshipcoachinginstitute.com/resourcecatalog.htm
---
For More Information
Are you a coach or other helping professional who works with singles and couples? If you want to know more about adding the Conscious Dating Relationship Coaching tools to your professional toolbox, visit relationshipcoachinginstitute.com
________________________________________

Please share this newsletter with your single friends, family, and co-workers, and you can be a partner in their success, too!
Links to Us
Contact
Tara Kachaturoff | Editor, Conscious Dating Newsletter for Singles Tara@relationshipcoachinginstitute.com
________________________________________

Visit our resource catalog for singles at relationshipcoachinginstitute.com/resourcecatalog.htm

Relationship Coaching Institute
Free introductory training! relationshipcoachinginstitute.com

To subscribe to this newsletter and join our f`ree Conscious Dating Online Community click here

BuildingYourIdealPractice.com
Free monthly tele-seminars! www.BuildingYourIdealPractice.com
Copyright © 2009 by Relationship Coaching Institute. All rights reserved. Feel free to share this with others as long as our contact information and authorship is included.