---



Free to our subscribers!

Conscious Relationship Resources
www.ConsciousRelationshipResources.com

Conscious Relationship Seminars and Podcast
www.ConsciousRelationshipSeminars.com
---


Frankie Doiron
President & CEO
Relationship Coaching Institute
---


David Steele
Founder
Relationship Coaching Institute
---

Tara Kachaturoff
Editor | Conscious Dating News
Email
---
Now Available!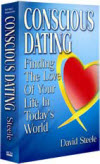 Conscious Dating: Finding the Love of Your Life in Today's World
Order a copy today for your single friends and family members at www.ConsciousDating.com
---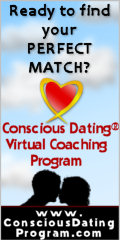 ---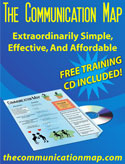 A One-Page Communication System for All Relationships!
Practical, effective, and affordable conflict resolution tool for personal and professional relationships

---
Free Audio Program:
How to become a
Professional Coach
Access Here
---
New!
To access your subscriber
bonuses and benefits visit
www.SubscriberBonus.com
---
Conscious Relationship Summit
Recordings are Available
If you missed the Conscious Relationship Summit you can still access all 35 life changing presentations. During this week-long conference many of the world's top relationship and personal development experts shared valuable strategies for creating conscious relationships.
Download all 35 recordings and listen to them at your convenience. Proceeds will go to the 5 charities we support.
For more information go to:
http://www.ConsciousRelationshipSummit.com
---
"What are the best types of gifts to give to someone you're dating...?"

This column answers questions submitted by our readers. Submit your questions to Tara@relationshipcoachinginstitute.com who will forward them to our coaches all over the world. Each issue, we'll publish a few answers from our RCI coaches.
---
Dear Coaches,

What are the best types of gifts to give to someone you're dating – when you want to indicate you like them, but you're not quite ready to say, "I love you"? Do you have any advice when it comes to giving gifts, especially when it's early in the relationship and you happen to be dating during the holidays (Thanksgiving, Christmas, Hanukkah, New Years, etc.)? Are there any types of gifts that we single men and women should avoid giving to our dates?

Singles Everywhere
---
Jerald responds …

A great gift for a friend who is "special, but not spousal," at least not yet, is (drum roll please) a book! Wait. Wait. Wait! Please, hear me out. This is a very special book. And, here is the good part – you control the message it sends.

The gift consists of two parts: (1) a book on a topic that your friend is passionate about, that (2) contains a personal inscription by you that controls the level of intimacy intended. To communicate continued interest in the relationship, while keeping the relationship "at arm's length," give a book on a topic about which your friend is passionate, but you're not.

A book demonstrates interest in and respect for what is uniquely theirs. The inscription should communicate your positive reactions to your friend's passion. Sign it with your first name.
For example, an inscription in a book about ballet, your friend's passion, might read, "I enjoy watching you dance. – Jerry."

To communicate a desire to be closer than a full arm's length, give a book on a topic both of you are passionate about. The inscription should include your positive reactions for sharing your common interest. For jogging enthusiasts, an inscription on a jogging book might read, "I look forward to going running with you. – Melissa."

In both cases, focus the inscription on the book's topic, your friend's interest, not on your friend or your relationship. Save that for when you move into a committed relationship. Have fun giving it!

Jerald Young, Ph.D. | www.SmoothDivorceRecovery.com | 917.865.2710
---
Robynn responds …

Gift giving can be challenging, especially in the beginning stages of a possible love connection. You want to acknowledge your new interest as someone special, but you want to give a gift that is appropriate for the stage of your relationship.

When choosing a gift, think about how a person may feel when receiving it. Be aware of the message that a gift which is too expensive or too personal may send. You want your romantic interest to feel gratitude and appreciation, not obligated or pressured about where the relationship may be going.

The holiday season is just around the corner so here are three tips in gift giving to a potential love interest. You want to give a gift that…

• May remind them of a time you spent together
• Can be enjoyed at their leisure; or
• Is related to their favorite interest or hobby

Finding the right gift may require a little creativity, thought and effort. Remember, listen and learn about what your potential partner may like or dislike. This is another part of the "getting to know you process" and will provide you greater insight as to whether this is the right relationship for you.

Robynn Thomas, CLC | www.robynnthomas.com
---
Randy responds …

I'm going to answer from the opposite perspective, namely "What types of gifts would I appreciate receiving during the early stages of a relationship?"

The main advice is to be wary of expensive gifts. In the early stages of dating, "less is more" because getting an expensive gift, or even a dozen roses, often indicates infatuation, insecurity, or a desire to impress based on internal needs as opposed to the reality of the relationship. Absolutely do not interpret an expensive gift as a sign of true love. A better option would be a creative gift or something inexpensive, but meaningful, or something that shows you have observed what the other person likes.

However, if you receive an expensive gift, be careful not to rule out the person who gave it to you. They may also not know what to do and so choose to err on the expensive side. My message here is to not get sucked in by an expensive gift, but don't discount the person either.

The bottom line is that gifts are relatively unimportant in the scheme of things. What counts is whether there are good feelings together and whether each person treats the other well. Time and observation are the keys, and the smallest of gifts that simply show "I am thinking about you" should be sufficient.

Randy Hurlburt | www.partnersinloveandcrime.com | 858.455.0799
---
Dr. Dar responds …

Gift giving can be a conundrum when wanting to acknowledge your date early on in the relationship -- especially during the holidays. Giving jewelry at this stage in the relationship is something I don't recommend because of what it represents. For example, a ring, even if it is a friendship ring, represents a deeper commitment.

Here are some gift-giving ideas for men and women:

• flowers are great even if you are a man receiving them
• a box of favorite candy or chocolate
• an invitation for another date where you plan to go to a concert or play
• movie tickets or a gift of some movie rentals
• a CD of their favorite music
• gift certificates to a restaurant you can enjoy together or to their favorite clothing store
• and my favorite -- asking them out to celebrate the holiday combined with an opportunity for both of you to learn more about that holiday together

A gift that shows you listen to them, are learning about them, are paying attention to what they like, and which represents a token of your appreciation will suffice. By the way, always include a card that best illustrates that you "like them" instead of implying the other "L" word.

Dr. Dar | www.RelationshipSuccessSource.com | 704.651.8568
---
Rick and Jo respond …

A gift can mean wildly different things to different people. Dr. Gary Chapman has written a great book titled The Five Love Languages. Each of us has a certain "language" we need to "hear" in order to feel loved, and receiving gifts is one of the five ways that humans experience love. So if your date's preferred love language is "words of affirmation," the most well-thought of gift will not convey the appreciation that you are wishing to convey!

Perhaps, the best gift that you can give someone is to "fill their love tank." By learning the Five Love Languages you'll be able to create a more powerful way of conveying your appreciation, be it through gifts, words, acts of service, quality time together or physical touch. In the meantime, if you are not quite ready to say, "I love you," avoid red roses and diamond rings!

Rick and Jo Harrison | www.SecretsToSoulmateSuccess.com | +61.3.5420.7366
---
Hazel responds …
I used to feel, in the early days of dating, if a birthday or holiday came up during that time, that it was quite challenging to buy a gift. However, I discovered if I found out what their likes and dislikes were, there were many gifts I could buy that would not be perceived as inappropriate.
For instance, a beautiful paperweight for his/her desk or a letter opener engraved with their name works well. If they have an interest in a particular area, tickets to a game, movies or the theater might be appropriate. Or, perhaps a book in a genre they enjoy. I once received a lovely crystal dreidel for Chanukah from a date, and also a very pretty glass paperweight. My personal favorite is flowers. Just don't buy red roses if you haven't been dating very long.
Whatever gift you decide to give, remember that it doesn't have to be something you like; it needs to be something the receiver will enjoy! It's not about price or size; it's about the thought you put into it. Whatever you buy in the early days of dating, if it doesn't smack of romance, it probably won't be taken the wrong way.

Hazel Palache | www.sayyestoyoucoaching.com
---
Feature Article:
Conscious Dating: A Primer
By Carol Baker
---
Finding and maintaining companionship is one of our most elevated and basic needs. Yet, embarking on that journey can be the most challenging and rewarding quest you'll ever take. To ensure its success, like any other major endeavor, you must be awake to all the elements of the dating adventure.

Before we embark on this journey let's review a little about what it means to be awake, eyes wide open, conscious of ourselves and what we're doing.

The 3 Levels of Consciousness

There was a man who walked down the same street to work every morning. One morning he turns down that street and about half way down falls into a deep hole. After picking himself up, brushing the dirt off his clothes and climbing out, he proceeds on his way.

The next morning the man takes his usual route, walks down the street and falls right into the hole again. This goes on day after day until one day he wakes up, goes out his door, and turns down the street, only this time he walks around the hole.

The next day and the day after that, he takes the same route and each day maneuvers around the hole. But on the 14th day he wakes up, gets ready for work, and goes out his door but this time as he gets to that street he decides to take another route.

This story points to the differences between functioning in an unconscious, semi-conscious or conscious state. Let's examine each of these states of being:
Unconscious State of Being

We are especially unconscious when we are tired, stressed or multi-tasking. Those times when we've gone to the supermarket, chatting on our cell phone, parked, shopped, and couldn't find our car when we were done.


Semi-Conscious State of Being

When we're semi-conscious, we believe the "stories" we've created in our minds instead of the facts before our eyes. We don't pay attention because we tell ourselves that we always remember where the car is parked and then don't remember.

Conscious State of Being

When we're conscious, we are aware of who we are and what we're doing, where we are and where we want to go. We remind ourselves to lock the car door, and look at the row where the car is parked. We bring everything we know, have experienced and have learned to that situation.
Applying Consciousness to Dating

So, how do these manifest themselves when it comes to dating?

Unconscious Dating

In dating, we often let our unconscious patterns, feelings and chemistry dictate our behavior and choices. We feel giddy and think this must be "the one" when actually it is the excitement of a river of hormones and chemicals that flow when we're attracted to another person.

Solution: We can give ourselves the time it takes to know if it is "chemistry" or "connection."

Semi-Conscious Dating

If we are relying on partial or false information, or telling ourselves a story, the dating choices we make can have devastating and long-term consequences. We can find ourselves surprised by a cheating partner when we knew their last 3 relationships ended because of their infidelity. We may have told ourselves that they just didn't love those other people the way they love us.

Solution: For a successful relationship, be clear about your relationship requirements and committed to making sure they're met.

Sex & The City Episode: Waking up to Reality

In a recent re-run of the television program "Sex & the City," Miranda is dating another lawyer, but he is always very negative. She explains to her friends that he's under a lot of stress at work because he's under review for partnership with in the firm.
She puts up with his "glass-is-always-half-empty" attitude expecting it to change when he gets the promotion. But, when he gets the position, he complains about the people he has to work with, the work conditions, and so on. She realizes that this is his pattern and not what she wants.

Conscious Dating

When dating consciously, we observe who this person is as a son, worker, and friend. How does she or he treat the wait staff? How do they treat you over time? It is important to have chemistry and follow your heart to find "The One," but it is equally important to use your head and know who he or she is, assess their character, values and priorities and consciously decide if they complement yours.

Solution: To do this we must sharpen our clarity about our life vision, relationship requirements, needs and wants.

The Importance of Requirements

Requirements are the "must haves" in life and in our relationships. Like water and air, we must have these things to survive and thrive, and nothing else can substitute for them. If you want children and your potential mate doesn't, there is simply no way to compromise without someone giving up something essential to their well being and happiness.

Solution: Being Conscious of what you Require and Need when dating helps you sort out and select someone whose values are in alignment with yours and who shares a similar life vision.

Our Relationship Needs

Our Needs are different. While we must eat, our choices are varied -- fish one night, rice and beans another. We have room for compromise and negotiation in getting our needs met. If you require someone for whom visiting family is important, you can still negotiate when to plan the visit, how to travel, and where to stay. Those needs can be met in any number of ways.

Wants are Like Dessert

Our Wants are like dessert. While ever so yummy, delicious and fun, we can survive and even thrive without it. If you want to go to Greece this summer, but can't, perhaps Paris in the spring will work.
With self-knowledge, you will be able to tell quickly if someone meets your basic Requirements. With a little more time screen for closer compatibility, and while enjoying the dating experience, test to see if this is the person for you.

What are your Requirements, Needs and Wants? How clear are you about your life vision? The Persian poet Kahlil Gibran wrote, "We choose our joys and sorrows long before we experience them." Stay focused on the type of relationship you desire so that your choices move you in the direction of your vision.

Copyright © 2009 by Carol Baker. All rights reserved in all media.

Carol Baxter is a pastoral counselor who focuses on bringing out the heart of the matter and bringing heart into your relationships. She is available for office appointments in Port St. Lucie, Fl and consultations by phone. www.revcarolbaxter.com 772.785.7862


Bonus Article:
14 Compelling Reasons to Use a Relationship Coach
The coaching relationship is unique and powerful, and really can help you find fulfillment in your life and relationships. Below are some important reasons to use a Relationship Coach, any ONE of which is compelling enough to get your very own coach today. To find a RCI-trained coach, visit the Relationship Coaching Institute.

1. You Value Relationships Highly

You prioritize building fulfilling personal and professional relationships. You realize that your success and quality of life is directly connected to the quality of your relationships.

2. You are Committed to Success

You are serious and intentional about having a fulfilling life partnership, family, business, and community.

3. You Want Results

Working with a coach can move you farther and faster than you can on your own.

4. You are Willing to Learn

You realize that you don't know what you don't know, and your future success may depend upon access to new relationship skills and knowledge.

5. You are Ready for Action

Using a coach can be the most effective means of translating knowledge into practice. One of the most indispensable roles of a coach is to help you use what you already know to make effective choices and take the actions necessary to be successful.

6. You are Open to Mentoring/Support

A Relationship Coach helps you to use your relationships to evolve and develop relationship skills critical to your business success and personal fulfillment. The process of self-discovery, learning about relationships, and how to make successful relationship choices cannot be effectively self-taught or obtained from a book or tape.

7. You Want Fulfillment

You do not want to settle for less or risk preventable failure, and you are willing to give yourself the gift of the support and technology needed to be successful.

8. You Want to be True to Yourself

A Relationship Coach helps keep you honest with yourself, helps neutralize any tendency you may have to settle for less than you really want, is good for providing "reality checks" and being a sounding board.

9. You Want to be Proactive

A Relationship Coach helps you solve problems while they are still small.

10. You Want to Go Beyond Your Limits

A Relationship Coach holds your highest vision for you beyond your fears and limitations, and helps you overcome your obstacles and challenges.

11. You Want to Take Responsibility

A Relationship Coach helps you take responsibility for the quality of your relationships so that you can create them the way you want.

12. You Want to Live Authentically

Today's world is filled with challenges to finding and staying on your highest path, telling your truth, and making choices that are best for you. A Relationship Coach helps you identify and live the life you really want, and to be more of the person you really are and want to be.

13. You Want Balance in Your Life

Your life is filled with opportunities and conflicting choices. You recognize the importance of creating and maintaining balance in relationships, including the ones you have with yourself and your higher power.

14. You Want New Possibilities for Your Relationships

You recognize that a healthy relationship is growing and dynamic. One of the worst things that can happen is to take one another or the relationship for granted. Opening to new possibilities helps a good relationship get better with the passage of time. A Relationship Coach helps you to continually discover and implement new and more fulfilling possibilities for your life and relationships.

Copyright © 2009 by David Steele, Founder, Relationship Coaching Institute. All rights reserved in all media.
Conscious Dating Resources

Conscious Dating Audio Programs

Visit our website at relationshipcoachinginstitute.com for cutting-edge information and tools for finding the love of your life, including:

Listen to outstanding audio programs such as "Find the Love of Your Life AND The Life That You Love" and "Conscious Dating for Relationship Success"

Access our Knowledge Bank for innovative relationship tools, strategies and concepts

Check out our talented RCI-trained Relationship Coaches at relationshipcoachinginstitute.com/resourcecatalog.htm
---
For More Information
Are you a coach or other helping professional who works with singles and couples? If you want to know more about adding the Conscious Dating Relationship Coaching tools to your professional toolbox, visit relationshipcoachinginstitute.com
________________________________________

Please share this newsletter with your single friends, family, and co-workers, and you can be a partner in their success, too!
Links to Us
Contact
Tara Kachaturoff | Editor, Conscious Dating Newsletter for Singles Tara@relationshipcoachinginstitute.com
________________________________________

Visit our resource catalog for singles at relationshipcoachinginstitute.com/resourcecatalog.htm

Relationship Coaching Institute
Free introductory training! relationshipcoachinginstitute.com

To subscribe to this newsletter and join our free Conscious Dating Online Community click here

Copyright © 2009 by Relationship Coaching Institute. All rights reserved. Feel free to share this with others as long as our contact information and authorship is included.