Welcome!
This newsletter is designed especially for YOU
if you are single and ready to
"Find the Love of Your Life
AND the Life That You Love!"

---
Special Announcement
Conscious Dating: Finding the Love of Your Life in Today's World is now available for immediate shipping!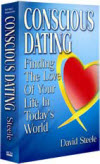 Endorsed by top relationship experts!
In Conscious Dating, David Steele provides a new concept for dating and insightful advice, effective exercises and useful illustrations that will help anyone who uses them make their journey to love successful. We recommend this book to anyone looking for love.
-- Harville Hendrix, Ph. D. and Helen LaKelly Hunt, Ph. D., co-authors of Receiving Love: Transform Your Relationship by Letting Yourself Be Loved
Unconscious dating can lead to disaster. Given the serious effect of relationships gone awry, Conscious Dating is a must-read for singles who want to make better relationship choices. David Steele provides sound guidance and practical advice for today's singles.
-- Pat Love, Ed.D. Author, The Truth About Love and Hot Monogamy
David Steele has made a significant contribution to the world of relationships by mapping two previously foreign countries- consciousness and dating, bringing them together at last in this customized guide. Packed with practical strategies that really work, Conscious Dating is THE book for helping singles navigate the dating world.
--Gay and Kathlyn Hendricks, authors of Conscious Loving and the new Spirit-Centered Relationships
This book is filled with practical strategies that work. Packed with solid advice, assessments and exercises, as well as interesting stories, Conscious Dating is a book that will completely change the way singles view dating and relating. A must-read for anyone who wants to create his or her next great relationship.
--Eve Eschner Hogan, Author of Intellectual Foreplay and How to Love Your Marriage
To order a copy of this book for yourself or a single friend or family member, visit www.consciousdating.com or use this direct order link



FREE Audio CD with each book!
(available for a limited time while supplies last)
Ask Our Coaches:
Too Fast for Me!
...I can't imagine calling someone my girlfriend after knowing her just a few weeks!
This column answers questions submitted by our readers. Submit your questions to Tara@relationshipcoachinginstitute.com. She will forward them to our coaches all over the world. Each issue, we'll publish a few answers from our RCI coaches.
This Month's Question: Too Fast for Me!
I'm a 45 year old widower who has been dating off and on for the past couple of years. I just got back from a 7-day vacation to Hawaii. I went there with a large group of singles from a local singles group to which I belong.

While on the vacation, I spent time with as many people as possible. We went diving, on excursions around the islands and enjoyed many great lunches and dinners together. On the last day of the trip, I started talking more with one of the women in the group and thought we might consider going out on a date once we returned to Chicago -- where we both live.

We've gone out four times, but I'm already getting nervous about going out again. Why? She's telling everyone, in the singles group we both belong to, her other friends, probably anyone who will just listen, that she has a boyfriend (meaning me!). I think this is really moving much too quickly. I can't imagine calling someone my girlfriend after knowing her just a few weeks.
The dates we've been on have been really basic - coffee at a local eatery, walk at the park, a visit to downtown Chicago. We haven't been intimate, we haven't talked about any serious topics, and we haven't gone out for dinners or movies.

What is the best way of handling this? I'm not dealing with someone inexperienced with relationships (she's 41, divorced). I would think most everyone should know it would be inappropriate to tell others they have a boyfriend or girlfriend so early on.
I don't want to hurt her feelings, but at the same time, I don't want her broadcasting something like this all over the place. Should I just cut things off and move on or what? And, since we're on the topic … what do you suggest in the future for avoiding this problem in the first place?

Rich from Pinehurst
---
Linda responds …

Honesty is the way to go. I understand you don't want to hurt her and you feel she's moving too fast. So, think of a way to tell her how you feel without offending her.

First, you need to figure out exactly what is bothering you. Is it that you're not willing to be her boyfriend, not ready to be her boyfriend, or is it that you're not ready to be a boyfriend to anyone?
Once you're clear on this, then have a heart to heart talk with her. You may even consider modeling your conversation something like "When you (state the behavior), I feel (state how you feel). I need you to (say what you need her to do)."

As for your second question, Being honest right from the start is your best option. When it comes from the heart and not your head, it sounds more authentic. Don't be afraid to be very clear with your date about where you stand with regard to your dating relationship.

You need to make sure that you are clear about what you truly want from a dating relationship before you can communicate what you want to someone else.

Linda Robert | Coaching Plus, The Solution Lady
linda@thesolutionlady.com | 705.969.7280
---
Marcia responds …

You're wise to protect yourself by moving slowly. Your new dating interest sounds as if she doesn't receive a lot of male attention, so she is now walking on air over the positive validation you've given her.

If you so desire, feel free to give up on her. However, you could also give her one more chance. Gently tell her something along the lines of, "I feel as if this is moving much too quickly for me. I prefer to go out with someone for a while and to know them better before we decide if we want to become each other's boyfriend and girlfriend. I hope you're okay moving slowly like this with me. I'd like to see if we're right for each other before we call each other boyfriend or girlfriend."

This approach would also work well on any first date. There is nothing wrong with letting someone know your dating style up front, to prevent misunderstandings from occurring later on. A savvy, centered woman will take the hint and pace herself accordingly.

Marcia Augustine
marcia.augustine@dairemount.com | 770.499.8932
---
Tara responds …
Honesty is the best policy. When it comes to handling relationship issues it is important to observe the behavior that isn't working for you, but it is also important to respond to it quickly. The longer it takes you to address the issue, the more likely you won't. You may also be sending the message that you accept the behavior. If you don't handle the issue now, the result will be unhappiness for you and more problems in the future.

My suggestion is to set up a time to meet with your new friend and discuss where you are with regard to this relationship. Let her know that what she is doing makes you uncomfortable and explain why. Ask her to stop telling others that you are her boyfriend. If she agrees to change her behavior to respect your needs and wants, then wait to see what happens.

In any case, make sure you think through what you will do if she continues with the same unwanted behavior. Have a plan of action. If she won't respect your wishes now (a red flag), so early in the dating process, the chances that she will later on is rather slim.

Tara Kachaturoff | www.relationshipplanning.com
info@relationshipplanning.com | 248.723.1926
Relationship Readiness Quiz
Did you know you can take the Relationship Readiness Quiz at www.consciousdating.org? Simply sign up for a free membership to enjoy the quiz as well as other resources developed by RCI Founder and CEO, David Steele.
Tara Alexandra Kachaturoff | Editor
Feature Article:
Five Basic Human Needs
by Deb Melton

"Someone to tell it to is one of the fundamental needs of human beings."
Miles Franklin
Many of the people I talk with have been married more than once and have had several long-term, committed relationships. When they break up, it is understandably painful and discouraging. Too often, I meet singles who just want to give up. They conclude, "I just don't know if it's worth it," or "Maybe I'm just not cut out for a relationship. Maybe I'm better off alone."
That being said, they still have an urge to be a couple, which goes beyond sex and the need for physical closeness. In the movie, Shall We Dance, the character played by Susan Sarandon, when asked a similar question about why people want to be with one another, says, "Because we all need someone to witness our lives." I think many of us can relate to this, however, I think it goes deeper than that.
In his book, How To Be An Adult in Relationship, David Richo outlines five needs that all human beings have. The mistake we make is thinking that when we grow up, when we become an adult, we should no longer "need" anyone to fulfill our needs. Yet studies continue to show that the healthiest and happiest people are those in healthy and happy committed relationships. Why? I believe it is because as human beings we have some needs that are best met by someone else.
Five Basic Human Needs
1. Attention means someone else has an "engaged focus on you." There is something very validating about that, something very soothing and nurturing that you cannot really give to yourself.
2. Acceptance is when someone accepts you as you are, with all your feelings, choices, personality traits and so on, and doesn't try to change you, it's very seductive. Many people feel loved when they are accepted. It makes them feel this person is safe enough to risk intimacy.
3. Appreciation gives depth to acceptance. Examples include "I admire you. I delight in you. I prize you. I acknowledge you. I appreciate you as unique." Appreciation includes gratitude as well as a flow of giving and receiving. Studies have also shown that one critical factor in whether couples stay together, is that there must be at least a 5 to 1 ratio of appreciation to complaints. Appreciation is very important! You can acknowledge yourself and pat yourself on the back, but a word of appreciation from someone you love and admire speaks volumes.
4. Affection is the most challenging of the needs for the singles that I work with. It is the one that they miss the most. Generally, we think of affection as physical, and that is important. We know that babies will die if they are not held and stroked by another human being. Physical affection improves the immune system and has many health and psychological benefits.
The word affection comes from affect, which means feeling. Therefore, affection refers to the emotional as well as the physical. It includes kindness, thoughtfulness, considerateness, playfulness and romantic gestures. These are all expressions of love and we feel good when we give them to someone else as well as when we receive them.
5. Allowing is the last human need Richo discusses. When someone allows you to be 100% yourself, you feel safe to reveal your deepest wishes, needs and dreams. It is sharing that quality with another person, who also shares it with you, that makes relationships worth the effort. This is where the richness of life is truly revealed.
Copyright © 2006 by Deb Melton. All rights reserved.
Deb Melton is a Certified Singles Coach, a Certified Fearless Living Coach as well as a professional speaker and author. She can be reached at 303.986.2223 or through her website at http://www.denversinglescoach.com.

Bonus Article:
Life Lessons: Taking Relationships Slowly
by RCI Relationship Coaches

State of Mind

I believe when we are able to take things slowly in a relationship it speaks to our state of mind. There is a correlation between how we feel about ourselves and the relationships we choose. When we are feeling good, we are able to enjoy the process of getting to know ourselves in the context of a relationship.

By giving ourselves time in a relationship, we learn what we want, what we like, what causes difficulty and what is truly important to us. Our relationships are mirrors of what we put out to the world. When I look back at each of the dating relationships I have been in, I can see that each one has taught me something about myself I did not see before.

I believe each relationship brings us closer to knowing ourselves better which will lead us to a more fulfilling and happy life.

Sue Kallen, LCSW | Relationship and Wellness Coach
suekallen@opexonline.com | 312.213.2395
---

Controlling the Pace

Controlling the pace of your courtship protects you from being hooked on insufficient evidence. Misread signals or a yearning for validation can throw you into bed with Mr. or Ms. Wrong and consequently plunge you into an emotional abyss.

Moreover, premature sex with Mr. or Ms. Right may sabotage and destroy your blossoming romance. Moving too fast can cause a fear of intimacy to flare up, creating problems for both of you. The only way to feel emotionally secure will be to push your new flame away, to create a safe distance.

Value yourself enough to wait until both the person and the time are right for physical intimacy to occur. Remind yourself that if you lose someone because he or she wouldn't wait more than a few dates to have sex with you, you haven't lost anyone worth keeping. The bottom line in getting the love, validation and intimacy we naturally crave, is to do it safely. You'll stay safe if before you form an emotional attachment, you first allow emotional intimacy to grow between the two of you – and that takes time.

Marcia Augustine
marcia.augustine@dairemount.com | 770.499.8932


---
Take Your Time
Think about what it's like to drive a car fast. When you're driving fast, you miss a lot of the scenery along the way. Everything is a blur as you race your car from somewhere to some place. And, if obstacles appear ahead, it may be difficult for you to maneuver without causing damage to your vehicle, to others, and to your self.
The same thing applies to relationships. A relationship is not a destination. That being said, there's no race to get from here to there. Relationships are a journey -- they are made of moments of sharing, caring, intimacy and everything in between. When you move too quickly, you can jeopardize your health, your wealth, and your happiness. You need to take your time to see if someone is safe for you. Making snap decisions, rearranging your life or lifestyle, or taking other actions to accommodate a new found "would be" partner is highly risky. Every day we hear about people doing this, often with very unfortunate outcomes.
Going slow in a relationship will allow you to get to know someone better. You'll have time to gauge and process your own thoughts and feelings and to make better decisions because you're giving yourself the time and space to do so.
Each of you will benefit because you can be more attentive to each other's needs and wants. If challenges arise, as they certainly will, it's much easier to respond to them because you can pay attention to what's going on. When you're moving fast, you miss things – often very obvious things. This being said, consider it a red flag if someone wants to move quickly in a relationship. They may be hiding something that later could prove to be harmful to one of both of you.
In your next relationship, take it slowly. There's no race to win. The object is to enjoy time together, to enjoy life's moments. You don't get more of something just because you do it faster. In fact, you can end up with a great deal less because you miss the process, you miss the experience, and most of all, you miss the opportunity to enjoy the time in your life.
Tara Kachaturoff | www.relationshipplanning.com
info@relationshipplanning.com | 248.723.1926
Copyright © 2006 ConsciousDating.org. All rights reserved.
Conscious Dating Resources
Visit our website at http://www.ConsciousDating.org and join for FREE cutting-edge information and tools for finding the love of your life, including:
Register for our 5-Day e-Program for Singles, "How To Find Your Life Partner"
Take our proprietary Relationship Readiness Quiz
Listen to outstanding audio programs such as "Find the Love of Your Life AND The Life That You Love" and "Conscious Dating for Relationship Success"
Access our Knowledge Bank for innovative relationship tools, strategies and concepts
Check out our talented RCI-trained Relationship Coaches at http://www.ConsciousDating.org/coach
Conscious Dating Coaches Around the World
The following are classes for singles being offered by Certified and Master RCI Coaches (trained by and affiliated with Relationship Coaching Institute). Some are offered locally, and some are teleclasses that you can join from wherever you are!
Teleclass:
Happy After Divorce™ OPEN DOOR Virtual Forum

Description: This is a free, monthly call open to anyone going through divorce or recently divorced who want to be part of a supportive community.
When: Day and time varies, go to http://www.happyafterdivorce.com/opendoor.html for current details and to register
Contact: Laurie Cameron, CC, MCRC, 303.740.0352, Laurie@HappyAfterDivorce.com


Birmingham, Michigan:

Seminar: Fabulous First Impressions

Description: Do you want more success in life? It's been said people form an impression of you in less than 5 seconds! First impressions make all the difference in your personal and professional relationships. Join us for lively discussion as we explore the power of first impressions, the 7 secrets of attraction, and practical tips to increase your success in your relationships. RCI Master Certified Coach, Tara Kachaturoff
When: Monday, May 8, 2006, 7:00 – 10:00 pm
Where: The Community House, Birmingham, Michigan
Register: The Community House,
Birmingham, MI, www.communityhouse.com
248.644.5832
For More Information
ConsciousDating.org, a resource for singles offered by Relationship Coaching Institute, is a worldwide relationship coaching organization dedicated to helping you 'find the love of your life AND the life that you love'. For more information about us, please visit our web site at http://www.consciousdating.org
---


Free


Conscious Relationship Resources
www.ConsciousRelationshipResources.com
Conscious Relationship
Tele-Seminar Series


May 11: Why Relationships Fail (And What to Do About It) with Pat Love and David Steele

www.ConsciousRelationshipSeminars.com

Conscious Relationship Podcast


www.ConsciousRelationshipPodcast.com

Conscious Relationship Article Bank


www.ConsciousRelationshipArticles.com
---
Tired of being alone? Get a Relationship Coach! Check out our coaches at: http://www.consciousdating.org/coach
---
NEW RELATIONSHIP? Congratulations in moving forward in your life partner quest! WHAT NOW?
Join PARTNERSINLIFE.ORG at http://www.PartnersInLife.org for cutting-edge information and resources for couples. You will be glad you did! Please share this with new couples that you care about.
---
Are you a coach or other helping professional who works with singles and couples? If you want to know more about adding the Conscious Dating Relationship Coaching tools to your professional toolbox, visit http://relationshipcoachinginstitute.com
---
Please share this newsletter with your single friends, family, and co-workers, and you can be a partner in their success, too!
Links to Us
Contact
Tara Alexandra Kachaturoff | Editor, ConsciousDating.org Newsletter for Singles tara@relationshipcoachinginstitute.com
---
Visit our website for singles at www.ConsciousDating.org and become a member for Free!
Relationship Coaching Institute
Free introductory training! relationshipcoachinginstitute.com
Members of Relationship Coaching Network
Free resources for singles and couples www.RelationshipCoachingNetwork.org
To subscribe to this newsletter
Please refer singles your care about to ConsciousDating.org
BuildingYourIdealPractice.com
Free monthly tele-seminars! www.BuildingYourIdealPractice.com
Copyright 2006 by ConsciousDating.org. All rights reserved. Feel free to share this with others as long as our contact information and authorship is included.