Welcome!
This newsletter is designed especially for YOU
if you are single and ready to
"Find the Love of Your Life
AND the Life That You Love!"

---
Conscious Dating: Finding the Love of Your Life in Today's World is available for immediate shipping!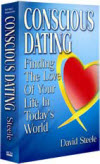 Endorsed by top relationship experts!
In Conscious Dating, David Steele provides a new concept for dating and insightful advice, effective exercises and useful illustrations that will help anyone who uses them make their journey to love successful. We recommend this book to anyone looking for love.
-- Harville Hendrix, Ph. D. and Helen LaKelly Hunt, Ph. D., co-authors of Receiving Love: Transform Your Relationship by Letting Yourself Be Loved
Unconscious dating can lead to disaster. Given the serious effect of relationships gone awry, Conscious Dating is a must-read for singles who want to make better relationship choices. David Steele provides sound guidance and practical advice for today's singles.
-- Pat Love, Ed.D. Author, The Truth About Love and Hot Monogamy
David Steele has made a significant contribution to the world of relationships by mapping two previously foreign countries- consciousness and dating, bringing them together at last in this customized guide. Packed with practical strategies that really work, Conscious Dating is THE book for helping singles navigate the dating world.
--Gay and Kathlyn Hendricks, authors of Conscious Loving and the new Spirit-Centered Relationships
This book is filled with practical strategies that work. Packed with solid advice, assessments and exercises, as well as interesting stories, Conscious Dating is a book that will completely change the way singles view dating and relating. A must-read for anyone who wants to create his or her next great relationship.
--Eve Eschner Hogan, Author of Intellectual Foreplay and How to Love Your Marriage
To order a copy of this book for yourself or a single friend or family member, visit www.consciousdating.com or use this direct order link



FREE Audio CD with each book!
(available for a limited time while supplies last)
Ask Our Coaches:
Meet the Parents — Or Not?
...I think three months of dating is plenty of time to qualify for "meeting the parents." What do you think?
This column answers questions submitted by our readers. Submit your questions to Tara@relationshipcoachinginstitute.com. She will forward them to our coaches all over the world. Each issue, we'll publish a few answers from our RCI coaches.
This Month's Question: Meet the Parents- Or Not?
I'm a single guy, 35 years old and am definitely interested in getting married in the next couple of years. I've been dating this really nice woman, single, 31 years old, for about three months. I really like her and think she might be "the one". We share many common interests, have similar plans for the future, and we have a great time together. I like her and want to get to know her better.
But, I have one big problem. She's always talking about her family, how great they are, and tells me about the nice times she has visiting with them when she's not out with me. They actually only live a couple miles from her home.
The strange thing about this is that she's never once asked me to attend a family event with her so that I could meet them. I talked to her about this, but she didn't seem really engaged in the conversation and merely said, "it's too early in the relationship to introduce you to them." Is this a red flag? Is there something wrong when someone doesn't introduce you to their family or should I just give her more time? I think three months of dating is plenty of time to qualify for "meeting the parents." What do you think?
Brad from Balboa
---
Ken responds …

Although you say you like this woman and she might be "the one," you speak of her in broad terms, e.g., you "share many common interests" and "have a great time together." You "like her and you want to get to know her better."

From your language I infer that the two of you have not decided to become exclusive at this point. In some cultures and families, e.g., Latino, a woman does not bring a man home to meet the family until things are serious and marriage appears to be on the horizon. Her hesitance could be a cultural norm. Or, it may be something else.

First, if you haven't done so already, tell her there's something special about her and that she might be "the one."

Second, candidly discuss where your relationship is at and where you think it's headed.

Finally, ask her why it's too early to meet her family. Explain that you would really like to meet them, in particular, because they sound terrific. Ask when would be the right time to meet them. This might also be a good time to share your own feelings about her not having extended an invitation. Good luck.

Ken Sprang | www.bcccounseling.com
ken@bcccounseling.com | 301.907.3377, ext. 3
---
Marcia responds …

You and your flame share many commonalities, but that's not enough. After three months, you also want to feel emotional intimacy growing between you.
Her lackluster response about introducing you to her family is indeed a red flag, and you're wise to heed it. You're socializing with them, not announcing your engagement to them. Don't be afraid to let her know that you feel left out. If she cares about your feelings, she'll include you in her plans.

You need to get her to reveal her feelings for you. Make yourself less available. Call or text message her less often than you might be doing now and check her response. Does she call you? Does she tell you she misses you? When you're together, does she offer you signs of affection before you offer them to her?

Commonalities and liking someone aren't enough upon which to build a future. The real one for you will love you and care about you. Look for signs that her feelings for you are growing. It's also not enough to want to get married in a couple years. Instead, decide you want to get married to the right person, however long it takes to find that person.

Marcia Augustine
marcia.augustine@dairemount.com | 770.499.8932
---
Lori responds …
Your relationship sounds like a good one. Just as you're questioning, "Is she the one?" she may very well be thinking the same thing.
It's actually healthy she's not introducing you to her family until she knows that you are in fact the one for her. Have you discussed exclusivity with her? Have you told her that you're interested in a committed relationship?
You're at a stage where many people make assumptions that the other person is thinking and feeling the same things. Open a discussion around this and find out what she's really thinking.
Demonstrate a little vulnerability by letting her know where you stand with regard to your thoughts and feelings. Her response should give you a clearer idea of whether you're both on the same track.
Lori Rubenstein | www.daretotranscend.com
lori@attorney-coach.com | 928.634.0252
---
Sandra responds …
The question here is, "Does she think you're the one for her?"

Have you discussed your feelings and your desire to be in a pre-committed relationship with her? If not, that's your next step. If she reacts by drawing back or tells you she really likes you but doesn't have those kinds of feelings for you, you have your answer. You can continue to date her, just for fun, knowing your chances of marriage to her are slight. Alternatively, you can move on to find a woman who wants to marry you.
On the other hand, if she says she feels the same as you do, it's time to press her for meeting her family. If she continues to be evasive, she might be telling you with her actions what she can't manage to tell you with words. If that's the case, it's clearly a sign it's time to move on.
Sandra Rohr | Your Personal Love Coach
SDRohr@aol.com | 714.774.8540
Relationship Readiness Quiz
Did you know you can take the Relationship Readiness Quiz at www.consciousdating.org? Simply sign up for a free membership to enjoy the quiz as well as other resources developed by RCI Founder and CEO, David Steele.
Tara Alexandra Kachaturoff | Editor

Feature Article:
Finding the Love of Your Life
by Jeff Herring

In his book The Bridge Across Forever
, Richard Bach asks the question …
"Have you ever felt alone in a world of strangers, missing someone you have never met?"

The book goes on to describe his search for a partner in life, what he calls a "soul mate." I believe that all of us have a profound desire to find someone with whom to have a deep and abiding, intimate relationship. This search springs from a longing inside each of us to find completion and wholeness with another person.
Obstacles in Our Path
Let's take a look at three of the obstacles to finding this kind of relationship.

A. Human Beings are Complicated

Many people deeply fear the very thing they most want. Striking a healthy balance between a fear of and a desire for an intimate relationship can be very difficult. When a fear of intimacy takes over, people can become experts at relationship sabotage.

B. Faulty Relationship Radar

Some people continually make the same poor choices of partner. It's as if each of us had "internal radar" that picks up "our kind" of person. Whether your radar scans for healthy or unhealthy choices depends on how it is set.
How your internal radar is set depends on three factors:
1) Your self-esteem

2) The model of relationships set by the family in which you grew up, and

3) Your own relationship experience
Movies, literature and music have given us the notion that "somewhere out there" is the one perfect person for each of us. I'll probably get some letters about this, but I don't think this matches reality. If you just look around, you'll notice that many "perfect matches" are divorced within a few years.

In one episode of the program "M•A•S•H" is a scene in which Hawkeye and Margaret are sitting at a bar commiserating about their relationships, which have both just ended. One says to the other, "Our problem is that we keep looking for a perfect, tailored fit in an off-the-rack world."

This is where a great many people become stuck. It's my belief that, in fact, there are many people out there who have the potential to be a "good fit" as our soul mate.

C. Chain Relationships

In much the same way that chain smokers will smoke one cigarette after another, some people move out of one relationship and then immediately into another. These people are typically running from something and have very little knowledge or sense of self when they are not in a relationship.
What to Do?
Now that we have looked at a few of the obstacles to finding a soul mate, here are my top two tips that might aid in your search.

Becoming the Right Person vs. Looking for the Right Person

This statement has two meanings:
1) Develop yourself to the point you become eligible to be someone's right person, and

2) Adjust your own relationship radar so you bring yourself into contact with suitable potential partners
The truth of this has been borne out in my interviews with hundreds of couples. When asked the question "How did you two find each other?" countless people said when they stopped looking and focused on something else in their lives, their current partners just showed up. It's an interesting paradox – finding someone by not looking for someone.

Know What You're Looking For

I was on a radio program recently when a man phoned in to say that going to singles meetings to look for a partner was like going to a used-car lot to find a nice car. I bet he doesn't get a lot of dates!

That aside, a different car analogy is useful here. When we go shopping for a car, we usually have a mental list of things we must have, well as things we would like to have. Sometimes, we find one with many things we would like to have, but without one of the must-haves. It would still drive OK, but it's just not for us.

Looking for a soul mate, it's important to know what you would like to have and what you must have. That's one list worth taking the time to develop.

By understanding some of our obstacles to creating relationships, and by focusing more on being the right person while knowing what we're looking for, we're preparing ourselves in the best way possible to meet the love of our life.

Copyright © by Jeff Herring. All rights reserved.
Jeff Herring, MS, LMFT www.SecretsofGreatRelationships.comand www.ConsciousDatingAtlanta.com
jeff@jeffherring.com | 850.580.5333
Bonus Article:
Ten Principles of Conscious Dating
by David Steele, Founder of Relationship Coaching Institute
1. Know who you are and what you want
Like an iceberg, we are typically aware only of the tip, while our success and happiness depends upon what lies below the surface.
2. Learn how to get what you want
Assess the information, tools, and skills you will need and acquire them. Develop creative strategies and action plans. "When you fail to plan, you plan to fail."
3. Be the "Chooser"
Take initiative and responsibility for your outcomes. Don't react to what, or who, chooses you. Seek to create what you want in your life.
4. Balance your heart with your head
Make your relationship choices consciously. It's still exciting!
5. Be ready and available for commitment
Live your life and bring your dating strategy into alignment with how ready you really are for a committed relationship.
6. Use the "Law Of Attraction"
Be the partner that you are seeking. Attract the partner that you want by developing yourself and living the life that you want. "If you build it, they will come."
7. Gain relationship knowledge and skills
Prepare for the love of your life by learning about relationships, improving your relationship skills, and deepening your relationships with your family, friends, and colleagues. Date for fun and practice. Take more emotional risks. Read about relationships. Get relationship coaching. Take relationship classes and workshops.
8. Create a support community
Isolated singles become lonely in their relationships when they focus on a partner to meet all their social and emotional needs.
9. Practice assertiveness
To get what you really want, you need to say "No" to what you don't want.
10. Be a "Successful Single"
Don't put your life on hold waiting for a relationship to happen. Live your life vision and purpose while you are single. The best way to find your life partner is to be a happy, successful single person living the life that you really want.

Copyright © 2006 ConsciousDating.org. All rights reserved.
Conscious Dating Resources
Visit our website at http://www.ConsciousDating.org and join for FREE cutting-edge information and tools for finding the love of your life, including:
Register for our 5-Day e-Program for Singles, "How To Find Your Life Partner"

Take our proprietary Relationship Readiness Quiz

Listen to outstanding audio programs such as "Find the Love of Your Life AND The Life That You Love" and "Conscious Dating for Relationship Success"

Access our Knowledge Bank for innovative relationship tools, strategies and concepts

Check out our talented RCI-trained Relationship Coaches at http://www.ConsciousDating.org/coach
Conscious Dating Coaches Around the World
The following are classes for singles being offered by Certified and Master RCI Coaches (trained by and affiliated with Relationship Coaching Institute). Some are offered locally, and some are teleclasses that you can join from wherever you are!
Teleclass:
Happy After Divorce™ OPEN DOOR Virtual Forum

Description: This is a free, monthly call open to anyone going through divorce or recently divorced who want to be part of a supportive community.
When: Day and time varies, go to http://www.happyafterdivorce.com/opendoor.html for current details and to register
Contact: Laurie Cameron, CC, MCRC, 303.740.0352, Laurie@HappyAfterDivorce.com


Birmingham, Michigan:

Seminar: Online Dating: What You Need to Know

Description: Save time, money and energy using the internet to find your next relationship. First, you'll define your dating plan and requirements. Then we'll discuss designing a dating strategy, how to use the most popular dating websites, writing ads to attract the person you want to meet, methods for keeping track of contacts, communication strategies, what to do and NOT do before and after your first meeting, as well as safe dating practices. Tara Kachaturoff, RCI Master Certified Coach for Singles
When: Wednesdays, June 21, 28, 7:00 – 9:30 p.m.
Where: The Community House, Birmingham, Michigan
Register: The Community House, Birmingham, MI, www.communityhouse.com| 248.644.5832

For More Information
ConsciousDating.org, a resource for singles offered by Relationship Coaching Institute, is a worldwide relationship coaching organization dedicated to helping you 'find the love of your life AND the life that you love'. For more information about us, please visit our web site at http://www.consciousdating.org
---


Free


Conscious Relationship Resources
www.ConsciousRelationshipResources.com
Conscious Relationship
Tele-Seminar Series


June 8: Creating Lasting Relationships

www.ConsciousRelationshipSeminars.com

Conscious Relationship Podcast


www.ConsciousRelationshipPodcast.com

Conscious Relationship Article Bank


www.ConsciousRelationshipArticles.com
---
Tired of being alone? Get a Relationship Coach! Check out our coaches at: http://www.consciousdating.org/coach
---
NEW RELATIONSHIP? Congratulations in moving forward in your life partner quest! WHAT NOW?
Join PARTNERSINLIFE.ORG at http://www.PartnersInLife.org for cutting-edge information and resources for couples. You will be glad you did! Please share this with new couples that you care about.
---
Are you a coach or other helping professional who works with singles and couples? If you want to know more about adding the Conscious Dating Relationship Coaching tools to your professional toolbox, visit http://relationshipcoachinginstitute.com
---
Please share this newsletter with your single friends, family, and co-workers, and you can be a partner in their success, too!
Links to Us
Contact
Tara Alexandra Kachaturoff | Editor, ConsciousDating.org Newsletter for Singles tara@relationshipcoachinginstitute.com
---
Visit our website for singles at www.ConsciousDating.org and become a member for Free!
Relationship Coaching Institute
Free introductory training! relationshipcoachinginstitute.com
Members of Relationship Coaching Network
Free resources for singles and couples www.RelationshipCoachingNetwork.org
To subscribe to this newsletter
Please refer singles your care about to ConsciousDating.org
BuildingYourIdealPractice.com
Free monthly tele-seminars! www.BuildingYourIdealPractice.com
Copyright 2006 by ConsciousDating.org. All rights reserved. Feel free to share this with others as long as our contact information and authorship is included.