Welcome!
This newsletter is designed especially for YOU
if you are single and ready to
"Find the Love of Your Life
AND the Life That You Love!"

---
Special Announcement
Conscious Dating: Finding the Love of Your Life in Today's World is available for immediate shipping!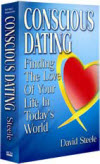 Endorsed by top relationship experts!
In Conscious Dating, David Steele provides a new concept for dating and insightful advice, effective exercises and useful illustrations that will help anyone who uses them make their journey to love successful. We recommend this book to anyone looking for love.
-- Harville Hendrix, Ph. D. and Helen LaKelly Hunt, Ph. D., co-authors of Receiving Love: Transform Your Relationship by Letting Yourself Be Loved
Unconscious dating can lead to disaster. Given the serious effect of relationships gone awry, Conscious Dating is a must-read for singles who want to make better relationship choices. David Steele provides sound guidance and practical advice for today's singles.
-- Pat Love, Ed.D. Author, The Truth About Love and Hot Monogamy
David Steele has made a significant contribution to the world of relationships by mapping two previously foreign countries- consciousness and dating, bringing them together at last in this customized guide. Packed with practical strategies that really work, Conscious Dating is THE book for helping singles navigate the dating world.
--Gay and Kathlyn Hendricks, authors of Conscious Loving and the new Spirit-Centered Relationships
This book is filled with practical strategies that work. Packed with solid advice, assessments and exercises, as well as interesting stories, Conscious Dating is a book that will completely change the way singles view dating and relating. A must-read for anyone who wants to create his or her next great relationship.
--Eve Eschner Hogan, Author of Intellectual Foreplay and How to Love Your Marriage
To order a copy of this book for yourself or a single friend or family member, visit www.consciousdating.com or use this direct order link



FREE Audio CD with each book!
(available for a limited time while supplies last)
Ask Our Coaches:
Meet the Children: When and How?
...at what point it would be best to introduce my children (and vice versa) to someone I'm dating?
This column answers questions submitted by our readers. Submit your questions to Tara@relationshipcoachinginstitute.com. She will forward them to our coaches all over the world. Each issue, we'll publish a few answers from our RCI coaches.
Question for July: Meet the Children: When and How?

I am a 38-year-old divorced mother of two, with children aged 8 and 10 years old. I've been on my own for the last 3 years and am now ready to date. I've decided to attend various singles functions in town and at my church. I'm also going to investigate online dating. I really want to prepare myself as well as possible for this undertaking because it's all very new to me.

I'd like to know at what point it would be best to introduce my children (and vice versa) to someone I'm dating. I certainly don't want to introduce them to anyone until I know we have both agreed we want to pursue a relationship. When is the right time to do this? How should it be done? Do you have any suggestions for explaining this to my children? I would really love your help.
Sarah from Santa Cruz
---
Marcia responds …
Children don't need a parade of dates and "friends" who come and go through their lives. They need to see protection, selectivity and values modeled to them on a consistent basis. Meet each other's children after emotional intimacy has grown, but before sexual intimacy takes place. The children will feel safer, even if they don't entirely grasp the exact nature of your relationship. More importantly, you will have modeled something for them that's very important. They will see by your example what true emotional intimacy looks like and feels like.

Marcia Augustine | 770.499.8932
marcia.augustine@dairemount.com
---
Randy responds …
I don't think it's necessary to wait until you have "agreed to pursue a potential relationship." Your children are entitled to know you're dating, that you're interested in finding a good relationship, and that you're are in the process of meeting a number of men. They will be in this same situation sometime in the future (dating), so why not learn from you the skills and pitfalls.

I wouldn't introduce them to every person you meet, but why not include them in outings with those you've seen several times and with whom you feel comfortable? To me, this is much more natural than the "wait for true love" approach, which could be quite a while (and even then, it's not for certain).
My suggestion is to explain to your children that you would like to have a good relationship. Tell them you are dating towards that end and that you're looking for a person who is good with kids. Let them know you plan to include them in activities, from time to time, because you love them. I hope this approach might prove helpful.
Randy Hurlburt | Conscious Dating San Diego
Randy@ConsciousDatingSanDiego.com
858.455.0799




---
Mike responds …
I believe there are two extremes and that each may have undesirable results:

(1) One extreme is to introduce your children to all of your dates, involving them in such a way they're reeling from "all the new men in your life" and then they learn to remain emotionally unattached from all of them.
(2) Another extreme is to wait until "the right one" proposes marriage, you accept (possibly 12 – 18 months from the time you meet, or longer?), and then you discover than none of the three like each other!
How high a priority are your children? If they're paramount, you'll want to make the introductions at the time most beneficial to them. Consider waiting until they ask to meet him -- perhaps after 3-6 months, at which time you will have a better feel for the relationship. The precise timing will most likely reflect the collective wisdom of you and your partner; it may even require a fair amount of dating before you gain that wisdom for yourself.
In my opinion, I think introducing your children later rather than sooner is safer. See how you feel, assess where you are in the relationship, and consider the feelings of your dating partner. Good luck and have fun!
Mike McCartney | www.SinglesOfFaith.Com
---

Lois responds …
Although you're wondering about the "how" and "when" part of introducing your children, you're very clear about what criteria needs to be in place for them to meet -- being on the same "relationship page" with your date. One way my clients have found it helpful to deal with this situation is to honor the uniqueness of each child. One child may feel soothed by metaphor and resonate with a story, while another may need an occasional reference to your "special friend." Other children are "psychic sponges" and know what's going on so they need a more direct approach.
While trying to determine the best solution, you might want to consider these questions:
· What do I want my children to come away with? What about my partner?
· What is the safest, most loving and nurturing way to do this?
· How does my body feel when I entertain the idea of introducing my friend to my children? Honor that.
I adore these three mantras. "You can't not know what you know," "You can't boss around the heart," and "The body doesn't lie."
Whatever choice you make, wait until you're comfortable and clear. Children really pick up where you're at and what you're feeling. A final suggestion is to reinforce your love and special connection with them by reassuring them these feelings will always be there. In any case, take into consideration the nature of the child and the answers to these questions. Through this process, you will find the right "how" and "when" answers for you.
Lois Barth | lois@1Dreamatatime.com | 212.682.5225
Relationship Readiness Quiz
Did you know you can take the Relationship Readiness Quiz at www.consciousdating.org? Simply sign up for a free membership to enjoy the quiz as well as other resources developed by RCI Founder and CEO, David Steele.
Tara Alexandra Kachaturoff | Editor
Feature Article:
Keeping the Faith
On Your Relationship Quest

by Shirley Vollett

Faith is taking the first step even when you don't see the whole staircase.

--Martin Luther King Jr.
The journey to find a loving relationship may have some discouraging twists and turns. It can be challenging to "keep the faith" during your relationship quest.
Generating faith is an essential part of realizing any goal, whether that goal is a new job, a healthy body or a loving relationship. Faith is a belief in a positive outcome to your relationship search. Faith is trusting that the partner you desire exists, and that you will find him/her.
Without an attitude of faith, even the best dating service or internet site is unlikely to bring you success. Without an attitude of positive expectation, you probably won't recognize Mr. or Ms. Right even if they do show up!
Faith is not a passive state of being. It doesn't just "happen." Quite the contrary, an attitude of faith is both active and creative. I believe there are three important aspects to "keeping the faith" in your quest for true love.
#1 Believe you can have it.
Cultivating a belief that you will find true love is essential to having faith. Belief comes from within you. It often arises from your inner knowing that this deep longing for relationship or for love is there for a reason. It is meant to be satisfied and fulfilled. Therefore, you believe that it will be.
Believing isn't wishful thinking or vague hope. Belief is focused and precise. Belief is the conviction that a loving relationship is POSSIBLE for you and IT WILL HAPPEN – even if there is no visible evidence or proof.
Belief is the committed stance there is a "right" person out there for you and you will find them. It involves engaging your imagination, your determination, and your trust in a loving and creative intelligence in the universe. When you believe, the only question that remains is "when" and not "if" it will happen.
#2 Engage your intention.
When you listen to someone make a promise, you can usually tell by the tone of his or her voice if he or she will follow through on it. If they sound hesitant and unsure, it's likely that they'll renege. If their tone is definite and strong, you know that they will likely deliver on their intention.
The desire to be in a loving relationship must translate into a strong intention, to gain the power it needs to come to fruition. Your intention inspires you to pick yourself up and try again, like when a date is disappointing or your phone call isn't returned. Intention means taking a stand, again and again, that you can have the relationship of your dreams and that you won't settle for less.
A strongly held intention is like a line drawn in the sand. It announces that: This is what I want, this is where I'm headed, and I will stay the course.
#3 Practice persistence.
Once you've taken a stand on having the relationship you desire, you will need persistence to see you through to success. An attitude of faith involves remaining loyal to your vision of the relationship you desire.
It's often been said that you will only fail if you quit -- if you give up before you've reached your goal. This is true regarding relationships, too. There are plenty of opportunities to become discouraged and negative. An attitude of faith involves persisting towards your goal, despite the emotional ups and downs along the way.
Persistence DOES NOT mean pursuing a relationship obsessively. We've all met people who fall into that trap. This will only drive away from you what (or who) you desire.
If you become obsessed with finding a relationship, you may need to practice emotional detachment from your goal. Detaching is very different from quitting. You can still hold true to your goal and desire, while detaching from trying to control the process of getting there.
Believe you can have what your heart desires, persist in your intention and take action in faith. If you can do that, I believe you will be guided to the life experiences you need to prepare you for relationship -- and to the people and resources who can help and support you along the way. Every step you take in faith, will draw you closer to your real, live partner who is out there right now, looking for you.
Copyright ©2006 by Shirley Vollett. All rights reserved.

Shirley Vollett, BSW is a Life & Relationship Coach who loves to support and encourage singles in their quest to succeed in life and relationship. To find out more about Shirley, visit www.shirley.vollett.com. Tel: 604.924.3367
Bonus Article:
Singles and Dating Venues:


Interview with Brenda Zeller

You've probably heard a quotation along the lines of … "If it's going to be, it's up to me." This couldn't be more true when it comes to building community. Read my July interview with RCI Coach, Brenda Zeller, as she comments on singles, dating and dating venues.
Tara Kachaturoff | Editor


---

Tara: Why is it important for singles to try out a variety of dating venues?
Brenda: Trying out a variety of dating venues gets you out there, off the couch and into the pool, so to speak. The variety gives you many great places to meet others and to test your requirements with your dates. Make sure you chose venues interesting to you. You want to have fun and enjoy yourself – which is very attractive to others. Also, you can meet other like-minded individuals for friendship and possibly dating.
Q: What's an example of an interesting dating venue you've heard about?


Brenda: In my area, Lehigh Valley, PA, we have a group called the Off The Couch Gang. It was started about 6 years ago by a handful of friends who didn't want to become couch potatoes, who wanted to do fun things on the weekends – without relying on the local bar scene to meet people. Since then, it's grown to hundreds of members. There are a few couples in the group, but most are singles (remember, many couples have single friends).
The group looks for different things to do in the area, but they also make up their own activities. They send an email newsletter several times per month listing all the activities in the area – there's something to do almost every single day of the week! Attendance at events varies, from about twenty to several hundred people. They have a website now, but for nine years they advertised by email and word of mouth.


Tara: What types of activities do they offer?
Brenda: They do group hikes, bike rides, walks, trips to New York City as well as other places -- and they're even planning a trip to Rome! Sometimes they meet for dinner and then a movie at the local theatre to enjoy the latest film. There's a monthly dinner where people just meet and greet. They go to local dance clubs, music venues and festivals. They meet for cards, book clubs and discussion groups and they volunteer at local events like the Special Olympics, Habitat for Humanity and MusicFest. They even take dance lessons. Newcomers always feel welcomed because they have them join someone already involved with the group, and then they introduce them to everyone at the event they attend.
This past week, for instance, some of the activities included hiking, dinners, a house party, fireworks, picnics, theatre, the county fair, tour of local venues, camping, canoeing, and kayaking. There's something for everyone!
Tara: Some singles I've talked to say there's nothing available for singles in their local area. How would you respond?
Brenda: You simply have to get off the couch and open yourself up to meeting people and finding things to do. If there isn't a singles activity group in your area, see what you can do to start one! I'm sure there are many singles in your area sitting on their couches wondering what to do on a Friday or Saturday night.
Approach people about starting a group. Start with your friends. You can even check with your local churches, too. One group in my area started with about five people and it has grown to hundreds of members in just a few years.

If you live in a college town, there are a lot of art, music and sporting venues. Also, check for interesting places to walk, hike, and bike. Select a day and time, then post flyers around town listing local activities and asking volunteers to help you form and grow the group. Post notices at the post office, library, supermarket, coffee shops and churches. Sure, you might be the only person showing up that day, but you may also be surprised at who else joins you.
Our local group started out with a weekly hike and a monthly dinner, and now it has grown to a huge, fun group offering lots of activities every day of the week. A member of the group, who works at the local TV station, even took the group on a tour of the facilities earlier this year!
Tara: Do you have any final thoughts?
Brenda: Too often singles spend time alone at home because they think there isn't anything to do. I've met lots of other singles through the Off The Couch Gang and also by creating my own activities – like going for walks at a local park or visiting places in my home town. I make it a point to say "hello" to everyone I meet. Even if you're shy, try it - it gets easier over time and you'd be surprised how many great people you can meet.
A single female client of mine recently went to Florence, Italy, for two weeks, by herself. She was eager to go, but yet was scared and wondered what she would do while visiting. I suggested she introduce herself to everyone she could - at cafes, museums, etc. No one would know her there, so there was nothing to lose. When she returned, she was excited about all the new people she met having made many social connections for future travel.
You simply have to get out there and do it. Find venues that appeal to you. Check your community college or other local venues for classes and activities of interest. If you need help with your communication or dating skills, hire a relationship coach. It can make all the difference in the world and soon you'll be absolutely loving your life as a successful single!
Brenda Zeller, NCTMB
Vital Life and Relationship Coach
www.VitalLifeCoaching.com
Brenda@VitalLifeCoaching.com
610.966.7947

Copyright © 2006 ConsciousDating.org. All rights reserved.
Conscious Dating Resources
Visit our website at http://www.ConsciousDating.org and join for FREE cutting-edge information and tools for finding the love of your life, including:
Register for our 5-Day e-Program for Singles, "How To Find Your Life Partner"

Take our proprietary Relationship Readiness Quiz

Listen to outstanding audio programs such as "Find the Love of Your Life AND The Life That You Love" and "Conscious Dating for Relationship Success"

Access our Knowledge Bank for innovative relationship tools, strategies and concepts

Check out our talented RCI-trained Relationship Coaches at http://www.ConsciousDating.org/coach
Conscious Dating Coaches Around the World
The following are classes for singles being offered by Certified and Master RCI Coaches (trained by and affiliated with Relationship Coaching Institute). Some are offered locally, and some are teleclasses that you can join from wherever you are!
---
Seminars - Michigan
Seminar: Dating Red Flags: What You Need to Know You can't afford to ignore dating red flags if you want to be successful in finding the love of your life. What attitudes or behaviors should you watch for? What steps can you take to select better relationships? We'll define red flags, why they're often ignored, review more than 3 dozen of them, as well as discuss ten effective strategies you can use to counter them. Tara Kachaturoff, RCI Master Certified Coach for Singles
When: Wednesday, July 12, 7:00 – 9:30 p.m.
Where: The Community House, Birmingham, Michigan
Register: The Community House, Birmingham, MI, www.communityhouse.com | 248.644.5832
For More Information
ConsciousDating.org, a resource for singles offered by Relationship Coaching Institute, is a worldwide relationship coaching organization dedicated to helping you 'find the love of your life AND the life that you love'. For more information about us, please visit our web site at http://www.consciousdating.org
---




FREE

Conscious Relationship Resources
www.ConsciousRelationshipResources.com
Conscious Relationship
Tele-Seminar Series


July 13: The Love Principles

August 10: Four Paths to Union

September 14: Secrets of Successful Relationships

October 12: The Journey from I to We

November 9: Reptiles in Love


www.ConsciousRelationshipSeminars.com

Conscious Relationship Podcast


www.ConsciousRelationshipPodcast.com

Conscious Relationship Article Bank


www.ConsciousRelationshipArticles.com
---
Tired of being alone? Get a Relationship Coach! Check out our coaches at: http://www.consciousdating.org/coach
---
NEW RELATIONSHIP? Congratulations in moving forward in your life partner quest! WHAT NOW?
Join PARTNERSINLIFE.ORG at http://www.PartnersInLife.org for cutting-edge information and resources for couples. You will be glad you did! Please share this with new couples that you care about.
---
Are you a coach or other helping professional who works with singles and couples? If you want to know more about adding the Conscious Dating Relationship Coaching tools to your professional toolbox, visit http://relationshipcoachinginstitute.com
---
Please share this newsletter with your single friends, family, and co-workers, and you can be a partner in their success, too!
Links to Us
Contact
Tara Alexandra Kachaturoff | Editor, ConsciousDating.org Newsletter for Singles tara@relationshipcoachinginstitute.com
---
Visit our website for singles at www.ConsciousDating.org and become a member for Free!
Relationship Coaching Institute
Free introductory training! relationshipcoachinginstitute.com
Members of Relationship Coaching Network
Free resources for singles and couples www.RelationshipCoachingNetwork.org
To subscribe to this newsletter
Please refer singles your care about to ConsciousDating.org
BuildingYourIdealPractice.com
Free monthly tele-seminars! www.BuildingYourIdealPractice.com
Copyright 2006 by ConsciousDating.org. All rights reserved. Feel free to share this with others as long as our contact information and authorship is included.