Welcome!
This newsletter is designed especially for YOU
if you are single and ready to
"Find the Love of Your Life
AND the Life That You Love!"

---
Special Announcement
Conscious Dating: Finding the Love of Your Life in Today's World is available for immediate shipping!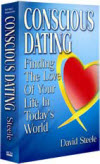 Endorsed by top relationship experts!
In Conscious Dating, David Steele provides a new concept for dating and insightful advice, effective exercises and useful illustrations that will help anyone who uses them make their journey to love successful. We recommend this book to anyone looking for love.
-- Harville Hendrix, Ph. D. and Helen LaKelly Hunt, Ph. D., co-authors of Receiving Love: Transform Your Relationship by Letting Yourself Be Loved
Unconscious dating can lead to disaster. Given the serious effect of relationships gone awry, Conscious Dating is a must-read for singles who want to make better relationship choices. David Steele provides sound guidance and practical advice for today's singles.
-- Pat Love, Ed.D. Author, The Truth About Love and Hot Monogamy
David Steele has made a significant contribution to the world of relationships by mapping two previously foreign countries- consciousness and dating, bringing them together at last in this customized guide. Packed with practical strategies that really work, Conscious Dating is THE book for helping singles navigate the dating world.
--Gay and Kathlyn Hendricks, authors of Conscious Loving and the new Spirit-Centered Relationships
This book is filled with practical strategies that work. Packed with solid advice, assessments and exercises, as well as interesting stories, Conscious Dating is a book that will completely change the way singles view dating and relating. A must-read for anyone who wants to create his or her next great relationship.
--Eve Eschner Hogan, Author of Intellectual Foreplay and How to Love Your Marriage
To order a copy of this book for yourself or a single friend or family member, visit www.consciousdating.com or use this direct order link



FREE Audio CD with each book!
(available for a limited time while supplies last)
---
Ask Our Coaches:
Once a Bachelor, Always a Bachelor?
...Do you think I'm dating someone who intends to stay a bachelor for life?

This column answers questions submitted by our readers. Submit your questions to Tara@relationshipcoachinginstitute.com. She will forward them to our coaches all over the world. Each issue, we'll publish a few answers from our RCI coaches.

Question for August: Once a Bachelor, Always a Bachelor?

I'm 37 years old and dating a man who's 45. Neither of us has ever been married. I was engaged a few years ago, but had to break it off because my ex-fiancé's parents interfered with the relationship. While the man I'm dating has always been single, he says getting married is definitely something he would like to do one day.

We've been dating for about 3 months and have talked about marriage, but in a general sense. He's never asked anyone to marry him and that worries me. It also concerns me that he hasn't been married – he hasn't made any type of commitment to anyone! We really enjoy spending time together and I'm wondering if there might be a long-term commitment in the future.

All my friends say I should move on, that men in their 40's who have never made a commitment of any sort are really not good choices. They don't think he'll change with me. I do have my doubts. Also, I read somewhere that men over 40 have a very slim chance of ever getting married. At his age, he's probably quite set in his ways and I wonder how that would affect him letting anyone into his life.

Can you shed any light on this issue? Do you think I should cut my losses and move on? I'm just not sure what to think. Do you think I'm dating someone who intends to stay a bachelor for life?

Heather from New Haven
---
Diane responds...

If you believe that "once a bachelor, always a bachelor," you have two unfavorable choices. The first choice is to be single and date this man forever, while the second is to cut your losses and move on.

Let's explore another point of view. What would your relationship look like from the perspective of, "The man you're dating is searching for a woman he truly loves. He's selective and will not marry until he feels the relationship is right." Now what choices do you see when looking at the situation? This may open the door to a new way of being with him.

As far as "cutting your losses," only you know the answer to that question. I understand you're worried because he's never been married. If he were divorced a couple of times with a few ex-wives and several children, would it make you worry less?

Finally, you mentioned enjoying time together, yet you never mentioned your feelings for him. What level of commitment are you willing to give to the relationship? Consider the questions I've posed and see what comes up for you. Good Luck, Heather!

Diane Ladd | www.AndoverLifeCoaching.com
diane.ladd@comcast.net
---
Susan responds …

I understand your concern about this man. I also hear how much you want to find that special love and a committed relationship in your life. I would encourage you to shift the focus of your question.
Your time is precious and valuable. Using it to make definitive statements about groups of people does not move you closer to finding what you want. From my perspective, when you buy into the belief that all men in their 40's who have never been married have a hard time committing, you're creating an invitation to the universe to continue to make this true for you. There is no realistic way to measure this statement; therefore, there is no way to prove it. If you choose to believe it, it will continue to show up in whom you attract.
I recommend that you shift your focus and inquiry from analyzing what may or may not be going on with this man, to what's going on in your belief system about your ability to find someone who wants to commit to you. By learning to focus on what you want, and believing that you can and will have it, you'll help attract it into your life. Many blessings to you on your journey.
Susan Ortolano, M.A. | susan@radiantpathways.com | 818.232.3186
---
Hazel responds …

There could be a very simple reason why a man of 45 hasn't married yet. If your friends don't like him because he's aggressive, rude or doesn't treat you well, listen to them. If that's not the case, and you enjoy being with him, I don't think there's a valid reason to give up yet.

It's important that you know exactly what it is you want in a relationship. Have you written down your non-negotiable, relationship requirements? Does he fit these requirements?

Perhaps you might ask him what his personal goals are for his future. Does he 'see' himself getting married and having children (if that's what you want)? How long was his longest relationship? Listen carefully to his answers. Often, we see more about someone by listening to and watching how they react to our questions. Listen to your own instincts.

I would also recommend that you read Conscious Dating by David Steele. This book is full of information that will help you make the right decisions for yourself.

Hazel Palache, MFC, MCCht, CNLP
Hazel@MindMasteryCoaching.com
818.972.4415
---
Sandy responds …
It's certainly possible that your friends are right, but what a shame if you moved on without being sure! It would be simple to tell him what you've expressed so well here, and then let him know that being married is important to you. Ask if he's ready to move your relationship to a new level. It wouldn't be unreasonable for you to let him know that if you don't see progress within a short period of time (which you must define and state clearly), that you would move on.
In the meantime, if you're not certain of your requirements, needs, and wants, this would be a good time for both of you to work with a relationship coach to gain clarity regarding what's important to each of you. This will give you the perspective from which to explore further if you two are a good match. Best of luck to you!
Sandra Rohr |SDRohr@aol.com | 714.774.8540
---
Frankie responds …
It's probably too early to determine whether you have a future together, but your concerns need to be discussed. It appears to me that you're looking for a long-term committed relationship, but is he? If you both agree, then the next step is to ensure you're compatible for a long term partnership. If you have different goals and requirements, then yes, you need to move on.
Just because an individual has never been married doesn't mean there is cause for concern. Look at your own situation. There are reasons why you haven't been married yet and it doesn't mean there's anything wrong with you!
Many singles don't want to make a mistake and are very selective and careful about entering into commitment – and that is a good thing!
Frankie Doiron | www.frankiedoiron.com
frankie@frankiedoiron.com | 905.453.7451
---

Marcia responds …

I married for the first time at age 41 and understand that it's important to consider your suitor's age and dating history, and to listen to what he says about his interest in marriage. However, something else is more important -- what does your heart say?

After three months, do you feel an intimate emotional connection with him? Is that tender bond growing and deepening? Do you sense in your heart that he loves you and cares for you? Is this relationship based on a foundation of basic compatibility?

If his heart has been closed to love for years, it won't open simply because he's met "The One." In fact, that may make him shut down even more for fear of getting hurt. He must explore why he remains closed to the deepest emotional connection two people can make, and commit to changing those aspects about himself that prevent him from being open to marriage. You must do the same.

Marcia Augustine | marcia@emotionalwavelengths.net
770.499.8932
---
Ana responds …
I believe 3 months into your relationship is too early to make judgments about commitment. You need more time to talk, share and get to know more about each other, especially if neither of you has been married before.
Commitment starts with you. Start to be engaged with you. Are you ready for commitment? I recommend you explore that answer. I recommend you analyze your own needs, define your vision and review your values. This can help you to understand how much commitment you have with yourself and with your partner. Did you choose the right man given all the things you know about yourself?
If your answer is "yes," the next step is to have him work through the same process, and then share the results with each other. Commitment is not a question of age; it's the willingness to be responsible - to respond in union.
If you and your partner haven't ever been married or engaged, maybe it's time to work together to understand the reasons so you might create a better result. Don't be in a hurry to figure out whether your partner is your dream relationship. When you start to explore yourself, you'll see all of that much more clearly.
Ana McParland | www.mydreamrelationship.com
anamcpgo@comcast.net | 408.230.1741

---
A few more questions must be asked before your question can be answered fully. How strong is your interest in this person? Is marriage critical to you, or is a good relationship more important? Can you enjoy him and date others?

You've only been dating him for three months. It's much too soon to be thinking about marriage. Don't get ahead of yourself. Both of you have just barely ended the infatuation stage. First, you should assess the outcome of the infatuation stage. What's your level of romantic chemistry? What about emotional maturity? I suggest you move forward slowly, keeping your options open.

Good relationships, like the people involved, are unique. If you want a conventionally molded relationship, then find a conventionally minded person. If you want a relationship like your friends have, then listen to your friends. If you want something special, then listen to your heart, tempered with sound advice from wise counselors.

Randy Hurlburt |Randy@ConsciousDatingSanDiego.com
www.ConsciousDatingSanDiego.com |858.455.0799
---
Relationship Readiness Quiz
Did you know you can take the Relationship Readiness Quiz at www.consciousdating.org? Simply sign up for a free membership to enjoy the quiz as well as other resources developed by RCI Founder and CEO, David Steele.
Tara Alexandra Kachaturoff | Editor
---
Feature Article:
Five Steps to Overcoming
"Commitment Phobia"
by Janice D. Bennett, Ph.D.
Many singles fear that committing to a life-long relationship threatens the safety and comfort they perceive as a benefit of being single. Remaining single does have its advantages. You can come and go as you please, leave your dirty clothes or dirty dishes around for as long as you want, and spend your time and money independently. And, you can choose to reveal to the world whatever parts of yourself you want to reveal, keeping your weaknesses and vulnerabilities hidden.
The purpose of fear is usually to keep us away from danger. It's healthy and normal to fear snakes, loud noises and bad smells, and we protect ourselves by avoiding them. However, to create a trusting and intimate relationship with a partner one must confront fears and take emotional risks.

Overcoming "commitment phobia" requires confronting the fears of what you're "losing," and focusing instead on what you're gaining -- trust, intimacy, closeness, and the rewards of a loyal and loving partnership.
Here are five steps to help you overcome "commitment phobia:"
Step #1
Acknowledge That You Want To Share Your Life with Someone
The first step is to acknowledge that you actually do want to share your life with someone. Many singles don't succeed in finding a relationship because they're ambivalent about really wanting one. Getting clarity on your life goals is part of the first step to attaining them. Start by identifying what you truly want.
Step #2
Acknowledge Your Fears
The second step is to acknowledge your fears, recognizing that they have kept you from achieving your goals all along. Knowing that you fear rejection, change, or loss of independence is important so you can develop strategies to overcome them. This kind of strategizing can best be done with a relationship coach, who will help keep you honest and focused as you take action and pursue your relationship goals.
Step #3
Pace the Relationship
The third step is to learn how to pace the development of the relationship. Many singles become caught up in passion and lust during a relationship's early stages, only to back away when the time comes to make decisions about the future. Other singles are so hesitant to open up that they become "stingy" with their time and attention. Figure out what's best for you as you keep things moving forward.
Step #4
Make a Commitment About Commitment
The fourth step is to "make a commitment to see if we should make a commitment." Agreeing to be in an exclusive relationship is a good way of practicing your commitment skills. Share your life goals and dreams with each another; reveal aspects of your inner selves. Doing so will provide ample opportunity to experience trust, closeness and intimacy.
Step #5
Recognize That Commitment Provides Opportunity
I'd like to say that there is a definitive final step. But if you've gotten this far, then the last step is one you should have been taking all along -- recognizing that being in a committed partnership offers you the most opportunity to be all that you can be in this world. Couples in healthy relationships are devoted to mutually empowering one another to be highly functioning, contributing members of society. And successful people frequently give their partners credit for their achievements.
Perceiving commitment as the loss of one's individuality and independence is simply not true. There's much to be gained in a life with a partner that supersedes the alleged "loss" of independence. Admittedly, it involves risk, but by following the steps outlined above, perhaps you'll finally experience how the benefits outweigh the losses.
Janice D. Bennett, Ph.D. | www.DoctorLoveCoach.com
212.874.1470 | Janice@DoctorLoveCoach.com
Copyright © 2006 by Janice D. Bennett, Ph.D.. All rights reserved in all media.
---
Bonus Article:
How to Trust in a New Relationship
by Jeff Herring, MS, LMFT
Trust can be a very complex issue because so many elements go into developing trust in someone. In an attempt to simplify this issue, I've described it in terms of five components, one for each letter in the word TRUST. Consider how you might relate these items to dating.
InTegrity
The dictionary defines integrity as uprightness of character. What does that really mean? People have integrity when their behavior matches their words. They do what they say they are going to do. If, over time, their behavior consistently does not match their words, watch out!
Responsibility
People make mistakes; that's just part of everyday life. People who can be trusted take responsibility for their mistakes. They don't blame others or make excuses. When they make a mistake, they admit it and do what is possible and necessary to fix it.
U

nderstanding
Another sign of trustworthiness is the ability to understand another person. You may not always agree with the other person, especially in a close relationship such as marriage. You may not always see things exactly the same way. However, in order for trust to grow, you need to be able to see the world through another's eyes.
Security

We tend to trust the people with whom we feel secure. In this context, secure means safe. When we feel safe, we can be ourselves and are comfortable saying what we really think and feel.
Time

Time is an important element when it comes to building trust. All of the above components like integrity, responsibility, understanding and security are developed and demonstrated over time. It takes time to develop trust in someone, and especially for those who have experienced hurt in the past.
Jeff Herring, MS, LMFT | www.ConsciousDatingAtlanta.com
Jeff@ConsciousDatingAtlanta.com | 850.580.5333
Copyright © 2006 by Jeff Herring / All rights reserved
---
Top
Conscious Dating Resources
Visit our website at http://www.ConsciousDating.org and join for FREE cutting-edge information and tools for finding the love of your life, including:
Register for our 5-Day e-Program for Singles, "How To Find Your Life Partner"

Take our proprietary Relationship Readiness Quiz

Listen to outstanding audio programs such as "Find the Love of Your Life AND The Life That You Love" and "Conscious Dating for Relationship Success"

Access our Knowledge Bank for innovative relationship tools, strategies and concepts

Check out our talented RCI-trained Relationship Coaches at http://www.ConsciousDating.org/coach
---
For More Information
ConsciousDating.org, a resource for singles offered by Relationship Coaching Institute, is a worldwide relationship coaching organization dedicated to helping you 'find the love of your life AND the life that you love'. For more information about us, please visit our web site at http://www.consciousdating.org
---




FREE

Conscious Relationship Resources
www.ConsciousRelationshipResources.com
Conscious Relationship
Tele-Seminar Series


August 10: Four Paths to Union

September 14: Secrets of Successful Relationships

October 12: The Journey from I to We

November 9: Reptiles in Love


www.ConsciousRelationshipSeminars.com

Conscious Relationship Podcast


www.ConsciousRelationshipPodcast.com

Conscious Relationship Article Bank


www.ConsciousRelationshipArticles.com
---
Tired of being alone? Get a Relationship Coach! Check out our coaches at: http://www.consciousdating.org/coach
---
NEW RELATIONSHIP? Congratulations in moving forward in your life partner quest! WHAT NOW?
Join PARTNERSINLIFE.ORG at http://www.PartnersInLife.org for cutting-edge information and resources for couples. You will be glad you did! Please share this with new couples that you care about.
---
Are you a coach or other helping professional who works with singles and couples? If you want to know more about adding the Conscious Dating Relationship Coaching tools to your professional toolbox, visit http://relationshipcoachinginstitute.com
---
Please share this newsletter with your single friends, family, and co-workers, and you can be a partner in their success, too!
Links to Us
Contact
Tara Alexandra Kachaturoff | Editor, ConsciousDating.org Newsletter for Singles tara@relationshipcoachinginstitute.com
---
Visit our website for singles at www.ConsciousDating.org and become a member for Free!
Relationship Coaching Institute
Free introductory training! relationshipcoachinginstitute.com
Members of Relationship Coaching Network
Free resources for singles and couples www.RelationshipCoachingNetwork.org
To subscribe to this newsletter
Please refer singles your care about to ConsciousDating.org
BuildingYourIdealPractice.com
Free monthly tele-seminars! www.BuildingYourIdealPractice.com
Copyright 2006 by ConsciousDating.org. All rights reserved. Feel free to share this with others as long as our contact information and authorship is included.