Welcome!
This newsletter is designed especially for YOU
if you are single and ready to
"Find the Love of Your Life
AND the Life That You Love!"

---
Special Announcement
Conscious Dating: Finding the Love of Your Life in Today's World is now available for immediate shipping!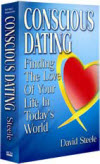 Endorsed by top relationship experts!
In Conscious Dating, David Steele provides a new concept for dating and insightful advice, effective exercises and useful illustrations that will help anyone who uses them make their journey to love successful. We recommend this book to anyone looking for love.
-- Harville Hendrix, Ph. D. and Helen LaKelly Hunt, Ph. D., co-authors of Receiving Love: Transform Your Relationship by Letting Yourself Be Loved
Unconscious dating can lead to disaster. Given the serious effect of relationships gone awry, Conscious Dating is a must-read for singles who want to make better relationship choices. David Steele provides sound guidance and practical advice for today's singles.
-- Pat Love, Ed.D. Author, The Truth About Love and Hot Monogamy
David Steele has made a significant contribution to the world of relationships by mapping two previously foreign countries- consciousness and dating, bringing them together at last in this customized guide. Packed with practical strategies that really work, Conscious Dating is THE book for helping singles navigate the dating world.
--Gay and Kathlyn Hendricks, authors of Conscious Loving and the new Spirit-Centered Relationships
This book is filled with practical strategies that work. Packed with solid advice, assessments and exercises, as well as interesting stories, Conscious Dating is a book that will completely change the way singles view dating and relating. A must-read for anyone who wants to create his or her next great relationship.
--Eve Eschner Hogan, Author of Intellectual Foreplay and How to Love Your Marriage
To order a copy of this book for yourself or a single friend or family member, visit www.consciousdating.com or use this direct order link



FREE Audio CD with each book!
(available for a limited time while supplies last)


Ask Our Coaches:
Long Distance Love or Out of Touch?
...I used to think long distance relationships were insane, until it happened to me.
This column answers questions submitted by our readers. Submit your questions to Tara@relationshipcoachinginstitute.com. She will forward them to our coaches all over the world. Each issue, we'll publish a few answers from our RCI coaches.
This Month's Question: Long Distance Love or Out of Touch?
I'm a single guy, 42 years old, divorced with no children, and am definitely interested in getting married in the next couple of years. I met this fantastic woman on the internet 4 months ago. She's 37, never married and incredible. We've only seen each other, in person, four times (for several days each time) as I live in Del Mar, California and she lives in Santa Fe, New Mexico. I never thought I could find someone with whom I seem to have so much in common.
My friends say I'm crazy to even consider a long distance relationship. Am I? Neither of us has discussed plans to move, yet there is an undeniable truth that we're both incredibly attracted to each other on all levels and that we would like to take things further. I'm told there are thousands of wonderful women in San Diego County who I could easily date and see more often. For some reason, however, I've not been able to find anyone I'm particularly attracted to in my own area. While it's definitely not fun to have a relationship like this, what do you think the chances are of making it work? I used to think long distance relationships were insane, until it happened to me. Should I continue with this or move on and try something else? Is long distance just too far to make a real connection?
Mark from Del Mar

---
Shilo responds …
Are you too far away to make a real connection? Speaking from personal experience, I don't think so. I met my husband while we lived at opposite ends of the country and we eventually moved in together after dating long-distance for almost two years. We will soon be celebrating our fourth wedding anniversary.
Are long distance relationships possible? Absolutely!
Before going any further, I would suggest you consider these important questions:
What are your Requirements for a relationship? These are the deal breakers or non-negotiables for a relationship. It is imperative that ALL of your requirements are being met in the relationship - if not, then the relationship will ultimately suffer and break down. Some examples of requirements include being financially responsible, honest, or open to new experiences.
What are your Needs? Needs are the things that are not deal breakers, but if they were not present in the relationship, they would cause friction. There are functional needs like being organized or respecting each other's space, and there are emotional needs like generosity or patience.
What are your Wants? These are like the icing on the cake. If she looks like Angelina Jolie that's a bonus! If not, it won't be a deal breaker.
Create a solid list of your requirements, needs and wants. The wonderful thing about long-distance relationships is that you really get to know the other person on an emotional level. Quite often in relationships, the physical attraction that one feels towards another can cloud one's judgment. Since you are relying so much on verbal communication, you are able to explore some of these areas in a deeper way. That is exactly what I did with my husband. Once I realized that all of my requirements were being met, we were then able to take our relationship to the next level.
Shilo Shannon | Empowered Journeys
empoweredjourneys@rogers.com | 416.518.3600
---
Janice responds …
I was a successful long-distance dater. I was born and raised in Los Angeles with no desire to live anywhere else. One day, I went to N.Y. to attend a wedding and was introduced to my future husband. We were both marriage-oriented, so our dating focused on gathering enough information about each other to make that decision. Four months later, I moved to New York and got married shortly thereafter. That was 18 years ago.
Singles today need to be willing to date outside of their "geographical comfort zone." Refusing to date anyone who is "geographically undesirable" can create an obstacle if you want to find a life partner.
In today's virtual world, the borders between states and countries are more fluid. Why limit yourself to being single in one small corner of the world just because you're comfortable or you've "made a life" there? I suggest you find out if you have the same relationship goals as this woman. Then rise to the challenge and create ways to see each other as often as possible.
Talk on the phone, email and text message. Have fun together, but be sure to talk about how you'll handle things and where you will live if you decide to move in together or to get married. You won't know if your relationship will work out until and unless you make the effort. Just keep in mind that it can be done!
Janice D. Bennett, Ph.D. | www.DoctorLoveCoach.com
212.874.1470 | Janice@DoctorLoveCoach.com
---
Sandra responds …
First, your relationship can work. Second, it will take work. The key to success is frequent (daily) contact—both by email and by telephone.
Since you don't see each other on a daily basis, things that would arise naturally if you did, don't happen. You don't know what you don't know, so you must find a way to learn the unknown about each other. I would suggest that you get a copy of Intellectual Foreplay
by Eve and Steven Hogan, a couple who did exactly what you are trying to do. This book contains hundreds of questions that will help you explore every conceivable aspect of yourself and the relationship.
Finally, I would suggest that you have a conversation, as soon as possible, about the possibility of one of you relocating. If neither of you is willing to consider this, all the rest is moot. Best of luck to you both.
Sandra Rohr | WellSprings Coaching
sandy@wellspringscoaching.com | 714.774.8540
---
Randy responds …
Generally, long distance relationships should be approached with a high degree of caution. Much depends on your experience, the specifics of the relationship, and the goals you have for your life. Personally, I would rather experience a fantastic relationship that is infrequent, rather than a hum-drum one every day. If you can realistically determine if this is true love or infatuation, and you have carefully assessed your own emotions and future goals, then you're in a place to decide what you truly want and whether or not this situation could be the right one.
Should you continue with it? I say "Sure, why not?" Because you're only four months into it, you don't need to get married, or even date exclusively. Continue to find out where it leads without cutting yourself off from opportunities closer to home.
Randy Hurlburt | www.ConsciousDatingSanDiego.com
randy@consciousdatingsandiego.com | 858.455.0799
---
Frankie responds …
In my opinion, long distance relationships only work as a casual dating situation, when both individuals just want to have fun and to get together occasionally. Once you cross the threshold and open up to considering that person as a potential life partner, things change and trouble could be brewing.
Why? Love partners need to be together in order to make a relationship work. This means that one of you will need to move (or, maybe, both of you can move to a new location). I suggest that you have a conversation about relocation as soon as possible. The longer you delay, the deeper you will get into the relationship without having any idea of where it could be heading. This puts both of you at tremendous emotional risk.
If neither of you are prepared to move for love, it's best to know that immediately and to cut your losses, as painful as that may be. It won't be any easier to arrive at this crossroad six months or even a year down the road. Have a serious chat with your lady love once you have considered your own situation and assessed your options.
Frankie Doiron | 905.453.7451
Helping you Create the Relationship of your Dreams
Relationship Readiness Quiz
Did you know you can take the Relationship Readiness Quiz at www.consciousdating.org? Simply sign up for a free membership to enjoy the quiz as well as other resources developed by RCI Founder and CEO, David Steele.
Tara Alexandra Kachaturoff | Editor

Feature Article:
Long Distance Love
by Marcia Augustine
Do you constantly find yourself falling madly in love with flames who live in distant towns -- so that you can only see each other on weekends or even less often than that? If this describes you, you may be using physical distance in order to maintain emotional distance. In short, you could be protecting yourself with long-distance relationships.
Long-distance affairs can be full of romance and passion, the stuff that makes us feel alive. After all, you didn't travel so far just to spend your one precious weekend each month together doing laundry. What we often fail to grasp is that geographic distance creates emotional distance.
We tend to use emotional distance as a form of emotional protection because we mistakenly believe that if someone cannot get close to us, they won't hurt us. Therefore, we pick various Mr. or Ms. Wrongs who offer distance through their inability to commit, through involvement with substance abuse, or through geographic obstacles.
Until you're ready to fully embrace a deeper, more genuine level of closeness, you maintain that familiar, safe distance through the creative use of geography. Enjoy your long-distance relationship if you must; but at the same time, get wise to its real role in your life.
I lived a long-distance love story. He was good to me, very kind, not a mean bone in his body. He lived at the beach, so that made for some fun mini-vacations. We dated long-distance for a few years, but I never was able to manage relocation to his city. It worked out for the best, because now I can see that he was really my first true love. Since I wasn't quite emotionally ready for a permanent marriage commitment, I wisely picked a great guy in a city that would never work out for me in the long run. He did, however, show me that nice guys don't have to be kept at a distance -- nice guys don't have to finish last.
You can love someone who lives closer to home once you understand your motivation for choosing a long-distance love. See your long-distance relationship as a reflection of both a fear of real love and an opportunity to learn to welcome in real love. If you've found a good partner in a city far away, he or she may be your Mr. or Ms. Right, but he or she may also be a measure of your ability to open your heart to love.
If you are learning to welcome a new type of romantic partner into your life while still needing emotional distance, love at a long-distance can serve both agendas. You can enjoy the company of a compatible, close love, but in manageable, measured amounts.
A partner who consistently acts kindly and lovingly toward you helps your inner self understand that he or she can be trusted. Enjoy the company of the person who treats you well, and consciously absorb the good feelings of having someone who is there for you.
If the relationship doesn't work out because your flame lives too far away, you'll take from the romance a new skill - that of being able to enjoy the company of a quality partner. You'll move up to a place where you can welcome a similar suitor (or this same person if the distance issue is overcome) on a more regular basis. For this reason, you don't need to regard a long-distance love affair that doesn't lead to marriage as a failure.
The success of long distance relationships lies in learning to welcome the intimacy it offers. If it teaches you to welcome a more loving partner into your life, you've succeeded in rising up the emotional wavelength spectrum, where you'll be better prepared to receive more intimacy the next time it's offered.
Marcia Augustine | Emotional Wavelengths
Marcia.augustine@dairemount.com | 770.499.8932
Copyright © 2006 by Marcia Augustine. All rights reserved.
Bonus Article:
Long Distance Relationships:
18 Questions to Think About
by Tara Alexandra Kachaturoff
A long distance relationship has an added dimension of difficulty -- the aspect of distance. Relationships can be challenging enough when two people are living in the same general location. When you add the fact that you cannot see or be with someone you love at a moment's notice, there's a possibility you might be adding anger, frustration, loneliness, and possibly resentfulness to the equation.
Can long distance relationships work? Yes, they can and they have for many men and women, even under the most difficult of circumstances. Do they have an added measure of difficulty to them? Absolutely. Difficult does not mean impossible, however.
Good results usually come from good planning. If you're not currently involved in a long-distance relationship, take some time to think about the implications of getting involved with someone who doesn't live in your area. If you are involved with someone, and you're feeling unhappy, disconnected, or questioning why you are in such a relationship, it's time to do some deeper thinking on the subject.
Consider some of these questions as you explore your thoughts and feelings about engaging in a long-distance relationship and whether or not it might be right for you.
Do you have any experience with dating someone long distance? What were the results?
Are you willing to be open and honest about your willingness to move to the other person's location should the relationship progress to a level where you choose to be together?
Are you willing to leave your job/career, possibly other family ties, friends, and other familiar things and places to be with someone you love?
Is there anything you might be avoiding in your current environment that is making the pursuit of a long-distance relationship seem more attractive at the moment?
Have you received input from others – like your family and friends -- either about your current long-distance relationship or your desire to seek one out?
Have you made an effort to meet others within your local environment? What have you done? What places have you visited? Why do you think you're unable to meet someone in your own area?
Are you comfortable with the idea that you can only see someone infrequently and that you won't be able to just "go out on a date" when you want to?
How will you deal with the loneliness, time spent apart, as well as the lack of intimacy that might be created because of the distance between you and your loved one?
Do you have family responsibilities like caring for an elderly parent or taking care of children which might be made more difficult should you be the one who must move?
Are you truly ready and available for a long-distance relationship?
Do you know anyone who has engaged in a long distance relationship? If it turned out successfully, what did they do to make it work?
Are you strongly committed in heart and mind to make this work?
How far is too far (geographically speaking) when it comes to long distance romance?
Are you financially able to afford phone calls, flights and other travel expenses to maintain and sustain a long distance relationship?
Why now? What is it about this period of time in your life that is drawing you to pursue or be involved in a long distance relationship?
How do you feel about your partner not being involved with your family and friends and your typical, everyday lifestyle?
Is your personality and behavior conducive to being in a long-distance relationship? Are you comfortable spending long periods alone? Do you need to be in the physical presence of others to be happy or comfortable? Are you comfortable passing up social opportunities because you aren't able to attend them with someone? Are you comfortable socializing on your own, but still able to commit to a long distance relationship?
Are you clear on you relationship requirements, needs, and wants?
If you need guidance in reviewing these questions, engage the services of a qualified relationship coach. By talking about your thoughts and feelings around the topic, and by exploring the answers to these questions, you be able to see your way to making the right decision for you.
Tara Kachaturoff | Master Certified Relationship Coach
www.relationshipplanning.com | 248.723.1926
Copyright © 2006 by Tara Kachaturoff. All rights reserved.
Conscious Dating Resources
Visit our website at http://www.ConsciousDating.org and join for FREE cutting-edge information and tools for finding the love of your life, including:
Register for our 5-Day e-Program for Singles, "How To Find Your Life Partner"

Take our proprietary Relationship Readiness Quiz

Listen to outstanding audio programs such as "Find the Love of Your Life AND The Life That You Love" and "Conscious Dating for Relationship Success"

Access our Knowledge Bank for innovative relationship tools, strategies and concepts

Check out our talented RCI-trained Relationship Coaches at http://www.ConsciousDating.org/coach
Conscious Dating Coaches Around the World
The following are classes for singles being offered by Certified and Master RCI Coaches (trained by and affiliated with Relationship Coaching Institute). Some are offered locally, and some are teleclasses that you can join from wherever you are!
San Diego, CA:
Conscious Dating: How to Find the Love of Your Life in Today's World

Description: RCI's founder, David Steele, will join with Conscious Dating San Diego and Volunteer Singles of San Diego to present a seminar based on his book Conscious Dating. Learn why the old way of dating doesn't work, how the rules have changed, and how you can stop making choices based on impulse, misinformation, or desperation. Learn about the three levels of consciousness, the ten principles of conscious dating, and the fourteen dating traps.

When: Saturday, April 15. Social event starts at 7 PM, program starts at 8 PM (Pacific Time)

Where: San Diego (Mission Valley area), California

Contact: Randy Hurlburt, randy@ConsciousDatingSanDiego.com, 858.455.0799

Birmingham, Michigan:

Relationship Planning for Successful Singles

Description: Successful businesses have plans – so do successful singles. This information-packed course includes lively discussions, exercises and information to guide you in designing a plan for dating success. Create your life vision, define your relationship requirements, profile your ideal partner, customize a dating strategy to fit your needs, and more. Create a relationship plan that works for you! With RCI Master Certified Coach, Tara Kachaturoff

When: Mondays, 4 sessions, 7:00 – 9:30 pm EST, begins 4/10

Where: The Community House, Birmingham, Michigan

Register: The Community House,
Birmingham, MI, www.communityhouse.com
248.644.5832
For More Information
ConsciousDating.org, a resource for singles offered by Relationship Coaching Institute, is a worldwide relationship coaching organization dedicated to helping you 'find the love of your life AND the life that you love'. For more information about us, please visit our web site at http://www.consciousdating.org
---


Free


Conscious Relationship Resources
www.ConsciousRelationshipResources.com
Conscious Relationship
Tele-Seminar Series

April 13: Secrets of Married Men with Scott Haltzman

May 11: Creating Love Beyond Words with Pat Love

www.ConsciousRelationshipSeminars.com

Conscious Relationship Podcast


www.ConsciousRelationshipPodcast.com

Conscious Relationship Article Bank


www.ConsciousRelationshipArticles.com
---
Tired of being alone? Get a Relationship Coach! Check out our coaches at: http://www.consciousdating.org/coach
---
NEW RELATIONSHIP? Congratulations in moving forward in your life partner quest! WHAT NOW?
Join PARTNERSINLIFE.ORG at http://www.PartnersInLife.org for cutting-edge information and resources for couples. You will be glad you did! Please share this with new couples that you care about.
---
Are you a coach or other helping professional who works with singles and couples? If you want to know more about adding the Conscious Dating Relationship Coaching tools to your professional toolbox, visit http://relationshipcoachinginstitute.com
---
Please share this newsletter with your single friends, family, and co-workers, and you can be a partner in their success, too!
Links to Us
Contact
Tara Alexandra Kachaturoff | Editor, ConsciousDating.org Newsletter for Singles tara@relationshipcoachinginstitute.com
---
Visit our website for singles at www.ConsciousDating.org and become a member for Free!
Relationship Coaching Institute
Free introductory training! relationshipcoachinginstitute.com
Members of Relationship Coaching Network
Free resources for singles and couples www.RelationshipCoachingNetwork.org
To subscribe to this newsletter
Please refer singles your care about to ConsciousDating.org
BuildingYourIdealPractice.com
Free monthly tele-seminars! www.BuildingYourIdealPractice.com
Copyright 2006 by ConsciousDating.org. All rights reserved. Feel free to share this with others as long as our contact information and authorship is included.