If you are receiving this from a friend and wish to subscribe, or are interested in our newsletters for Singles, Couples, or for Practice Building, visit /forms/subscribe.htm
To pass the word about us to a friend or colleague click here
Announcements
---
FREE TELE-SEMINAR: Wednesday July 12th-
9am Pacific/12pm Eastern/5pm UK
How to Create and Conduct a TeleSeminar to Market to Your Niche
with David Steele and Jeff Herring
Conducting teleseminars is one of the most effective strategies to promote your practice and create additional streams of income. And the good news is that teleseminars are easy to set up and conduct once you know how.
In this seminar you will learn:
The difference between teleseminars, teleclasses, and teleconferences, and how to profit from each
Where to get ideas for teleseminars in your niche
How to structure the call for maximum benefit
5 ways to create the content of your teleseminar
3 ways to "put butts into virtual seats"
The nuts and bolts you must know to do this well
The best times during a call to make your offers
How to leverage this one teleseminar into several different products and streams of income
The one thing you MUST ALWAYS do
The one thing you MUST NEVER do
How the "fortune is in the follow up"
Don't miss this teleseminar on teleseminars!
No need to register. This seminar is FREE for subscribers of our free monthly practice-building newsletter GETTING CLIENTS
To subscribe and receive your invitation to this seminar, please visit http://www.buildingyouridealpractice.com
Can't attend? No problem. The recording of this program will be available free for 30 days as our Seminar of the Month
Please share with your colleagues!
---
Free Conscious Relationship Tele-Seminar:
July Program
Thursday, July 13, 2006, 5:30pm pacific/8:30pm eastern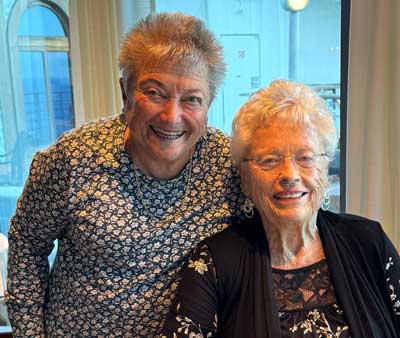 The Love Principles



With Arleen Lorrance and Mariamne Paulus of Teleos Institute
This seminar will cover:
How to open your heart center and release the transformational power of unconditional love
How to eliminate disappointment in your relationship by having no expectations
How to provide your partner with opportunities to give to you
How to uncover the opportunity for your individual and collective growth in every problem
How to create your own reality and enhance your union
How to give up trying to change your partner and instead be the change yourself that you want to see happen
How to receive your partner and yourself as beautiful exactly as you are
No need to register! As a subscriber you will receive a reminder with the telephone bridge number needed to join a few days prior to the seminar.
Can't attend? No problem. The recordings of all our programs are available free at www.ConsciousRelationshipPodcast.com
Please share with your colleagues!
---
The Single Most Effective Marketing Tool
for Getting High Paying Clients
Attract new clients like magic
Prove your credibility and expertise
Compel prospects to contact you
Convince high paying clients to hire you
What if I told you that after more than 20 years in private practice and mentoring hundreds of private practice professionals just like you, I've discovered a magic wand that can easily:
- Quadruple your response rate from presentations
- Triple your response rate from your website
- Double your conversion rate of prospects to clients
Check it out! www.privatepracticemagic.com
---
FREE TRAINING:
Introduction to Relationship Coaching
Starts August 1st
Learn how to coach singles, couples, and develop a successful Relationship Coaching practice, taught by RCI founder David Steele and his teaching staff.
Introduction to Relationship Coaching includes 3 one-hour tele-classes, Tuesdays, Aug 1, 8, 15, 2006; 9:00am pacific/Noon eastern.
| | | |
| --- | --- | --- |
| Class #1 | How to Coach Singles | Aug 1 |
| Class #2 | How to Coach Couples | Aug 8 |
| Class #3 | How to Build a Successful Relationship Coaching Practice | Aug 15 |
Each class includes practical information and materials you can use immediately in your practice.
Can't make our training dates/times? Each class is recorded for those unable to attend, and we also offer an ON-LINE VERSION.
Please share with your colleagues! To register or for more information, visit /forms/freeteleclass.htm
---
Welcome New RCI Coaches
The following professionals recently joined our ranks:
| | |
| --- | --- |
| Deborah Bauchner | New York, NY |
| Jeffrey Burns | Raleigh, NC |
| Liz Dew | Yorkshire, UK |
| Diane Ladd | Andover, MA |
| Susan Ortolano | Woodland Hills, CA |
| Jess Kennedy Williams | Madeira Beach, FL |
Feature Article:
25% of Americans Have No One to Confide In
By David Steele
The only time I read USA Today is when I'm traveling and staying at a hotel that provides a complimentary copy to guests. On June 23rd, the morning after I arrived in Atlanta for the Smart Marriages conference I retrieved the paper from outside my door and a headline on the front page immediately caught my attention-
"STUDY: 25% OF AMERICANS HAVE NO ONE TO CONFIDE IN."
Declining supportive social relationships is now front page national news! The article cites a study in the June issue of American Sociological Review "Social Isolation in America" authored by Lynn Smith-Lovin, et al, which can be viewed here
Study Highlights
80% of people confide only in family
9% confide only in a spouse
24.6% of people have no close friends
43.6% confide in no-one or just one person
The trend is that we increasingly confide only in our spouse and/or family, and our "voluntary" (non-kin; in other words- "friends") social ties are diminishing. We are becoming an increasingly isolated society.
Three Kinds of "Friends"
In my experience many people have lots of relationships they identify as "friends" yet they have few or no close, supportive relationships. I've found the following distinctions helpful in assessing social connections in relationship coaching:
1) INTIMATES

Intimates are people you allow into your inner circle as your closest friends and confidants. They are like family to you, and may include family members. You tell them the whole truth about yourself and your life, and rely on them for support when you are most vulnerable. You share all your joys and sorrows with them. These are people you would call first in an emergency, would trust them with your life, and would allow yourself to borrow or lend money to if needed. If you relocated, you would stay in close touch with them. . If you are like many people today, it is possible you don't have anyone like this in your life.

2) FRIENDS

Friends are people you get together with to have fun and socialize. Often, they are your friends due to a shared interest (sports, hobbies, etc) or proximity (neighbors, co-workers, etc). It is common for friendships not to extend beyond the interests you have in common, but if they do, it is usually fun-oriented (such as spending a weekend together), and limited in authentic intimacy. If you relocated, you would most likely lose touch with them and make new friends.

3) ACQUAINTANCES

Acquaintances are people you know, but don't get together with socially. They might be neighbors, co-workers, colleagues, fellow students, people from church, etc, that you chat with when in proximity, and you may even like them a lot, but have not pursued a friendship beyond the context in which you happen to share proximity.
In my opinion the study finding that "25% of Americans Have No One to Confide In" is really saying that 1/4 of us don't have "Intimates," which matches my observation as well. I know many people who have many friends and still feel lonely. I've met many that are very busy and active in community groups, have lots of relationships that qualify as "Acquaintances," yet have few Friends and no Intimates.
See the end of this article for a link to a useful relationship coaching tool for helping your clients to assess and build their supportive social relationships.
The Role of Technology in Social Relationships
Technology has a very real impact on society. Alvin Toffler (author of Future Shock) said-
"If you go back to the Industrial Revolution, the steam engine was not just technology. It transformed our way of life; it gave rise to an entirely new civilization."
With the rise of television, VCRs, DVDs, DVRs, cable television, satellite television, on-demand television, console video games, portable video games, ipods, personal computers, the internet, cordless phones, cell phones, cell phones with more functions than a swiss army knife (my treo gets e-mail, surfs the web, and much more), we are raising a generation that increasingly uses technology to passively entertain themselves, prone to obesity, internet addiction, and isolation.
My observation, as well as others, is that the use of technology to communicate creates distance in human relationships. Cell phones, text messaging, instant messaging, e-mail, and the emerging video chat, video e-mail, and video conferencing give us instant access to each other without the intimacy of physical closeness. This is clearly changing our relationships and creating, as Toffler said, "an entirely new civilization." The logical outcome is in the USA Today headline "25% OF AMERICANS HAVE NO ONE TO CONFIDE IN."
Last month I wrote an article commenting on singles' over-dependence upon the internet- Frustrated with Internet Dating? Top Five Ways to Find Your Mate Without a Computer. I made the comment-
In some ways, using a computer to find your soul mate is like trying to cook a souffle in a microwave. Some things just require time, effort, and the human touch.
While I'm a self-professed gadget-hound who embraces technology, I'm alarmed at the ways technology is negatively impacting our relationships.
What Can We Do?
As relationship coaches I believe we need to support our clients to have successful relationships in all areas of life. We are social beings and survive and thrive in a community of supportive relationships.
You will find a unique exercise for helping your clients assess and improve their social support networks here
© 2006 David Steele– All rights reserved.
---
David Steele, MA, LMFT is founder of Relationship Coaching Institute and author of the new ground-breaking book for singles Conscious Dating: Finding the Love of Your Life in Today's World
Invitations
Invitation #1
I invite you to share your announcements, wins, coaching or practice tips with the rest of us. Be visible! Let's connect! Send them to me at David@member.relationshipcoachinginstitute.com
Invitation #2
I invite you to share this newsletter with a colleague. There is a tremendous need for our services, and we need to work together. Relationship Coaching is in its infancy, and we must collaborate to build our market niche and position as a resource of wide appeal for anyone who wants a successful relationship.
To pass the word about us to a friend or colleague, please visit http://www.buildingyouridealpractice.com/tellafriend.html
Invitation #3
I invite you to listen to the following introductory recordings 24 hours a day at your convenience by visiting /audio/index.htm (some are available by telephone)
Commitment: The Secret Ingredient to Relationship Happiness
The Communication Map™
Introduction to Relationship coaching
All about RCI
Building Your Ideal Practice
And more!
Invitation #4
I invite you to get the support you need to be successful in your practice. We are available for information, training, ideas, mentor coaching, etc.
Invitation #5
If you are a coach or therapist who received this from a colleague, I invite you to visit our web site and contact us at /forms/contact.htm for information on joining us and becoming a RCI Relationship Coach. Join our free "Introduction to Relationship Coaching teleclass series.
Invitation #6
To subscribe to this newsletter, our newsletter for SINGLES, our newsletter for COUPLES, or our PRACTICE BUILDING newsletter, visit /forms/subscribe.htm
Invitation #7
For a description of RCI relationship coaching trainings, schedule, and enrollment info, select "Joining RCI" from the left menu at http://member.relationshipcoachinginstitute.com
How do you like our newsletter? Your feedback is welcome! Until next time....
Best regards,
David Steele, MA, LMFT
Relationship Coach
CEO and Founder of Relationship Coaching Institute
David@member.relationshipcoachinginstitute.com
http://www.RelationshipCoachingNetwork.org
http://member.relationshipcoachinginstitute.com
http://www.BuildingYourIdealPractice.com
http://www.PrivatePracticeMarketingPodcast.com
http://www.PrivatePracticeMagic.com
http://www.ConsciousRelationshipSeminars.com
http://www.ConsciousRelationshipArticles.com
http://www.ConsciousRelationshipPodcast.com
http://www.ConsciousRelationshipSpeaker.com
http://www.ConsciousDating.com
http://www.ConsciousDating.org
http://www.PartnersInLife.org
http://www.DavidSteeleOnline.com
Telephone: 888.268.4074
For More Information
For Past Issues of this Newsletter GO HERE
Our Purpose
The purpose of this newsletter is to connect, support each other, inform, and build a strong community of coaches dedicated to helping people find fulfillment in their lives and relationships.
This monthly newsletter is written for the benefit of RCI Relationship Coaches, and is available to interested others. Feel free to share this with a colleague. Your submissions and feedback are welcome!
Our Mission
To provide the tools, information and support to help singles find the love of their life and the life that they love, and to help couples co-create fulfilling and lasting Life Partnerships.
Copyright Notice
This newsletter is copyrighted and all rights are reserved. Feel free to share with others as long as our contact information and authorship is included.
U.S. Library of Congress ISSN#:1530-3055
Links to Us
Relationship Coaching Institute
Free introductory training!
http://member.relationshipcoachinginstitute.com
BuildingYourIdealPractice.com
Free monthly tele-seminars!
http://www.buildingyouridealpractice.com
Conscious Dating for Singles
Free audio programs, e-programs, and more!
www.ConsciousDating.org
Partners in Life for Couples
Free audio programs, e-programs, and more!
www.PartnersInLife.org
Free Monthly Conscious Relationship Tele-Seminar Series
www.ConsciousRelationshipSeminars.com
Free Conscious Relationship Audio Programs
www.ConsciousRelationshipPodcast.com
Member of Relationship Coaching Network
Free resources for singles, couples and professionals
http://www.relationshipcoachingnetwork.org